It seems like every month, a new "pick-your-own-ingredients-and-move-down-the-line" eatery is opening, putting the pressure on diners rather than a chef to get the combination just right.
The latest is Sushi Boss (803 W. 10th St., 955-2677), a locally owned operation taking the Chipotle/Subway model and applying it to the art of sushi making. The result is a welcome complement to other quick offerings in the Indiana University Hospital area—if your expectations are reasonable.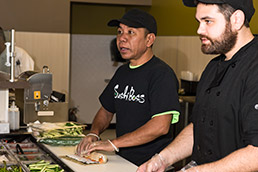 At Sushi Boss, you can pick your own ingredients (IBJ Photos/ Eric Learned)
You shouldn't go in expecting subtleties when, behind the counter, there's a machine that deposits cooked rice in a thin, even layer on the nori (dried seaweed sheet) that's used to encompass the sushi rolls. I'll say this, though, it does speed up the line. (Note: If you don't like nori, you can also get your roll on a sheet of soy paper. Which is exactly as tasty as it sounds.)
Sushi Boss offers a short list of familiar sushi rolls, dressed up with playful names (e.g., Shrimpin' Ain't Easy, That One Roll), but what differentiates it from others is the "roll your own" option, in which the chef crafts your meal out of whatever ingredients you pick. Once the servers get their pre-riced rolls, they fill them from a "fixins" bar, which includes pretty much what you'd expect.
This can be somewhat risky, if you aren't too sure of your ability to pick ingredients that go together in a rice roll. We felt somewhat at sea when requesting spicy crab meat with asparagus and avocado, which produced a roll featuring more shades of green than a 1970s kitchen. But still, pretty tasty.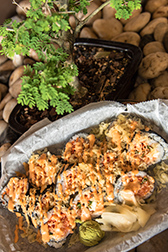 The Spicy Salmon Crunch Roll
A crab meat/asparagus/avocado roll turned out fairly well, too, especially when doused with a sweet sauce. And the (for lack of a better name) fruit-and-cream-cheese-filled dessert roll built from our selected elements would not have pleased purists, but it made for a refreshing change.
Pricing depends on how you accessorize. Cooked proteins are $6.99 or $8.49, raw offerings $7.49-$8.99. Your first three produce items are free. More than that will cost you 49 cents each. Seaweed wrap comes standard; a soy wrap adds 99 cents. Sauces and toppings are free except for masago (processed roe eggs) or crab mix.
To our surprise, our DIY combos were more successful than the pre-set menu items. The California Roll ($6.49), a little dry, might be better than the ones they sell at Trader Joe's, but not quite up to even Marsh standards. The Spicy Salmon Crunch ($8.49) suffered from a complete lack of spice. A special sauce was supposed to provide extra kick, but it turned out to be more of a nudge. Crunchy bits on top were also oddly taste-free.
A plus: Sushi Boss stays open until 11 p.m. on weekdays and midnight on Fridays and Saturdays.•
—Lou Harry
Please enable JavaScript to view this content.