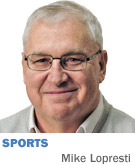 Table for how many? Yes, now that the preseason cocktail party is over in the NFL, dinner is being served.
So here's the regular-season Indianapolis menu. Remember last year when the Colts beat both teams—Seattle and Denver—who showed up in the Super Bowl? Only four opponents this season had winning records in 2013, but there are still some appealing entrees. Bon appetit.
Sept. 7: Peyton a l'Orange
In his first try against the Colts in a Denver uniform, Peyton Manning waved to the adoring Indianapolis crowd, then lost. He'll want this one to be different at home. By late Sunday night, the Colts will have found out how much they're going to miss Robert Mathis.
Sept. 13: Eagles Under Glass
Philadelphia makes its first-ever regular-season appearance beneath the roof of Lucas Oil Stadium. If it's closed that night. Trying to stop a Chip Kelly offense can be like biting into a porcupine, but no one really expects Nick Foles to have a 27-2 touchdown-interception ratio again. If things go badly in Denver, this will be especially important. An 0-2 start is not a good recipe for making the playoffs.
Sept. 21: Slow-roasted Jaguar
Ah, yes, play begins in the friendly AFC South, where the Colts' three colleagues went 13-35 last season, winning one more game combined than the Carolina Panthers. It took some time for the Jaguars to be ready to serve last season. They finished 4-4 after starting 0-8, and were outscored by a league-worst 202 points. This will be a road game for the Colts to get. Jacksonville comes to Indianapolis Nov. 23.
Sept. 28: Tennessee Cordon Bleu
Blue is the Titans' color, and also usually their mood after they've played Indianapolis. The Colts have won 10 of their past 11 meetings. The season finale is at Tennessee Dec. 28. By then, the AFC South will be in the bag. Theoretically.
Oct. 5: Dry-aged Raven
Time has caught up with Baltimore's cherished defense, with so many hallowed names gone, but there is still a danger to this team. The Colts are getting the Ravens in the right place. They are 5-0 all-time at home against Baltimore.
Oct. 9: Texas prime rib au Jadeveon
When Houston used the No. 1 draft pick to take defensive end Jadeveon Clowney, the Texans had visions of him hitting Andrew Luck hard enough to have the quarterback looking out his helmet earhole. This will be Clowney's first chance. Dec. 14 in Indianapolis will be his second. The Colts' offensive linemen will have to bring their A game both days. The Texans' defensive line now has a No. 1 draft pick at one end and the $100 million contract of J.J. Watt at the other.
Oct. 19: Striped Bengal
That 35-7 loss at Cincinnati a couple of weeks ago was meaningless, right? A preseason blip, right? And the Colts are not going to surrender 42 points at home like they coughed up last season in Paul Brown Stadium, right? Just checking. This will be Jim Irsay's first game back out of Roger Goodell's doghouse, by the way.
Oct. 26: Big Ben Burger
A trip to Pittsburgh is often biting off more than a team can chew, including the Colts. They are 2-12 all-time on the road against the Steelers. And by the way, Ben Roethlisberger still has more Super Bowl rings than Peyton Manning and only one fewer than Tom Brady.
Nov. 3: A brace of Mannings
This year, Archie's sons are served up as if they were quail. Two of 'em. This will be Eli's turn, and also the last time the Colts are on the road for a month.
Nov. 16: Belichick Benedict
A dish that has become as traditional as hot dogs on the 4th of July. This will be the 12th consecutive year the Colts and Patriots have met in either the regular or postseason. Luck has lost his first two New England games, but not to worry. Manning dropped 10 of his first 12.
Nov. 30: Pot Luck, with RGIII sauce
Remember when a good many voices were suggesting the Colts should have drafted Robert Griffin III rather than Luck? Heard from any of them lately? Anyway, this is the first time they will have a go at each other in a real game since draft night 2012. Yes, it's the Indianapolis Colts against the Washington (insert new and more politically correct nickname).
Dec. 7: Johnny Football Cake
By then, Johnny Manziel will supposedly be the Browns starting quarterback, LeBron James will have pushed the Cavaliers to a torrid start, and downtown Cleveland will be so aglow, Lake Erie will look like Montego Bay.
So that's it. The dessert tray will come later, with the playoffs, but we'll have to see if the Colts have any room left. Or if their eyes are bigger than their stomachs— not to mention their defense.•
__________
Lopresti is a lifelong resident of Richmond and a graduate of Ball State University. He was a columnist for USA Today and Gannett newspapers for 31 years; he covered 34 Final Fours, 30 Super Bowls, 32 World Series and 16 Olympics. His column appears weekly. He can be reached at mlopresti@ibj.com.
Please enable JavaScript to view this content.