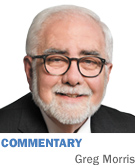 So, do you think of Indianapolis as having a vibrant arts scene? How about being one of the hottest destinations in the country to visit? If you didn't immediately and enthusiastically answer YES, please consider:
• Business Insider ranks Indianapolis as the second-best city for culture (behind Seattle).
• USA Today says Indianapolis is the best convention city in the country.
• MSNBC lists Indianapolis among America's must-see "mural cities."
• Travel+Leisure ranks Indianapolis as having the coolest street art.
• The New York Times lists Indianapolis as one of the 52 places in the world to visit in 2014.
These are some of the impressive accolades that were highlighted at the 28th annual Start with Art luncheon Aug. 28. Start with Art, which kicks off the city's arts season, is always an enlightening affair and serves as a major fundraiser for the Arts Council of Indianapolis.
The Arts Council nurtures a culture where artists and arts organizations thrive. With President and CEO Dave Lawrence and board Chairman David Resnick at the helm, the Arts Council advocates for broad community funding and support for the arts. And they get a lot of help from volunteers like Mayor Greg Ballard and first lady Winnie Ballard, corporate and individual sponsors and many others.
This year's Start with Art corporate chairs were Jeff and Heather Smulyan. And how can you talk about Start with Art without highlighting event committee chairwoman, friend of the arts and eternal philanthropist Yvonne Shaheen. Yvonne, you're a true treasure to this city.
It's clear from the accolades the city is receiving that these people are doing something right. So are the many others who support the city's arts scene. At the luncheon, some of them received ARTI Awards, which were created by the Arts Council to recognize outstanding contributions to our arts scene.
Congratulations to the following 2014 ARTI winners:
• Award for corporations with more than 50 employees and/or annual gross income over $10 million: The National Bank of Indianapolis.
• Award for businesses with fewer than 50 employees and/or annual gross income under $10 million: Just Pop In.
• Volunteer/Patron award for demonstrated leadership in the arts and/or significant contribution or service to an art form or an arts organization: Kay Koch.
• Larry Hurt Excellence in Arts Education award for exemplary service, creativity and passion in developing and educating young minds through the arts in the K-12 school system: Lisa Durst (Greenwood's Clark Pleasant Intermediate School).
• The Artful Impact award honoring ground-breaking or noteworthy achievements in the arts community: Eskenazi Health.
Eskenazi was recognized for its new campus and commons, designed by David Rubin, principal of Land Collective in Philadelphia and keynote presenter at this year's luncheon.
At Eskenazi, Rubin's creative design is evident in the entire hospital campus. Rubin has transformed landscapes in locations as diverse as California; Rome; New York City; Washington, D.C.; and the Cayman Islands. And the City of Westfield recently chose Rubin and his firm as lead design group for the Grand Junction Plaza project.
The Arts Council of Indianapolis is an important contributor to a vibrant arts industry, which, according to a 2010 study, generates more than $384 million in economic activity annually, supporting more than 13,300 full-time jobs. A new study will be conducted in 2015.
The arts is not only good for the soul but also good for business. As you make your list of organizations to contribute your time and treasure to, please generously support the arts. It's a feel-good donation that will also produce an excellent return on investment.•
__________
Morris is publisher of IBJ. His column appears every other week. To comment on this column, send e-mail to gmorris@ibj.com.
 
Please enable JavaScript to view this content.