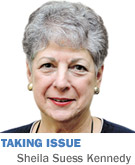 Two unrelated articles in the Aug. 31 New York Times brought me up short.
The first was yet another analysis of (un)representative government in Ferguson, Mo.; the second addressed the growing power of Americans for Prosperity, the Koch brothers' political organization.
Let's start with the Kochs. I don't agree with their priorities or tactics, and I am among the many Americans deeply concerned about the outsized influence of money in politics. But until we overturn the naïve decision in Citizens United or find other ways to even the playing field, they have every right to participate in the process. So does George Soros, and so do lesser-known billionaires who are spending their money to promote their preferred policies.
The article about Ferguson focused upon recent efforts to register voters there. In the wake of Michael Brown's death, we've all heard the numbers: Ferguson is two-thirds African-American with an overwhelmingly white government. Overall voter turnout in the last municipal election was 12 percent—with turnout among blacks even lower.
Now, there are lots of reasons elections might have low turnouts. Populations might be transient, there might not be contested races, there might be voter suppression. And studies confirm that poorer people are less likely to participate in the process for a number of reasons, including more pressing, day-to-day problems. That said, 12 percent is a pathetic figure and a signal of a very dysfunctional polity.
But here is the paragraph that struck me:
"A lot of people just didn't realize that the people who impact their lives every day are directly elected," said Shiron Hagens, 41, of St. Louis, who is not part of any formal group but has spent several days registering voters in Ferguson with her mother and has pledged to come back here each Saturday. "The prosecutor—he's elected. People didn't know that. The City Council—they're elected. These are the sorts of people who make decisions about hiring police chiefs. People didn't know."
I know I sound like a broken record on the issue of civic knowledge. I quote the studies (only 36 percent of Americans can name the three branches of government!). I insist that our civic deficit is far more worrisome than our fiscal one.
But really, these articles should be a wake-up call.
We The People need to understand something about the disproportionate influence of money in politics: It requires civic ignorance. Misleading political messages, lobbyists spinning the facts, and well-meaning but wrongheaded appeals to voters are effective only when the people on the receiving end of the message don't know any better.
The most basic civil right we Americans enjoy is the franchise. The antidote to money in politics, ultimately, is an informed electorate.
In this day and age, it is absolutely inconceivable that American citizens don't know whom they elect—not that they don't know the names of officeholders, but that they don't know what offices they are voting to fill.
This phenomenon is not limited to impoverished residents of Ferguson; I regularly encounter middle-class college students who cannot define government, have no idea what a constitution is or how it differs from a statute, and have only the haziest notion of what "rights" are.
Money is a huge advantage, and I am not minimizing its power. But the people who all too often exercise undue influence in America are those who've learned to benefit from our ignorance.
What's the old saying? In the country of the blind, the one-eyed man is king.•
__________
Kennedy is a professor of law and public policy at the School of Public and Environmental Affairs at IUPUI. She blogs regularly at www.sheilakennedy.net. She can be reached at skennedy@ibj.com. Send comments on this column to ibjedit@ibj.com.
Please enable JavaScript to view this content.