A humbling lesson for artists and art students: Even if you are hailed as one of the highest-profile and most influential artists of your generation—even if your work is being collected around the world and shown in leading museums—your creations could still take decades to be constructed. You might not even see them in your lifetime.
Case in point, "Five Brushstrokes," recently unveiled at the Indianapolis Museum of Art.
Here's the basic story.
In the mid 1960s, Roy Lichtenstein—inspired, as he was for much of his work, by a comic-book illustration—set his pop-arts skills on a series of paintings of paintbrushes in action. In the 1980s, that interest led to a series of large-scale sculptures, which include "Brushtrokes in Flight" at the Port Columbus International Airport, "Tokyo Brushstrokes I and II" (the subject of a 1995 documentary film), "Brushstroke Group" at the University of Massachusetts, and attention-getting variations on the same theme in Philadelphia; Washington,
D.C.; Singapore; Madrid; and other places.
One such work, though, commissioned by the Stuart Collection at the University of California San Diego, was never constructed. Lichtenstein conceived of the form, size and color of the elements that would make up the five-piece work, but the size proved daunting. So it entered the realm of such designed-but-not-built artwork as Alejandro Jodorowsky's "Dune" movie and Leonardo da Vinci's unnamed horse sculpture.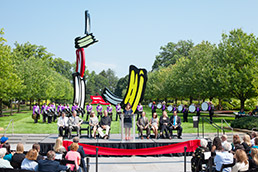 Indiana first lady Karen Pence helped unveil the world premiere of "Five Brushstrokes" at the Indianapolis Museum of Art. (Photo courtesy of Indianapolis Museum of Art)
For more than a year, IMA Director and CEO Charles Venable has been working with the Roy Lichtenstein Foundation to make the work a part of the museum's outdoor art collection. Ultimately, the piece was constructed here (another yet-to-be-assembled version is being held by the Lichtenstein Foundation). The generosity of the foundation as well as the acquisition fund of the late Robert and Marjorie Mann should be noted, along with the underwriting of Ersal and Izabela Ozdemir. This sort of thing doesn't happen without philanthropy, folks.
The work exists in five pieces. Venable says the current arrangement, while not the only possibility envisioned by the artist, is very close to one Lichtenstein proposed. Spread out over the Dudley and Mary Louise Sutphin Mall—essentially the space between the IMA's main entrance and the current home of Robert Indiana's "Love" statue—it's a different creation depending on how you approach it.
From some views, the tallest element, at 40 feet, dominates. From others, it's the forward-motion of the red, almost flaming horizontal piece. I can only hope that Lichtenstein would have forgiven me for thinking of strips of bacon as well as paintbrushes when I first saw the work.
No question about it, "Five Brushstrokes" is bold. It's also playful and welcoming. It feels more holistic and less cutesy than images I've seen of "Tokyo Brushstrokes." The heavy outlines and singular colors give them a cartoonish but not trivial quality. Whatever the angle, its inherent artificiality has the odd/fun effect, even when seen live, of being an artist's rendering photoshopped onto the landscape.
"I wouldn't believe anything I tell you," Lichtenstein once told a writer. And I'll take him at his word and not try to find the artist's explanations of these works. These are brushstrokes, big ones, and here's hoping they inspire us to bigger things.
Addendum: Now, IMA, it's time to look for another location for the oft-moved "LOVE" statue. "LOVE," from some angles, now photobombs "Five Brushstrokes." Further, the new sculpture also renders it impossible for couples to get their wedding photos in front of Robert Indiana's iconic work without Lichtenstein looming over it.•
__________
This column appears weekly. Send information on upcoming arts and entertainment events to lharry@ibj.com.
Please enable JavaScript to view this content.