An aggressive year-round sales effort and the backing of the Indiana Pacers' owner and top executive have pushed the Indiana Fever to profitability and helped the 15-year-old team become one of the WNBA's model franchises.
The Fever turned a profit for the first time as an independent operation in 2013. After this year's deep playoff run, team officials expect a repeat.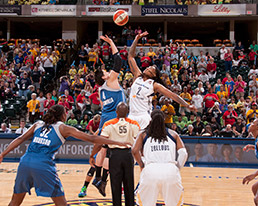 Per-game attendance has held steady at near 8,000 for six years. (Photo courtesy of Indiana Fever)
A Sept. 3 loss to the Chicago Sky at Bankers Life Fieldhouse ended the Eastern Conference Finals at 2-1; the Fever missed a third trip to the WNBA Finals in six years. Still, team officials have a lot to be pleased about, starting with the bottom line.
"We've made a lot of strides in the last five years," said Fever President Kelly Krauskopf.
According to WNBA sources, the team was one of only four of the league's 12 to turn a profit in 2013 and will likely be one of six this year.
Despite record or near-record attendance for the Indianapolis Indians the last four years and the popularity of the new Indy Eleven, whose soccer season partly overlaps the WNBA's, the Fever have maintained home attendance near 8,000 per game for six years.
Krauskopf said next on the to-do list is to "grow beyond the niche we've created."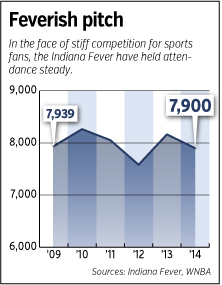 Already, the team has created a blueprint for other WNBA teams. The Fever received seven awards at December's WNBA Preseason Summit, the most of any team, including honors for sponsorship and ticket sales and overall operations. The team was the sole recipient of the President's Choice Award.
By leading the league in sponsorship sales in 2013, and increasing group ticket sales 28 percent and overall ticket sales 20 percent, the organization was able to increase revenue 10 percent. Team officials have not yet tabulated 2014 financials, but they expect another year of across-the-board increases.
Sponsors include OrthoIndy, Community Health Network, The Finish Line, Kroger, Old National Bank, Steak n Shake, Hoosier Lottery, Forum Credit Union and Indiana Members Credit Union.
Expanded local and national television coverage also has helped the team cover expenses, including a $910,000 salary cap.
Locally, the Fever this year signed a deal to have six games aired on WNDY-TV Channel 23 in addition to the six games aired on Fox Sports Midwest. As part of the league's national deal, the Fever had three games on ESPN2. Combined with five road games televised on WBATV, the Fever's 20 TV games are the most in franchise history.
League-wide, 2014 TV viewership was up 33 percent over 2012 and the number of games aired more than doubled.
"The great thing is, the team has evolved to a point that we don't have to explain ourselves in this market anymore," Krauskopf said. "People in this community, from sports fans to business leaders, know who we are and what we're about."
And the core of loyal fans is building, said local sports marketer David Morton.
"You can tell now when you go to games that there's a loyal following based on fans' level of engagement," said Morton, president of Sunrise Sports Group. "People aren't just going to the games because they got free tickets or there's nothing better to do. They're paying attention, they're into the game, and to me that shows loyalty."
Morton said the Fever also have received a boost from one of their biggest sponsors.
"In my mind, Kroger activates its sponsorship better than any other company in this market," said Morton, who does not have Kroger as a client. "They're placing co-branded Fever ads at the top of the [Indianapolis] Star sports section and they're running special promotions in their stores. That partnership has been very valuable in raising the level of awareness of the Fever in this city."
Revenue from the league and local TV contracts also has contributed to profitability. Each WNBA team, league sources said, gets $1 million annually from the ESPN deal, which runs through 2022.
Top-down support

Krauskopf said credit for growth begins with Pacers and Fever owner Herb Simon and Pacers Sports & Entertainment President Jim Morris.
"To have the top two executives in the organization entrenched in what you're doing means everything," Krauskopf said. "Jim and Herb are both genuinely passionate about the Fever and the WNBA."
No one hypes the Fever more than Morris, team officials said.
"When someone like Jim Morris mentions the Fever every single time he's out talking in the community, that goes a long way," Krauskopf said. "A lot of [WNBA] teams don't have that."
And the commitment reaches deep into the organization's ranks. Fever Sales Director Samantha Hicks regularly leads WNBA conference calls on optimizing single-game, group and season-ticket sales. Fever Senior Sales Associate Lynn Miller has consistently been a top ticket seller league-wide and this year was No. 2, according to league officials.
"There are a small handful of WNBA teams that have found a way to make it work financially, and Indiana is definitely on that list," said Rick Horrow, CEO of Horrow Sports Ventures, a Miami-based sports business consultancy. "Their front office deserves a lot of credit for carving out a following during an up-and-down economy and as market competition has increased."
'The next level'
There are two ways to look at the Fever's attendance: It's stuck in a rut at 8,000 per game, or it's held its own despite increased competition. Either way, Krauskopf said, "We're not satisfied."
"We've built a stable following, but now the goal is to take it to the next level, to take [attendance] from 8,000 to 12,000," she said.

Krauskopf
The immediate goal, she said, is 9,200—the lower half of 18,165-seat Bankers Life Fieldhouse.
To that end, the Fever this year launched the MVP Membership Program, which gives season-ticket holders photo opportunities, luncheons, cookouts and meet-and-greets with Fever players. The team has also organized gatherings for fans during the off-season, including in a fieldhouse suite during a Pacers game, and has arranged for Fever players to speak at business events.
Krauskopf said the key to growing the fan base is engagement.
"We have a lot of casual fans, and we want to convert those into real engaged fans," she said. "We think the playoffs are a critical platform to make that happen."
Not just for women
While some WNBA teams have aimed marketing at women and followers of women's sports, Fever officials have not.
"For us, it's not really about women's sports; it's about families and appealing to people who love the game of basketball" and the team focus of WNBA play, Krauskopf said.
Since 2010, the team has seen its fan base shift, from 60 percent women to 52 percent men, according to Scarborough Research, a firm owned by New York-based Nielsen Media Research.
Krauskopf said the shift is a good thing.
"The dads tend to be the gatekeeper of sports viewing," she said. "It's been a real positive move for us, and it's happened real organically."•
Please enable JavaScript to view this content.