While it might sound like a naughty "Blazing Saddles" villain, Salty Cowboy (55 E. Oak St., Zionsville, 344-0926) is actually a charming addition to the Zionsville dining lineup.
Salty Cowboy (IBJ Photos/ Eric Learned)
Parked in a converted home just a few steps from Main Street, the latest venture from Shari Jenkins, owner of Noah Grant's Grill House & Oyster Bar, offers variations on Tex-Mex creations in a slightly cramped—some might generously call it cozy—environment. Picnic tables outside offer some relief.
You might have to go that route, given the crowds. The village seems to have embraced this newcomer, and for good reason. With stock Mexican restaurants popping up in every strip center, a place like The Salty Cowboy that is willing to get a little—but not too—creative is welcome almost anywhere. And when you can stroll there via quaint, tree-lined streets, all the better.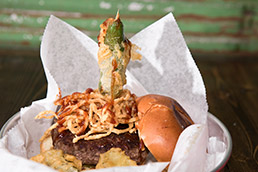 The burgers are meaty and creative at Salty Cowboy. Among them is The Big Hughey, topped with a fried jalapeño pepper and fried pickles as a sidekick.
The nacho variations seem arbitrarily named, but that didn't make the Dolly Parton ($10) any less appetizing. Here, rojo chicken, queso, sautéed poblano peppers and onions, pickled jalapenos and cilantro crema successfully accompany the chips and pico. On the burrito front, The Cowboy ($11) again pushed the poblano peppers in a tortilla packed with barbecue pork, a sweet agave beer sauce, and verde rice with a rich drizzle of queso.
We couldn't leave without trying at least one taco, finding the Pescado ($4)—featuring battered Pacific cod and sweet spicy cabbage—to be a pleasant few bites. It would have been more satisfying, though, as part of a trio or more. Other Salty Cowboy tacos include Kicken Chicken with pickled jalapenos, habanero and pineapple; and Big Rikki with verde rice, Texas caviar (black beans, corn, onions, cilantro and peppers), guacamole, onion and slaw.
The S'Mores Jar layered dessert
The surprise came from the burgers. I'd return again for another bite of The Big Hughey ($13), a hefty-but-manageable half-pounder with a mix of agave beer sauce, sweet barbecue sauce, cole slaw, fried onion straws, pickles and a fried jalapeno. Fried pickles are the resident side dish. Among the other options are Smoked Baked Beans ($3) and Cowboy Candy—pickled and candied jalapenos in a mason jar ($4).
Similar glassware houses the S'Mores Jar ($7), a very sharable layered dessert that's just a campfire away from out-on-the-range bliss.•
—Lou Harry
Please enable JavaScript to view this content.