In a campaign to enter the hard liquor business, Monarch Beverage Co. is pursuing a new tactic that takes aim at state regulators.

Indiana's largest beer distributor has accused the Alcohol and Tobacco Commission of letting politics influence its decisions and the agency's chairman of prejudice against the company. The charges come in documents filed as Monarch seeks a liquor wholesaler's permit for a related entity, Spirited Sales LLC.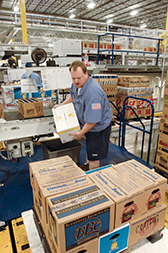 Monarch Beverage Co. is the largest beer distributor in Indiana.(IBJ file photo)
Monarch CEO Phil Terry said he expects a decision in the case this fall. But because the commission already notified Spirited Sales of its intent to deny the application, it's likely the case will end up on appeal before a Marion County judge—making it Monarch's fifth court battle over Indiana alcohol laws.

"It'll be a straight-up challenge as to whether the ATC was correct, based on the Indiana law," Terry said.

Indiana law prohibits beer distributors from handling liquor and vice versa. Under the so-called three-tier system, ownership of manufacturers, wholesalers and retailers is to remain separate. There are also legal walls between types of businesses within each tier, such as the beer and liquor wholesalers.

Monarch argues that it should be allowed to break down that wall by setting up a new corporate entity, even if the ownership and operation is essentially the same.

The commission denied permits in the past because of common ownership, but in other cases overlooked that issue. Terry said the commission set a precedent that would allow Spirited Sales to receive a permit, and only politics is holding back approval.

"Part of our complaint is that our applications in the past have been denied not because they're not appropriate but simply because our competitors have objected to them," Terry said. "Our legal position is, that is not an appropriate standard for granting or denying an application."

The allegation of undue political influence is ironic to Jim Purucker, executive director of Wine and Spirits Distributors of Indiana. Monarch turned to the courts after several years of unsuccessful lobbying in the Legislature, Purucker said.

"They are the most political company in the world!" he said.

An attorney who doesn't have a client involved in the Spirited Sales case said its success in court could hinge on the type of evidence Monarch and its opponents uncover. The attorney declined to be named because of the many competing factions in the alcoholic beverage industry.

Already, Monarch's attorneys interviewed a retired excise police officer who said he thought ATC Chairman Alex Huskey, who previously was superintendent of the excise police, harbored prejudice against the company.

Terry
Monarch tried to have Huskey removed from the Spirited Sales case, but he recused himself instead. The reason is unclear, and Huskey could not comment on a pending case.

Monarch also dug up an email from Purucker to Joe Bill Wiley, a financial planner who is married to Betsy Burdick, who was a top aide to Gov. Mitch Daniels. Questioned during a hearing before the Alcohol and Tobacco Commission in July, Purucker said he wasn't trying to influence the Governor's Office.

Purucker told IBJ he was just doing his job as a lobbyist. "That's what we do; [we] talk to folks about how things impact us."

Uneven playing field

Each side claims Indiana law gives the other an unfair advantage.

Purucker's group, which consists of four multistate firms operating in Indiana, said Monarch could become Indiana's dominant liquor distributor.

That's because its beer business with MillerCoors is practically guaranteed, by virtue of Indiana law, Purucker said, while the liquor distributors could lose supply contracts at any time for any reason. Monarch could easily leverage its main business to expand into liquor, he said.

Terry has heard those arguments and insisted, "We're not out to take over liquor distribution."

In other states, wine, beer and liquor are distributed together, and that's what suppliers expect when they come to Indiana, Terry said. Wine represents 15 percent of Monarch's business, he said, and its largest wine supplier is E&J Gallo Winery, which also sells spirits.

"We have to be able to tell suppliers, 'Yeah, we can handle your whole book,'" he said.

Terry argued that there would be benefits to the rest of the alcohol industry.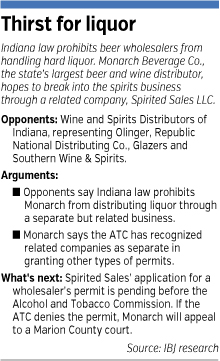 "We get requests monthly from small liquor manufacturers wanting us to distribute their product," he said. "There's a bottleneck. If a large [distributor] doesn't want to handle it, it doesn't get on the shelf."

Indiana now allows craft beer brewers to become artisan distillers, Terry said. Those suppliers won't have distribution, however, unless a large wholesaler picks up their brand, he said.

Standards questioned

Terry at one point championed Indiana's law separating beer and liquor interests.

As general counsel for the Indiana Beverage Alliance, a group of beer distributors, Terry argued in 1990 that the Alcohol and Tobacco Commission shouldn't grant a beer wholesaler permit to a company owned by the wife of James LaCrosse, owner of the former National Wine & Spirits. (The local firm merged with Dallas-based Republic National Distributing Co. in 2010.)

In the Spirited Sales case, Monarch's legal team cited several examples of the ATC's granting permits to entities whose owners otherwise wouldn't be eligible. One example was Kahn's Catering, where owner Joe Husar also has an interest in the entity behind Kahn's Fine Wines and Spirits.

In another example, the commission granted a restaurant permit to an entity with the same ownership as Simmons Winery in Columbus.

Monarch's opponents say those are exceptions to the rule.

"The commission gets tens of thousands of retailer applications," said Bart Herriman, general counsel for the Wine and Spirits Distributors. "On a lot of those, people might not provide the information that they're supposed to.

"The commission's been very clear with regard to wholesalers," Herriman said. "You can't sell [both] beer and liquor, whether you set up a separate company or you don't."•