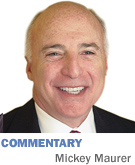 A number of years ago on United Way's Day of Caring, I painted a bedroom at St. Elizabeth's Home. That afternoon I looked like artist Jackson Pollack a/k/a Jack the Dripper. Later, I learned that the house manager appraised my work and ordered that the room be professionally repainted.
Day of Caring began in 1992 as a day of hands-on volunteering involving projects that primarily benefitted United Way agencies. Eli Lilly and Co. was an early supporter.
Over the course of the following two decades, many companies fashioned their own "day of caring." Organizations including Keep Indianapolis Beautiful, Office Works, Lacy Diversified Industries and Katz Sapper & Miller had their slant on this idea.
But now it's a new day. In fact, it's "Indy Do Day," scheduled for Oct. 2. The Rotary Club of Indianapolis, which is heading the initiative and expects to continue its leadership role for many years to come, says "Indy Do Day" might stretch into several days if that's what is required to complete its many community projects. As Rotary President Matt Burnett predicted, "That day, the people of Indianapolis will get to know their neighbors, take ownership of their neighborhoods and take care of one another."
In the 2013 inaugural year, more than 15,000 individuals completed community-service projects, making this program the largest service mobilization in the city's history—even above Super Bowl XLVI. Rotary has enlisted the willing participation of Lilly and United Way in one all-encompassing community effort expected to include hundreds of organizations and surpass last year's scope.
Rotary is an appropriate leader for this project. The organization, whose motto is "service above self," has an extensive record as one of the leading supporters and contributors to Indianapolis' quality of life. Recently, the club comprised of more than 350 businesses and professional leaders closed out a $1.5 million fundraising effort benefitting Gleaners Food Bank.
According to Rotary Executive Director Susie Harmless, the club's goal is to help Indianapolis become the most civically engaged community in the nation. Given residents' history of participation—from before the Pan Am Games and extending through many initiatives up to and including our Super Bowl—I think our city already is. Indy Do Day will solidify that designation.
Indiana corporations should embrace this opportunity. Although the primary motivation would undoubtedly be charitable, enlightened management today is aware that American consumers prefer to trade with companies whose employees volunteer. And a lack of corporate social responsibility may bring serious damage to a company's reputation and financial vitality. Furthermore, mere "checkbook philanthropy" is not enough to bestow "good corporate citizen" status. Ask yourself how your corporation measures up in terms of social responsibility and community citizenship.
Corporate Indiana will benefit from "doing" through the nurturing of more enlightened and caring employees. CEOs shell out big bucks to provide the kind of experiences that send employees roaring back to their desks with renewed vigor and a sense of bonding, not only with one another but also with the organizations for whom they work.
Why spend money when we have a free opportunity to provide corporate team-building volunteer activities that also create benefits for our community? The CEO sets the culture of the company. Implore the boss to participate.
Want to paint? St. Elizabeth's Home learned its lesson, but Dayspring Center and the Indianapolis Zoo would welcome your artistic efforts. Or you can browse the needs of other community organizations at indydoday.org. You can also propose your own project by making contact with any community organization.
Enlightened self-interest may be a perfectly legitimate reason for corporate philanthropy, but the compelling reason to get involved lies in the corporate responsibility to support the community in which it operates. Remember, Indy Do Day is Oct. 2. Contact Matt Burnett, [email protected], and say, "I do."•
__________
Maurer is a shareholder in IBJ Corp., which owns Indianapolis Business Journal. His column appears every other week. To comment on this column, send e-mail to [email protected]
Please enable JavaScript to view this content.