Back when westerns were a dominant, defining feature of the Hollywood movie landscape, audiences didn't care so much about originality. Ritualistic more than inventive, the Hollywood western tended to create iconic images rather than three-dimensional characters. Finding subtle variations on familiar themes was satisfying enough.
While contemporary visual artists have certainly worked hard to deconstruct, reconstruct and sometimes shatter those images, the Eiteljorg Museum of American Indians and Western Art's annual "Quest for the West" show (through Oct. 5) isn't the place to look for such innovation.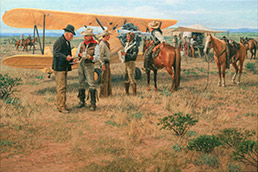 Many of the "Quest for the West" works, including Karin Hollebeke's "Rider in the Sky," top, and Veryl Goodnight's "Prospector's Partner," below, have implied narratives. (Images courtesy of Eiteljorg Museum of Native American and Western Art)
While the work on display showcases a wide range of talents, most of the pieces feel as familiar as an evening watching Turner Classic Movies. Expect galleries full of rich landscapes, noble Native Americans, grizzled trappers, and horses. Lots of horses. There's even a campfire meal and a shootout or two.
And that's as it probably should be at a show successfully designed to attract collectors from around the country, who drop more than $1 million each year on the displayed pieces.
"Prospector's Partner."
Every year, it's a pleasure picking favorites. Standouts for me this year include Veryl Goodnight's bronze burro sculpture, "Prospector's Partner," which gives nobility to the heavily laden beast while raising the question of what might have happened to the title prospector. Daniel Smith's "Nurturing Nature" offers a stare-down from a piercing-eyed wolf protecting a quartet of pups while his "Katmai Reflection" contrasts a dominant grizzly bear with indifferent seagulls.
"Quest" newcomer Joseph McGurl, from that western hot spot, Cataumet, Mass., impresses with shadowy figures barely seen on an icy hill in "Snowmakers." And for those who like implied narrative on their canvases, there's a wealth of story potential in Karin Hollebeke's "Rider in the Sky," which depicts a meeting between an aerialist and a cowboy, hinting at the no-longer-quite-so-wide-open spaces, where those on horseback can be watched by those above. More story potential exists in a hunting party's return to its village in Robert Griffing's "Going Home."
A mother wolf protects her pups in Daniel Smith's "Nurturing Nature."
Sometimes context helps. P.A. Nisbet's "Silent Storm" skillfully shades imposing clouds. But it's even stronger when seen next to his "Ancient Passage Cliffs," offering similar majesty in its rock formations. Gerald Balciar's colorful bronzes, including the road runner depicted in "Lickety Split," stand in contrast to the traditional tones used by other exhibited artists.
Each year—at least so far—concurrent with "Quest for the West," the Eiteljorg designates an Artist of Distinction and celebrates the artist's work in a separate exhibition on the second floor (the designation changes next year to a Collector of Distinction). This year, the honoree is Donald V. Crowley, a Tucson, Ariz.-based artist whose unambiguously realistic work will be familiar to anyone who has been to past "Quest" shows.
With the opportunity to show more of the artist's work than in "Quest" —where three to five pieces are the norm—Crowley's galleries offer a more varied selection. The primary focus, though, is on Native American women, depicting them at work, play and repose.
The show also includes a series depicting western legends such as Bat Masterson and Wild Bill Hickok in images that at first seem like they could be covers for young adult biographies (Crowley's career includes pencil drawings for "Readers Digest"). But Crowley is a master at capturing the impact of memory. The eyes of these men, particularly Wyatt and Virgil Earp, are haunting.
"I just have to live with the criticism of people who think my paintings look too much like photographs," said Crowley in the accompanying exhibit catalog. "It's too late to change, and I wouldn't want to anyway."•
__________
This column appears weekly. Send information on upcoming arts and entertainment events to lharry@ibj.com.
Please enable JavaScript to view this content.