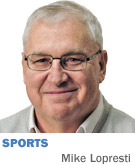 Presumably by now, Bob Knight has had time to peruse A.J. Guyton's open letter. The one on Facebook pleading for his old coach to finally call a truce with Indiana University, so they can be reunited. Picture East and West Germany, when the wall came down.
At last check, there was no sign that peace was at hand. Not publicly, anyway. The issue with Knight has popped up before and is well-trod territory for discussion in this state. Will he or won't he come back? Ever. But the letter—Guyton asking Knight to return when he is inducted into the IU Athletics Hall of Fame—was a reminder of how prolonged the divide has been.
A living, breathing, trout-fishing Hall of Famer is not supposed to be so distant at twilight from the place where he made his name. Better that it be like John Wooden's supernatural aura at UCLA's courtside, or the unbreakable bond of Dean Smith at North Carolina. Not a Kardashian divorce.
You don't see something like this often among the legends, basketball or football. Bobby Bowden had a messy breakup with Florida State, but has not totally vanished from the Seminoles scene. There was Woody Hayes at Ohio State, but he stayed around town. Joe Paterno's sad end at Penn State, but that case was in its own mind-boggling universe.
Given the stature of the man and the program, and the fact the big freeze is now entering its 15th year, this is the Grand Canyon of basketball estrangements. Indiana has moved on, as the Hoosiers should. Olive branches have been offered. It is up to Knight to decide when, or if. And if not, so it goes.
But had there been a chance for me to add a postscript to Guyton's letter to Knight, these would have been some of the possibilities.
P.S. How's that ESPN gig going? If I got $100 every time I heard you, while you were coaching, rail against television's heavy and moneyed influence in college basketball—especially late tipoffs—I would be writing this from my beachfront villa in Maui. So imagine my surprise the first time I turned on a 9 p.m. game and saw your smiling face broadcasting from some far-flung arena. If time tempered your view on television, why can't it on Indiana?
Or …
P.S. Just a thought when reading that Guyton had posted his letter on Facebook: Do you even go on Facebook?
Or …
P.S. Sorry, you're a year late and about $40 million short in getting your name slapped on Assembly Hall. Perhaps they could name a chair after you.
Or …
P.S. It's not like someone is asking you to spend a weekend in Puerto Rico.
Or …
P.S. If you really want a sign that time has moved along, Steve Alford turns 50 in November.
Or …
P.S. Unlike in Wyoming, most cows around Bloomington stay in the fields and off the highways.
Or …
P.S. If you ever do come back to relive the glory days, maybe you could explain exactly what happened those last few years at Indiana. Not the off-court storm and the feud with the president. The record. Indiana justly claims its tradition to be among the elite, and Assembly Hall nearly sags from all the banners your teams put up, but there was nothing blue about the Hoosiers' blood those final six years, from 1995-2000. No Big Ten titles, and a 2-6 record in the NCAA Tournament. 
Or …
P.S. If it's a media circus you're worried about, you've always been pretty good at abruptly ending press conferences.
Or …
P.S. About the old neighborhood. Do you realize the Big Ten has produced seven national champions in the past 61 years, and you coached three of them and played for one?
Or …
P.S. Do you still breathe fire whenever you see defense played in futility? Want to talk to the football team?
Or …
P.S. You need to be a visible part of the past here. Really. It's like having a history of fried chicken masters without Colonel Sanders. But there seems not much more Indiana can do—or should do. Hasn't time healed anything? A reconciliation is not necessary for the Hoosiers to be an elite program or for you to maintain your legacy. It would just be nice.
Or …
P.S. You turn 74 this year. Nobody gets forever to heal a wound.•
__________
Lopresti is a lifelong resident of Richmond and a graduate of Ball State University. He was a columnist for USA Today and Gannett newspapers for 31 years; he covered 34 Final Fours, 30 Super Bowls, 32 World Series and 16 Olympics. His column appears weekly. He can be reached at [email protected]
Please enable JavaScript to view this content.