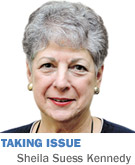 We live in an age of disinformation. Fox News, MSNBC, CNN …
Some are better than others, but not much. That's the conclusion of Politifact's new rating system, which is using scorecards to track the accuracy—or lack thereof—of network pundits and "on-air personalities." (I guess they didn't want to call those personalities "reporters," and I can certainly understand why.)
As Politifact explains its new initiative, "Each of the news networks that we routinely follow—ABC, CBS, Fox, NBC/MSNBC and CNN—now has a scorecard that breaks down that network's performance on the Truth-O-Meter. The scorecard tallies each statement we fact check on that network and groups the rulings by percentage.
"Right now, you can look at the NBC/MSNBC file and see how that network's pundits and on-air talent stand. For instance, 46 percent of the claims made by NBC and MSNBC pundits and on-air personalities have been rated Mostly False, False or Pants on Fire."
At Fox and Fox News Channel, that same number is 60 percent. At CNN, it's 18 percent.
(Forgive the snark, but I can't help attributing CNN's better rating to the fact that it provides less news. I mean, how much misdirection can you work into week after week of nothing but obsessing over a missing plane?)
This situation would be a lot less troubling if we still had newspapers with real reporters. Pat Moynihan's famous quote is more apt than ever: We're all entitled to our own opinions (and that includes Fox, MSNBC, etc.), but we aren't entitled to our own facts. The state of televised "news" wouldn't be so serious if someone—anyone—were still engaging in that quaint old endeavor called journalism.
It would also be less troubling if there weren't other persistent efforts to peddle misinformation.
The Washington Post recently reported on another effort by the Texas State Board of Education to rewrite American history and government. This effort has consequences well beyond the borders of that state; because of its size, books adopted in Texas often become standard throughout the country.
Said the Post: "Scholarly reviews of 43 proposed history, geography and government textbooks for grades 6-12—undertaken by the Education Fund of the Texas Freedom Network, a watchdog and activist group that monitors far-right issues and organizations—found extensive problems in American Government textbooks, U.S. and World History textbooks, Religion in World History textbooks, and Religion in World Geography textbooks. The state board will vote on which books to approve in November."
Ideas promoted in various proposed textbooks include the assertion that Moses and Solomon, rather than Locke, Montesquieu, et al., were the inspiration for the American founding, and that during the era of segregation, "some schools" for black children were "lower in quality."
The respected scholars who reviewed the texts for the Freedom Network noted that, "Two government textbooks include misleading information that undermines the Constitutional concept of separation of church and state," and, "Several world geography and history textbooks suffer from an incomplete—and often inaccurate—account of religions other than Christianity." Another world history textbook was found to include outdated—and offensive—racial terminology describing African civilization.
There was much more.
It's bad enough that we live in an environment that lets us choose our news—a rapidly morphing environment that allows each of us to inhabit an echo chamber that simply reinforces our pre-existing political or religious beliefs.
If we allow extremists to rewrite our textbooks in pursuit of ideological goals, pretty soon there will be no shared reality to occupy.•
__________
Kennedy is a professor of law and public policy at the School of Public and Environmental Affairs at IUPUI. She blogs regularly at www.sheilakennedy.net. She can be reached at skennedy@ibj.com. Send comments on this column to ibjedit@ibj.com.
Please enable JavaScript to view this content.