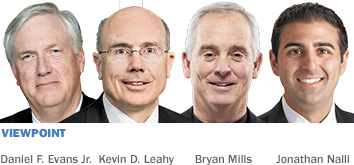 As the chief executive officers of the four largest health systems in central Indiana, we understand the dire situation facing hundreds of thousands of Hoosiers who lack health insurance.
We know their stories of financial hardship when the cost of treatment is too much to bear for those who fall into the coverage gap. All too often, we see the results of not having access to preventive care because they didn't qualify for traditional Medicaid and couldn't afford to buy private insurance.
That's why we are in full support of Gov. Pence's proposed expansion of health coverage for Hoosiers through the Healthy Indiana Plan (HIP) 2.0. Our hospitals share the state's vision of a health care system that leaves no one behind, with special attention to the poor and vulnerable.
If approved, HIP 2.0 would put Hoosiers on a path toward leading healthier lives by having consistent and appropriate access to primary care. Likewise, Hoosiers have a greater opportunity to remain in the work force when they have health insurance.
We are pleased that HIP 2.0 builds upon the current Healthy Indiana Plan and will continue to be the consumer-driven health care coverage program for low-income adults. HIP 2.0 adds choices for Hoosiers that further promote HIP's consumer-driven model, while providing new incentives for people to take personal responsibility for their health.
Our endorsement of HIP 2.0 as the appropriate model of improving health care coverage includes financial support as well. Indiana hospitals are committed to providing critical funding for the program through an existing provider fee along with revenue from the tobacco tax while the state leverages billions in federal matching dollars that would otherwise go elsewhere.
Rising health care expenses are a concern for all of us and hospitals have responded by cutting costs while maintaining the highest level of care possible. Already strapped with providing $3 billion in uncompensated care for the uninsured in one year alone, without coverage expansion, Indiana hospitals may be forced to cut certain services.
Further delay of approving the HIP 2.0 program puts tens of thousands of Indiana residents at risk for a medical and financial catastrophe while limiting access to care for all patients whose care is our responsibility. If approved, the hospitals of central Indiana stand ready to work with Pence and his administration on implementing HIP 2.0.
We urgently hope that the hundreds of thousands of low-income, working Hoosiers can soon get the coverage they deserve and desperately need.•
__________
Evans is CEO of Indiana University Health; Leahy is CEO of Franciscan Alliance; Mills is CEO of Community Health Network; Nalli is CEO of St. Vincent Health. Send comments on this column to ibjedit@ibj.com.
 
Please enable JavaScript to view this content.