Last week's news that Salesforce.com wants a signature office tower in downtown Indianapolis already has sparked an overture from at least one developer, shined a spotlight on available sites, and triggered concerns about the impact on office vacancy rates.
In a brief interview last week, Salesforce CEO Marc Benioff told IBJ, "We'd like to build a Salesforce tower in Indianapolis, we just haven't found the right opportunity yet. … If we can find the right developer, the right piece of land, we'd love to have a Salesforce tower here."
That prompted local developer Greg Allen last week to pitch Salesforce officials an opportunity to be part of a planned mixed-use development on the southwest corner of Maryland and Pennsylvania streets. His company, J. Greg Allen & Associates Inc., is considering building a multi-story retail and garage structure that would serve as a pedestal for an office tower.
"We've been patient, waiting for the right thing to come along," Allen said in a phone interview Monday about a potential Salesforce tower, "and we think this is it."
Allen said his firm sent a letter and aerial photos of the site to Salesforce, but had not yet heard back from the firm. Salesforce officials didn't immediately respond to inquiries about the package.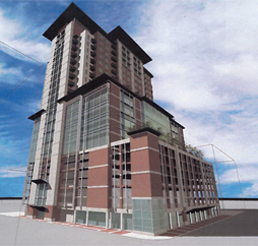 Developer Greg Allen contacted Salesforce.com about a building he envisions for the southwest corner of Maryland and Pennsylvania Streets. (Image courtesy J. Greg Allen & Associates Inc.)
Allen's company is still in the design phase, but 40,000-square-foot floorplates are envisioned for the pedestal, he said. Other details, including the number of stories and potential financial terms with an anchor tenant, would be up for negotiation.
Whether Salesforce signs on or not, Allen said, the property's proximity to the Georgia Street promenade makes it attractive to any company looking for fresh development opportunities.
Allen's property, which is now a parking lot, was one of a few sites local industry executives pointed to as holding promise for a Salesforce tower.
Besides that site, several said, there are about four other parcels that might fit the bill. They assumed Salesforce was considering a roughly 500,000-square-foot tower and that it didn't want to be on the fringes of downtown.
"They're going to want to be in the core central business district where they can enjoy the benefits and amenities of downtown Indianapolis on a daily, hourly basis," said John Robinson, managing director at JLL's Indianapolis office.
Benioff's comments were the latest and most highly placed signal of Salesforce's desire to bolster its Indianapolis presence. Salesforce spokespeople declined to provide further details about a prospective development.
The company acquired local digital marketing firm ExactTarget Inc. for $2.5 billion in July 2013. Currently, most of its employees are spread between three buildings downtown. IBJ reported earlier this year that it was looking for an opportunity to bring them together in a single tower with about 500,000 square feet.
Development spots scarce
One prospect, several experts said, is a state-owned block northwest of Ohio Street and Capitol Avenue, just north of the Statehouse. But the state might want to keep it. A study by Gov. Mike Pence's administration is under way to consider the feasibility of a new building to house the judiciary, provide more legislative office space and offer parking for employees and visitors.
With only a few blocks separating that plot from Monument Circle, Mike Wells, president of developer REI Real Estate Services LLC, said that would be his top choice if it were his decision.
"It would be worth it for the state to sell the land off to get a tower of that magnitude," Wells said.
A state spokeswoman said via email there are no apparent plans for the lot to be used for a Salesforce project.
Some observers suggested the tower could sit on Pan America Plaza, which is just east of the Indiana Convention Center on Capitol Avenue and few blocks southwest of Monument Circle. A mixed-use development there might suit a Salesforce tower well, some said, especially given growing commercial and residential activity on the south side of downtown.
"The state location is a good location, but it's a little farther north of some of where the action is," said Sam Smith, chairman of Colliers International's Indiana Region. "If you're hiring young people, you want to be where the action is."
Kite Realty Group Trust owns the Pan Am property, and, as IBJ reported in March, the firm has plans brewing for a development that would include two hotels, residential units and restaurants. Kite President Tom McGowan could not be reached for comment.
There's potential at CityWay, too, observers said. The Buckingham Cos. mixed-used development northeast of South and Delaware Streets is aiming to attract a corporate presence. Buckingham officials did not return calls seeking comment.
Until recently, one piece of land that might have been suitable for a Salesforce tower sat at Market and Alabama streets, part of the former Market Square Arena site. But Cummins Inc. announced plans to build its global distribution headquarters there in March.
Some experts, including Robinson, mentioned that it might be viable for Salesforce to have a developer raze and rebuild one or more struggling properties, including Market Square Center at 151 N. Delaware St.—commonly known as the "Gold Building"—and Two Market Square at 251 E. Ohio St. Both buildings are in foreclosure.
Overall, several experts said, Salesforce might not want to slap its name on an existing Indianapolis building.
"I think of the word 'signature,'" Smith said about the statement Salesforce likely wants to make. "Buying something existing doesn't really cover the signature part of that."
Mike Langellier, CEO of technology advocacy group TechPoint, said no matter which route Salesforce goes, the development would make a huge statement.
"If a Salesforce tower were to come to fruition, regardless of whether that's utilizing new real estate or existing," he said, "it would be a significant symbolic statement that Salesforce's ExactTarget Marketing Cloud is headquartered here, and that the marketing technology community is strong here."
Possible specifications
The company certainly puts stock in signature real estate, occupying high-profile office buildings in several major global cities. Salesforce reached a deal earlier this year to pay $690 million for naming rights and a 15-year lease in a 61-story building under construction in San Francisco, its home base. It also had a deal to rebrand the third-largest tower in London until it was scotched by city leaders last week.
Salesforce also has a presence in towers in Paris and Tokyo, but company officials declined to specify the scale of its branding with those buildings.
If a Salesforce tower in Indianapolis comes to pass, it would likely be at least 25 stories, several observers said. The city's tallest building is the 48-story Chase Tower at 111 Monument Circle.
Naming rights typically require the tenant to occupy at least 25 percent to 30 percent of the building, said Adam Broderick, executive vice president at JLL. That shouldn't be a problem for Salesforce, some said, and there could be tremendous value in having its nameplate in the city's skyline—especially during nationally televised sporting events.
Broderick estimated that the company might need about 2.5 parking spaces per 1,000 square feet of leased space. So 500,000 square feet might require 1,250 spaces, which could be about 10 stories. Some parking could go underneath the building.
Vacancy rates
A new tower would add office supply in a downtown market that is already struggling with demand, real estate experts said.
"It's good to see new construction," Robinson said, "but then you've got to fill the space they vacate."
IBJ reported in February that Salesforce had about 1,000 employees spread across 215,000 square feet in three downtown buildings. The company declined to disclose local employment figures last week, but the firm had about 300 job openings earlier this year.
Not everyone thinks the outlook is glum. Robinson, a 25-year industry veteran, said he's recently seen a drive to be downtown by younger workers in the tech and media industries, as well as a growing housing stock to support them.
And some experts said a new Salesforce tower might incite ancillary companies to move downtown—perhaps in the Salesforce tower itself.
"You'd love to be the Salesforce building and add extra space to lease to tech companies," Broderick said. "You'd be all over it."
Please enable JavaScript to view this content.