Scott Newman is an attorney and former Marion County prosecutor whose second act included founding Strand Analytical Laboratories and Rock Steady Boxing. He's married with three stepsons. Newman shared advice on life, leadership and leisure.
A lot of people think my greatest obstacle has been my Parkinson's disease. It's really not been that. It's been understanding that success means balance. Putting my work ahead of everything else, balancing it with other things in life that are the most important: spending time with people you love, getting yourself in the community, doing things for their own sake.
Take your job seriously, but don't take yourself seriously.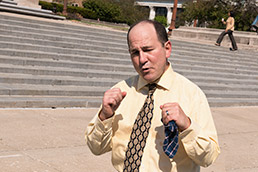 Scott Newman (IBJ photo/Eric Learned)
Parkinson's is a clinical thing that you can deal with. And I've taken it on pretty successfully. It can be managed. If your head is in the wrong place, then it can't be managed. I write, read, travel, spend time with my wife and children, and I try to laugh a lot.
Favorite places to go? Anywhere where there's not a phone.
We've spent a lot of time in Puerto Rico. We rented a house there. We've been all over the island, like every square foot of it. There's a waterfall I like to stand under.
I said I'd never eat anything that resembled a non-slip bath mat. Rules are meant to be broken. Catching an octopus on the beach in Puerto Rico and cooking it and then eating it. When you catch an octopus and throw it in the bucket, you learn it's hard to unstick from the bucket, then it shoots ink all over you and everybody runs off in every direction. Eventually, we had a meal.
If you think you can reduce crime, you should.
When I took over the Prosecutor's Office in 1994, I had just gone through what most political observers regarded as the most vicious, hard-fought campaign in local Marion County history. There were nearly 400 employees. Things were mighty jittery in the environment. We used humor to reassure the employees. And it worked.
If you have a sense of humor, it's a really big gift. It helps bind people together.
I made a new friend at a business meeting: Vincent Perez. He's a cop turned lawyer, also a former Golden Gloves boxer. He saw me fading during my first few years with Parkinson's disease. So he decided to get me moving again with his favorite sport: boxing.
Starting a boxing gym specifically for people with Parkinson's disease to fight back is one of the most rewarding things I've done with my career. There were people as old as 64 and as young as 25.
My first time at the gym, I was very uncoordinated. After six weeks of intense workouts, I was ready to call an ambulance. I jumped up a whole step in my ability to move.
Life goes on when you get older. We all get humbled, because we occupy fragile little machines called bodies.
Eventually, time and wear will humble us all.
How you deal with the inevitable is the mark of quality in a man or woman. It's not bravery; it's necessity.
Click here for other interviews.
Please enable JavaScript to view this content.