Mike Cunningham opened Boulder Creek Dining Company in Brownsburg in 1997, aiming to fashion the best restaurant in an underserved suburb. Charbonos, in Avon, followed with the same philosophy, trailed by a string of Stone Creek Dining Company locations. Now an $18 million enterprise, The Cunningham Group is a dominant force in Mass Ave, with Mesh, Bru Burger and, most recently, Union 50 added to the portfolio.
IBJ: How has the Indy dining scene changed since 1997?
CUNNINGHAM: Early in my career, even my friends were unwilling to be adventurous. But I've watched them really expand on that. They're now looking for more than a chicken sandwich and a quesadilla. It's changed radically in terms of what people are willing to try. That probably has a lot to do with the chef shows on TV.
IBJ: Your early restaurants had fairly conservative menus.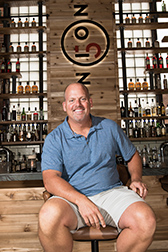 Mike Cunningham (IBJ photo/Eric Learned)
CUNNINGHAM: Our model was always having 75 percent of the menu items that people could recognize and be comfortable ordering. The other 25 percent was more adventurous. When we came downtown, we flip-flopped that. But we keep the mainstays. Sometimes I'll argue with a chef who wants to know why there's a cheeseburger on the menu. I want the neighborhood person to have that option. I always maintained that option and took pretentiousness out of the deal.
IBJ: Can you tell on one visit how long a new restaurant will survive?
CUNNINGHAM: I can't speak to how long without knowing the capital behind it and whether [the owners] recognize the problems. But I certainly have an idea if there are problems. If nobody's smiling—if nobody's having fun—that's pretty obvious.
IBJ: Are you saying that culture is as important as food quality?
CUNNINGHAM: A lot of people don't understand the concept of culture in a restaurant. They can be so caught up in trying to be the coolest place in town that they forget the basics. The hostess has to smile. The server has to connect in a positive way. We can fall down in a lot of ways, but if you are kind to people, you can fix just about anything.
But if you are a negative person, it's hard to create that culture. Another common mistake is not knowing what the market wants. [Some restaurant owners] are doing what they enjoy and think they are going to train and form their guests without really looking at what guests want.
IBJ: Indianapolis has a reputation for being loaded with chain restaurants. You've set up shop in Cincy and are looking to Louisville. Do you have to fight that anti-chain thinking there?
CUNNINGHAM: I am concerned about that. I've heard my employees say, "I'm over at corporate." I prefer they not use that word. I really want to remind people that we are independently owned. We wanted people to understand that my brother and I are both Cincy boys. He still lives there. We purposely wanted a face of ownership.
IBJ: What does Indy still need, restaurant-wise?
CUNNINGHAM: I'm afraid to say that because I know I'm going to do it.
IBJ: Is it possible to be too creative?
CUNNINGHAM: I think so. If you are going to go down that road, you have to have something people can relate to. Alinea Restaurant [in Chicago] is one of the tops in the world. Spectacular. Sixty seats. Fairly expensive. One of the best chefs in the world. And the food is so out there. It's molecular. And it's very interesting and cool if you have four hours. But that restaurant in this market probably wouldn't work.
IBJ: What can Mass Ave do to improve?
CUNNINGHAM: It should continue to add destination restaurants even though we have to compete against them. I think it's helpful. Some good, solid retail and more places to eat and drink. It's done a lot with the streetscape and keeps improving. It certainly has a great vibe, with bikers all over the place. We just need to add places that will keep people down here longer.
IBJ: What misconceptions are there about the restaurant business?
CUNNINGHAM: People that are interested in being in the business have to be careful. I'm born and bred in the business. I washed dishes as a kid and cooked in high school and college.
People not in the business who want to invest and think it's fun and cool often can't walk in and fix things because it's not in their experience. And you can't always trust the guy you hired because there is no guarantee that that person is going to be the person. You have to be able to fix it. I'm not going to be opening a dentist office really soon.
IBJ: Do you have restaurant envy about any other place in town?
CUNNINGHAM: There is a cool restaurant in south Broad Ripple, Delicia. It's got a great vibe, great décor, and the food is outstanding. But I'm not saying I wish I would have done this.
IBJ: If you had to eat today at a chain restaurant, where would you go?
CUNNINGHAM: A Qdoba or Chipotle. For sit down, I might do a Maggiano's.
Click here for other interviews.
 
Please enable JavaScript to view this content.