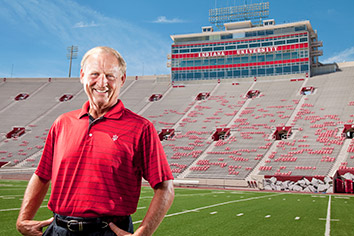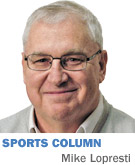 BLOOMINGTON—Somewhere in Don Fischer's home is a tape of the first play-by-play broadcast he ever did, of a high school football game back in Illinois. Ottawa vs. Morris. He was so bad, the station manager was waiting at the station door that night to tell him he had three weeks to vastly improve—or else.
He got better, of course, or else the Voice of the Indiana Hoosiers would be someone else today. He gave that first game tape a listen last year for the first time in decades. So wouldn't it be fun to let others hear it?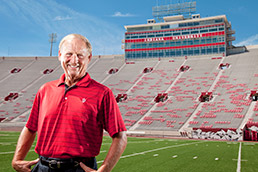 Don Fischer (IBJ photo/Shannon Zahnle)
"Nooobody's going to hear it," he says. And then he laughs a resonant laugh. That tape is like Rose Mary Woods' 18-1/2 minutes of Richard Nixon discussing Watergate. Lost forever to the public.
It is a Saturday, and Fischer is in his world: a broadcast booth, with an Indiana game to call. Soon, an ugly loss to Maryland is unfolding, and he must describe it to ears from Madison to Michigan City, as he has done for 41-plus years. Fischer is not the type to throw verbal hand grenades. "One thing I've always felt was hugely important was never try to disparage somebody on the air in a personal way. I'm an old-school guy and I think you should be critical of things, but in a professional way, and I don't see that a lot anymore, and that bothers me about our profession."
But Maryland scores again, and something must be said. "Indiana's dramatic win over Missouri," he more or less sighs over the air, "in many people's minds, already forgotten."
This is his usual autumn place: the booth atop the west side of Memorial Stadium, the microphone in his right hand. No headphone with hands-free microphone for him, for he is an old-school guy about that, too. From his view, he can see beyond the east stands to Assembly Hall, his winter home. It has been this way since 1973, when he was hired from a pool of more than 250 candidates.
And now only two college broadcasters in America—Washington State's Bob Robertson and Pittsburgh's Bill Hillgrove—can say they have been at it longer.
The basics of his long road, we should know. The growing years as a farmer's son in Rochelle, Ill., dabbling in construction and magazine door-to-door sales, and railroad work. He played some baseball but wasn't good at it, so they stuck him in the outfield. He would stand out there during the boring innings and do play-by-play to himself.
But one night, sitting in a railroad depot reading Sport magazine, he noticed an ad promoting a career as a sportscaster.
"I saw that and I thought, 'That's what I'm going to do,'" Fischer says now. "I don't know why."
There was the overnight music DJ shift in Butte, Montana. The first disaster in Ottawa, where he saved his job by seeking out a nearby sportscaster the day after the ultimatum from the boss, and writing down suggestions for five hours. There would be time spent in Terre Haute, and a possible chance to go to the Oregon Ducks.
But life and fate took him to Bloomington. And now the three most certain things to any Hoosiers fans are cream, crimson and Don Fischer.
At least he can eat before games now. Used to be, he was so nervous he couldn't touch a thing, no matter how free the pre-game meal in the press box. There is some irony that a man famous for talking so expertly to an entire state over the radio finds genuine discomfort in public speaking.
But when the game starts and the microphone is on, he thinks of all the masses out there, and understands "that I am their eyes. Every day I have a game, I think about that."
It has been a wonderful ride, and still is. So before another kickoff, a Don Fischer list:
• His most unforgettable moment to call …
"I always have gone back to 1976 and that national championship game and the last minute and a half. That team was so non-demonstrative. They acted as if they'd been there forever. But they got excited about being unbeaten and national champions. Those guys went nuts. That night, I had tears coming down my cheeks."
• The most fun athlete to broadcast …
"Antwaan Randle El. He touched the ball every single time as a quarterback and you never knew what he was going to do next. He did things I've never seen anybody else do."
• Toughest game to call, or not to call, as it turned out …
"My dad was involved in an accident in Arizona when he got hit by a garbage truck riding a bicycle. My brother and I flew out there and I missed the Michigan State [basketball] game. And I hate missing games. That trip we took out there to see my dad [wondering] if he was going to make it [he did], that was tough. That's the only one I ever missed because of something personally related."
• Broadcaster he most admires …
"Harry Caray when he was with the Cardinals. I grew up listening to him, and I always thought he made it so exciting. He could make a foul ball sound exciting. The other guy would be Dan Kelly, the St. Louis Blues play-by-play announcer. I've never heard anybody control his voice inflection better."
• The call he'd like to have back …
"The D'Angelo Roberts touchdown [to beat Missouri this season]. The call was fine, but then I was trying to go overboard re-explaining it, and halfway through I stopped because I didn't know what the hell I was saying. That's one of those things you hate as a broadcaster."
Also, he came close to saying "horse (bleep)" once. It was during an IU pounding by Northwestern several years ago, when the Wildcats scored yet again. "Horse …" was as far as he got.
• The most challenging thing about hosting the Bob Knight show …
"You never knew what to expect. For years, he said he wouldn't do a talk show, but then he found out how much Dean Smith was making for doing a talk show. He calls me up one day and says. 'Fischo'—when he wanted something, it was always Fischo—'what do you think about doing a talk show?'
"It was the middle of December in the second year, and somebody called up and said he was the greatest coach ever, but then came up with a question about why he was doing something or why he wasn't doing something. So he goes, 'Fischo, let's go to commercial break.' During the commercial break he goes, 'Tell your people that's the last phone call I am ever taking on this show.'"
From then on, questions had to come in via letter or post cards. In Knight's latter years, questions slowed to a trickle, so Fischer made up some of his own to have ready, then put names on them to make it seem as if people had actually sent them in. He took the names from his high school yearbook.
Was Knight ever aware? "Heck, no. You kidding me?"
• The hardest player's name he ever had to pronounce …
"I can tell you who it was, but I can't tell you how to pronounce his name. When we played the Chinese national team, I pronounced a guy's name the way I thought it should be pronounced, and midway through the game someone called in to let me know I was announcing his first name last and his last name first.
"One of my pet peeves is screwing up people's names, so I go to great lengths to find correct pronunciations. If I screw it up on the air, then I will correct myself on the air."
So, yes, he got Minnesota's Ernest Nzigamasabo correct.
• His first game at Indiana was …
"Here in Memorial Stadium, Illinois against Indiana. We got beat 28-14. It was Lee Corso's first game and he brought the team down in double-decker buses and five minutes before kickoff, they ran out on the field, and got a five-yard penalty for being late."
• His last game at Indiana will be …
"I know this isn't going to last forever. The Good Lord gave me good health to this point. I'm 68 and everybody asks me, 'You're not going to hang it up, are you?' I have no plans of doing that right now, but you never know what's going to happen.
"The one thing I fear as a broadcaster is not to have the cognitive skills to recognize and see things I've always been able to see. I don't ever want that to happen."
So in 50 years, will it be the Don Fischer Memorial Broadcast Booth?
"Hopefully by then, they've refurbished this place. I'd like to see them do it before I retire."•
__________
Lopresti is a lifelong resident of Richmond and a graduate of Ball State University. He was a columnist for USA Today and Gannett newspapers for 31 years; he covered 34 Final Fours, 30 Super Bowls, 32 World Series and 16 Olympics. His column appears weekly. He can be reached at mlopresti@ibj.com.
Please enable JavaScript to view this content.