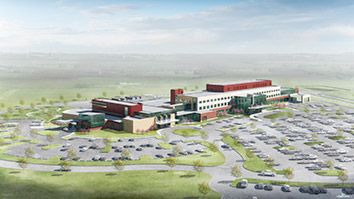 Major Hospital is zigging while everyone else zags.
Shelbyville's Major will break ground on an $89 million hospital next month. Meanwhile, hospital systems around the state are talking about consolidating facilities or turning unused bed space to new uses.
Perhaps the biggest example of hospitals battening down their hatches is Indiana University Health's plan to merge two of its downtown Indianapolis hospitals into one campus.
So what explains the sharply divergent paths?

CEO Jack Horner said the extra money moved up the timetable for the project.
One big reason is that Major will bring in $20 million this year in new federal funds triggered by its recent partnerships with nursing homes around Indiana. Major expects to collect an additional $40 million over the two years it takes to build its hospital.
Major is one of 25 county- or city-owned hospitals around Indiana that have similar partnerships with long-term-care facilities. The partnerships have exploded since 2011, fueled by the hospitals' realization that the arrangements could be used to draw down extra federal funding that can be split between the hospitals and nursing homes.
The State Department of Health says 343 Indiana nursing home licenses now are held by hospitals as part of these partnerships. But in spite of that gusher of funding—which was $313 million statewide in 2013 and will certainly be more this year—health care experts don't expect to see a building boom among county-owned hospitals.
"They're sitting on it, paying down debt or making improvements that they need to," said Mike Grubbs, a health care attorney at Barnes & Thornburg LLP. For the smallest county-owned hospitals, known as critical-access hospitals, Grubbs said the money is helping them survive. "Really, their financial situation has gotten so bad that they are at risk."
But Major faced different circumstances than most of its peers. It has a 34-year-old hospital facility that officials concluded would cost more to upgrade and maintain, long term, than it would cost to build new.
"It was an either/or decision about what was the best way to invest the money," said Major CEO Jack Horner, sitting in his office in Major's 72-bed hospital in downtown Shelbyville, which lies 25 miles southeast of Indianapolis.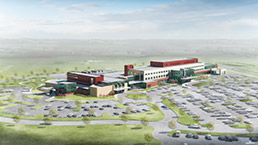 Major Hospital plans to construct a 300,000-square-foot hospital, with 56 beds, along Interstate 74. It is expected to have the same number of employees, 930. (Rendering courtesy of Major Hospital)
The new hospital, which will shrink Major's bed count to 56, will be on the northern edge of Shelbyville, along Interstate 74.
Helping to justify the project are forecasts from consultants hired by Major showing patient volume will grow over the remainder of the decade—2 percent for inpatients and 17 percent for outpatients. That's in contrast to most other hospital systems, which suffered from fewer patient visits last year.
Finally, Major's investments have enjoyed nice returns the past three years, rising in value from $49.4 million at the end of 2011 to $82.7 million in the middle of this year.
That, as well as the revenue from the nursing home partnerships, allowed Major to build a hospital now, as opposed to waiting until 2020, when its normal operations would have produced enough cash to do so, Horner said.
Bond analysts at Fitch Ratings agree. They repeatedly cited the importance of the nursing home revenue in their evaluation of the $55 million in bonds Major plans to sell this month to help finance the project.
"The [nursing home] payments certainly make it easier," said Dana Ringer, a director at Fitch Ratings in Chicago. "The payments are definitely boosting their balance sheet as well as their revenue."
Venturing far afield
Major now has partnerships with 40 long-term-care facilities, most of them nowhere near its other health care operations. The long-term facilities are as far away as Gary and Michigan City, Terre Haute and Boonville.
But when Major holds the license for these nursing homes—then hires the previous owner to continue operating them—it qualifies for extra federal funds from the Medicaid program for each Medicaid patient.
Medicaid rules allow governmental entities—which county-owned hospitals are—to pay their state Medicaid agencies extra fees that will trigger higher federal matching funds, up to a point that lets them receive the maximum federal payments.
Because the Indiana Medicaid program pays nursing homes at rates well below the maximum federal rate, the difference is substantial—$71.54 per patient per day, according to an analysis by the accounting firm Myers and Stauffer.
Grubbs, the health care attorney, advises his clients not to bake the nursing home funds into their operational budgets. And some banks, if they have liens on hospitals as a condition of their loans to the hospital, require that no more than 10 percent of the nursing home funding be used for operations.
That's mainly because the Centers for Medicare & Medicaid Services has repeatedly tried ways to curtail state programs that help health care providers maximize federal funding under the Medicaid program. In addition, calls to convert Medicaid funding into block grants for states could end up killing the extra funding for the partnerships between nursing homes and hospitals.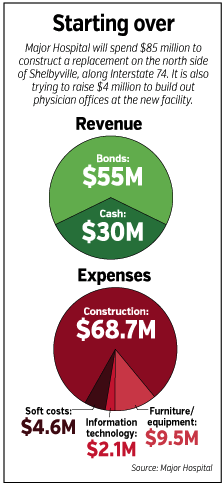 In Major's case, the funds from the nursing home partnerships will more than cover the $30 million in cash and roughly $5 million in debt service Major will pay over the next two years to finish the hospital, leaving the hospital with plenty of cash on hand to maintain its investment-grade bond rating.
Ringer, the Fitch analyst, noted that if the nursing home payments went away suddenly—something neither she nor Horner expects, but which is at least a possibility—it would likely lead to a multiple-notch downgrade in Major's bond rating.
If Major's rating, which is BBB+ on Fitch's scale, fell three notches, it would fall out of what Fitch considers investment grade. And that could significantly increase its borrowing costs.
"There generally is an increase in the cost of capital as you decrease your rating," Ringer said.
Build vs. renovate
Major's decision to build new now, rather than continue to renovate its existing hospital, gained momentum in 2011 when Major commissioned a study that found upgrades would cost $30 million.
And spending that money would not have allowed Major to be more efficient in delivering care, meaning the hospital would have continued to struggle to make profits if anticipated declines in payments from the federal Medicare program and private health insurers come to fruition over the next several years.
"We were not going to sit back and manage our decline in this facility," Horner said.
The costs of building a new facility can be easily offset by savings on labor, he said.
Major was able to finance its new hospital quite cheaply, with the interest rate on its bonds set at 4.5 percent.
Horner expects the new facility to be able to handle the projected increases in patients with the same number of staff members, 930, it currently has.
"We knew that the most important thing from a cost standpoint is to get a facility that actually facilitates this new model of care," Horner said, referring to plans by Major to organize its medical staff into teams that take care of all of a patient's needs, rather than making patients figure out all the various medical caregivers they need to see.
"Savings from team-based efficiencies can easily outweigh financing over the long term," he said.
Ringer, the Fitch analyst, also thinks the new hospital could help Major keep more Shelby County patients in its system—rather than seeing them drive up I-74 to Indianapolis hospitals. She also thinks the new hospital emergency room, which will be next to Major's outpatient centers for heart, cancer and orthopedic services, can serve as a feeder system to keep those facilities busy.
"There definitely is a halo effect around a new hospital," she said.•
 
Please enable JavaScript to view this content.