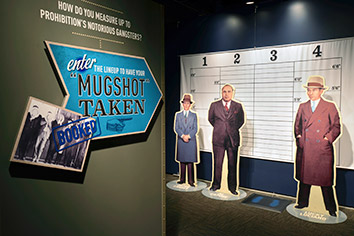 Not a week seems to go by these days without the announcement of the opening of a craft brewery. Restaurants now boast of their local beer lists the way they used to tout their culinary prowess. The Phoenix Theatre's annual Brew-Ha-Ha used to be a unique fundraiser. It's now one of dozens—if not hundreds—of local hops-happy events.
October used to be the beer-focused month. Now, it's just a slightly-more-boisterous-beer-focused month.
Given all of that, the Indiana State Museum seems to be placing a safe bet by banking on interest in Prohibition, that long-ago time when none of the above was possible. Organized by the National Constitution Center, "American Spirits: The Rise and Fall of Prohibition" (running through Feb. 15) explores that odd place in U.S. history when we went beyond "Just say no" and attempted to outlaw the manufacturing, transporting and selling of alcohol.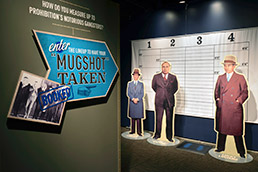 A photo op with familiar gangsters is one of the interactives at the Indiana State Museum's "American Spirits." (Photo courtesy of Indiana State Museum)
The exhibit features artifacts (including a still) and a mini-church (where an actor playing Indiana's own Billy Sunday, who railed against "Hell's best friend," preaches a sermon). There's a chance to snap a lineup photo with Al Capone, an interactive rum-running game, and a speakeasy room complete with instructional footprints for the Charleston printed on the dance floor.
It's all a bit loud—especially an overly busy display that shows how the law was pushed through—but the attention to the legal quirks and the diverse forces that influenced the amendment (including anti-German sentiment around World War I, the KKK, and the women's suffrage movement) offers plenty to spark interest in the period and encourage further reading and exploring. Curating the exhibit: Pultizer Prize finalist Daniel Okrent, author of "Last Call: The Rise and Fall of Prohibition."
And, no, I didn't know that Indiana's beloved Johnny Appleseed spent all that time planting cider apples. Or that, in 1830, the average American consumed 90
bottles of 80-proof liquor a year. A factor in that was that water quality was so poor.
Of course, indulgent events are in the mix. An opening "Indiana Spirits" event featured bourbon tasting. On Oct. 23, Tow Yard Brewing Co. will host "Rise of Craft Beer in Indiana," featuring four local writers who have harped on hops. And a Jan. 22 program, "Hoosier Blues: A Look at Indiana's Blue Liquor Laws," explores our own quirky history with legislating libation.•
__________
This column appears weekly. Send information on upcoming arts and entertainment events to lharry@ibj.com.
Please enable JavaScript to view this content.