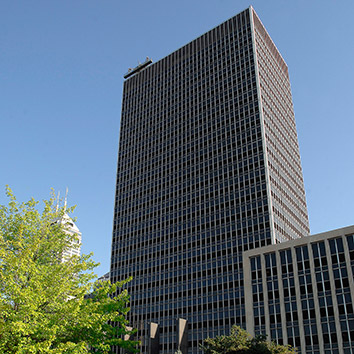 A representative of Indianapolis Mayor Greg Ballard told Marion County judges Monday that the request for proposals the city issued to three teams competing to design, finance and construct a criminal justice facility is not a document the public can see.
Kurt Fullbeck, senior policy advisor for economic development, said at a meeting of the general term of Marion Superior judges that the document would be public if it were for particular goods and services. But because the specifications also involve operation of a jail, criminal courts and other judicial offices, the procurement procedure was different and not covered by state law making RFPs public.
"We don't want to negotiate this process in public," Fullbeck said after Marion Superior Judge Tim Oakes asked for the city's rationale in keeping the document secret. Fullbeck said the document also could not be released due to problems it could create with potential bidders who were eliminated from consideration when the city narrowed the field to three finalists.
The city has denied requests for the RFP from the Indianapolis Business Journal. However, Indiana Public Access Counselor Luke Britt said recently in a letter that the city had failed to justify its denial of a request to produce the document for public inspection.
Fullbeck said the city was "currently working with the public access counselor" and insisted that the city has no obligation to make public those documents relating to a potentially $500 million public works project. Plans, which Fullbeck said are fluid, include a new jail, criminal courts and judicial complex to be built on the site of the former General Motors stamping plant west of White River and south of Washington Street.
The city claims the facility can be financed through a public-private partnership in which the facility would be designed, financed, built and operated on a long-term lease without the need for a tax increase.
Please enable JavaScript to view this content.