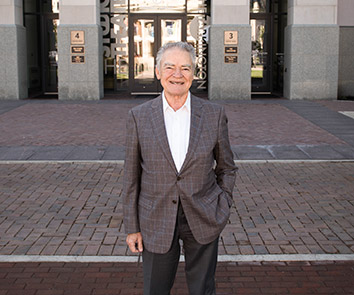 Pity the old-school pocket calendar that retired CPA, venture investor, community leader and former Conseco Chief Financial Officer Rollin "Rollie" Dick uses to keep track of his commitments.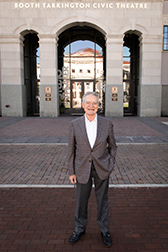 Dick was instrumental in helping the Civic Theatre move from Marian University to the Tarkington theater at the Center for the Performing Arts. (IBJ photo/Eric Learned)
Its crowded pages are filled with meetings for the various not-for-profit educational and artistic boards on which he sits, along with start times for the plays, musicals and concerts he attends at venues ranging from the Indiana Repertory Theatre to the Indianapolis Symphony Orchestra to the Center for the Performing Arts in Carmel.
"It's jam-packed," said Dick, 83.
But not quite so crowded as it once was.
"Earlier in life, I might not have been as discretionary as I am now," he said. "But my first issue today is, will whatever I'm asked to do be fun? It's sort of the common thread in the commitments I make."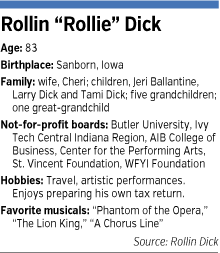 Dick's definition of "fun" differs substantially from the generally accepted one. Judging from his recent accomplishments, his idea of enjoyment includes guiding struggling not-for-profits back from the brink and positioning others on more solid footing to thrive.
Dick has been especially active in education and the arts, playing key roles in turning around organizations ranging from the charter school Fountain Square Academy to the Indianapolis Civic Theatre and strengthening many others, from the Center for the Performing Arts in Carmel to Butler University.
"He's a leader," said Booth Tarkington Civic Theatre Director Robert Sorbera. "He's an excellent listener and a great problem solver. A very pragmatic guy who can see the big picture."
Dick's selfless devotion to the community has earned him the distinction of being the 21st recipient of IBJ's Michael A. Carroll Award, given annually to a man or woman who has demonstrated the former deputy mayor's qualities of determination, humility and service. Carroll was among six people killed when two small planes collided over southern Marion County on Sept. 11, 1992.

Dick said he didn't intend to take on so much, but he can't help himself.
"I'm trying to be retired, but I have enough things going on that I'm seldom home," Dick said. "But everything that I've got going on is fun."
Making a difference
In March 2011, poor student achievement had put both the Fountain Square Academy (now the University Heights Preparatory Academy) and the Fall Creek Academy in danger of closing. Dick took control of both charter schools' boards, created a new board of community leaders and educators, then aligned with the University of Indianapolis and Ivy Tech Community College, among others, to garner advice on changing the schools' direction. His input helped improve student performance and put the schools on a positive trajectory.
Dick's accomplishments in the artistic community include serving on the board of the Center for the Performing Arts in Carmel since 2009. He was the organization's founding chairman, helping to shepherd it through both a leadership change and political controversy.
"As we've made various transitions, Rollie has taken up the slack," said the center's artistic director, Michael Feinstein. "If he has seen something that needs to be done, he will find it and either delegate or do it himself. He makes sure nothing falls through the cracks."
Dick also served as chairman of the Indianapolis Civic Theatre, the nation's oldest continuously operating community theater. He helped extricate the organization from financial crisis by moving it from Marian University to new digs at the 500-seat Tarkington theater inside the Center for the Performing Arts.
Iowa roots
Dick got his start in the tiny Iowa farm town of Sanborn. A CPA by training, he came by his love of debits and credits honestly. His father worked as a bookkeeper at the local creamery, and regularly shared stories with his son about "the glories of bookkeeping."
"His hero was the outside bookkeeper who came to town once a year to audit his books," Dick recalled. "He was always in awe of him. That kind of inspired me to get into accounting."
After earning an associate degree at the American Institute for Business (now AIB College of Business) in Des Moines, Dick joined a small CPA firm before teaming up with a friend to found a new practice, which in 1965 merged with the public accounting firm Coopers and Lybrand (now PricewaterhouseCoopers LLP).
Dick transferred to Indianapolis in 1970, and in 1986 became chief financial officer of the insurer Conseco, which Stephen Hilbert and a partner had recently formed. The company grew explosively but hit hard times after a 1998 acquisition went awry. In 2000, Dick and Hilbert left the company, which is now known as CNO Financial Group.
Later, Dick served as a consultant for several companies and for MH Equity Fund, a venture firm launched by Hilbert and hardware retailer John Menard. Menard and Hilbert parted ways in 2013 after a falling out.
Dick still keeps an office in his basement and his hand in several firms, including Equipment Technologies in Mooresville and Polymer Technology Systems in Indianapolis.
Board service
His commitment to the arts began back in Des Moines early in his career, when he was newly married and pretty much broke. He started ushering at a local theater in exchange for two free tickets for himself and his first wife, Helen (the couple were married 56 years; she died in 2007).
"I tell people that my interest in the arts in general relates back to when I was first married and struggling to get two pennies together to do something fun with my wife," Dick said. "I was an eager audience member of the arts long before I was a board member."
His interest has been more than reciprocated. Because no one is more welcome on the boards of arts groups—usually dominated by left-brained creative types—than an avowed "numbers guy."
The Indianapolis Repertory Theatre was the first local arts organization to ask him to take a leadership role. Over the years, he's helped preside over dozens of artistic ventures, but he said the most successful, on a personal level, was his stint as chairman of Civic Theatre a decade ago. During his tenure, he helped locate and hire a new CEO for the group, Cheri Lynn.
"At that time, we were both happily married," Dick said. "And then flash forward a year. My spouse died and her spouse died. We ended up getting married. So my most successful nonprofit experience was finding a second wife."
Dick's other passion is education. He first grasped the scope of Indiana's school-related problems when he headhunted for employees during his Conseco days. He noted how hard it was to find entry-level staffers with adequate math and language skills.
"The biggest problem is that we have been so successful for so long at finding good-paying jobs that didn't require a college education, that the concept of going to college has less relevance than in much of the world," Dick said.
His foray into education began two decades ago, when he got involved in the Educational Choice Charitable Trust, a not-for-profit that helped fund scholarships to private schools. It also sparked his ongoing focus on charter schools.
"My interest in alternatives to traditional public schools is based on my belief that all enterprises, including schools, perform better when competition forces them to perform better," Dick said.
His current board memberships are heavily weighted toward education, and include Ivy Tech, Central Indiana Region; and the AIB College of Business (his Des Moines alma mater). He also sits on the board of Butler University, an institution he's worked with since his pre-Conseco days, when his CPA firm scouted the campus for potential hires.
"He's been involved in our decisions around parking garages and student housing," said Butler University President James M. Danko. "He's at every meeting and he's fully engaged. If I turn to him with a question or for a comment, he'll stop for a moment and then distill it down to a really precise answer."
Not seeking glory
Though Dick has overseen the administrative details of numerous building projects, and donated his own funds to many of them, don't expect to see one bearing his name. For a man so interested in the performing arts, he's extremely averse to the spotlight.
"In one of the last IRT campaigns, he gave an extremely generous gift and he asked for it to be anonymous," said Janet Allen, executive artistic director of the Indiana Repertory Theatre.
"We said, 'Rollie, we need your name to help us raise money.' And he said, 'I will allow you to do that.' It would have been easier for him to do it anonymously. But because he cared about us, and he cared about the work, he allowed us to use his name."
While Dick said he occasionally allows an organization to publicize one of his gifts in order to spur others to give, he avoids putting his name on things out of "plain modesty."
That mind-set is out of step with the thinking of his longtime friend Hilbert, who has made highly publicized gifts to many organizations and whose name adorns the Hilbert Circle Theatre.
"Steve Hilbert and I see 180 degrees differently on many things, including naming rights," Dick said. "He once said to me, 'Rollie, you just don't have enough of a pharaoh complex.' I said, 'No I don't have that complex and I don't want it. Because it's not about me.'"
Instead, Dick is content to provide quiet support by purchasing season tickets, making donations, offering advice, and simply showing up and giving encouragement. For instance, on Saturdays before a new show opens, the Civic Theatre puts on a 10 a.m. dress rehearsal. Invariably, the sparse audience includes Rollin and Cheri Dick.
"He doesn't just support us in a philanthropic way," said the Civic's Sorbera. "He attends everything. In the list of people who have supported the arts in this community over the years, he's right at the top. But he's quiet about it. You don't see him taking a lot of credit."•
Please enable JavaScript to view this content.