A new co-working space called The Grindery is opening soon on Martin Luther King Jr. Street, and it has a slightly different character from the other shared-space sites that have popped up in recent years.

The Indianapolis area has about a half-dozen co-working spaces. They have free or relatively low rents aimed at serving entrepreneurs looking to graduate from kitchen tables and coffee shops. Most have a sizable, if not exclusive, tech-startup focus. But The Grindery, scheduled to open in December, has so far attracted a broader range of young companies, including an upholstery business, a security company and a law practice.

"They may be some of the more traditional businesses," said John Wechsler, founder of the Fishers-based co-working site Launch Fishers. "But I think it's an important part of the entrepreneurial ecosystem to start to enhance."

Hicks
The Grindery will operate out of 800 square feet in a strip mall at 2711 Martin Luther King Jr. St. It's slated to offer mailing addresses, meeting space, light secretarial help and other amenities to users, administrators said. It also will host seminars and workshops.

The Grindery started in 2012, but without the full range of co-working services. Its activities took place in a community center at First Baptist Church North Indianapolis. The pastor there, 45-year-old Ivan Douglas Hicks, is The Grindery's founder.

"We try to attach resources and relationships to people with business ideas," he said.

The Grindery's new home may mean more resources and relationships. About $100,000 in cash and in-kind donations will go toward renovation of the MLK site. CloudOne CEO John McDonald, who met Hicks through a mutual acquaintance, led the fundraising effort.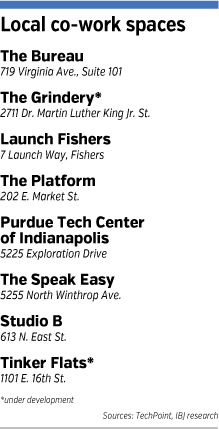 "You could get involved in any co-working space," McDonald said, "but this is a special one."

The Grindery is in the MLK corridor, an urban neighborhood that has seen an influx of public and private investments over the years aimed at revitalization. Hicks said the idea came during a church service when, by show of hands, several unemployed people acknowledged they'd be interested in entrepreneurship.

"There are a lot of people in the area surrounding The Grindery that don't have the best of any resources," Hicks said. "So a lot of progress can be made by simple exposure, and I think that's one of the things that we're able to do."

Among other support, The Grindery has hosted seminars on starting a company, networking sessions and even a "Shark Tank"-type of event called Hustle and Grind.

George Armstrong, who founded Strongarms Security in December 2013, said The Grindery sparked his desire to go back into business after running a company many years ago.

"That spirit of aggression and confidence was missing," he said, "and it helped bring that back up."

Boyd
Amber Boyd of Amber K. Boyd Attorney at Law said she had long envisioned starting her own law practice, and early this year The Grindery put her on the fast track toward making that happen.

"I feel like I was able to hone my skills and get great feedback from mentors," she said.

Co-working spaces have been proliferating around the country, fueled in part by their inexpensive flexible-rent options

The trend began on the West Coast in the mid-2000s, and arrived locally around 2011.

Launch Fishers is coming up on its second anniversary. The Bureau, a for-profit operation on Virginia Avenue downtown, opened last year. There at least 20 across the state.

More sites are in queue.

"I envision over 100 co-working spaces across Indiana within five years," said Jacob Schpok, director of the state's Office of Small Business & Entrepreneurship. "It may seem like a large number, but it's extremely obtainable when you consider Indiana has 92 counties and entrepreneurship continues to become a prevalent part of every local economic development strategy."•