A construction manager's plan to convert two adjacent buildings on North Meridian Street into its local headquarters represents the latest contribution to a subtle but continuing revitalization of the near-downtown corridor.

Local contractor Messer Construction Co. bought the buildings south of Fall Creek Parkway on the east side of Meridian earlier this year and is moving there from near Shadeland Avenue and Interstate 69.

A city zoning board is set Oct. 14 to hear Messer's request for a handful of variances for the more than half-acre property spanning from 2441 to 2445 N. Meridian St.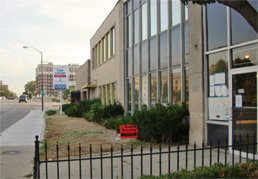 Messer has earmarked property just south of Fall Creek on Meridian Street for its new local headquarters. (Image courtesy city of Indianapolis)
Cincinnati-based Messer is spending $1.6 million to renovate the two-story buildings and 50-space parking lot. Work on the project, which Messer is performing, has begun, with completion expected by February, said Steve Bestard, a company vice president.

Messer has leased space on Hillsdale Court on the northeast side since arriving in Indianapolis in 2005. The company's $137 million in local billings last year ranked it the eighth-largest construction contractor in the Indianapolis area, according to IBJ statistics.

"We wanted to get closer to downtown because a lot of our clients live and work and play around the downtown area," Bestard said. "We also thought the area was a great up-and-coming area to make the investment in."

The buildings will be gutted and remodeled, with a partial tear-down and reconstruction planned for the exteriors. Messer will use the building to the north for indoor storage and for scheduling construction crews, while the one to the south will house offices.

The 13,712 square feet of space will give Messer room to expand. The local office has 100 employees and plans to hire 15 more by September 2015. One of its larger projects is construction of Major Health Partners' $89 million hospital on the north edge of Shelbyville.

The buildings on Meridian Street have been vacant since October 2011. Community Action of Greater Indianapolis was the previous owner and occupant.

Michael Osborne, executive director of the Near North Development Corp., is looking forward to seeing the buildings renovated and occupied again.

"They're investing a lot of money" in that property, Osborne said of Messer. "It was in very bad condition."

Messer's decision to invest in the area doesn't surprise him.

"The Messer project is a perfect example of wanting to be closer to downtown with high visibility without having the high-end cost of downtown, and parking's readily available," Osborne said.

Immediately to the north, another office renovation is under way. Near North Development worked with a local ownership group to secure a matching $40,000 façade grant from the Local Initiatives Support Corp. The funds will be used to install a new façade, entryway and windows on the vacant building in hopes of attracting a tenant, Osborne said.

And about three blocks south, a $5.7 million apartment project is in the works for a vacant piece of land on the east side of Meridian. Urban residential specialist Axia Urban LLP is co-developing the project with Near North Development, which received $550,000 in grants from the city to help with financing.

The project has expanded from 34 units and three stories to 47 units and four stories since Axia announced it in March.

"We have a very high occupancy level at all of our other buildings in this area," Axia partner Gary Levine said of the decision to make the project bigger.

Axia and Near North are slated to break ground in March 2015 and finish in about a year. The government assistance requires that a portion of the apartments, 11 units, be set aside for affordable housing.

On the retail front, Lincoln Square Pancake House opened in August 2013 at 2330 N. Meridian St. in the former home of a furniture shop next to Mercedes Benz of Indianapolis. The Lincoln Square chain, led by father-son owners George and Chris Katris, boasts eight central Indiana locations.