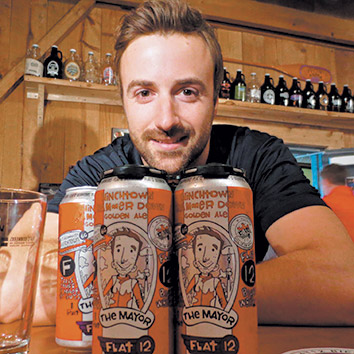 It started on a whim, almost as a joke. But the advent of Hinchtown Hammer Down beer has proved to be a booming business.
James Hinchcliffe, an IndyCar Series driver growing in popularity, and Sean O'Connor, co-founder and CEO of Indianapolis brewery Flat 12 Bierwerks, met through a mutual friend.
Hinchcliffe, a Canadian who spends much of his time in Indianapolis, loves beer. O'Connor, a budding entrepreneur with an eye for a business opportunity, loves auto racing.
The connection was almost predestined. After all, upon its founding in 2011, Flat 12 was named after a 12-cylinder racing engine developed in Indianapolis in the early 1900s and later used in European sports cars.
Naturally, when Hinchcliffe and O'Connor sat down over a beer—or two—they instantly hit it off.
It wasn't long before they were brainstorming about the possibility of launching a beer named after the affable Hinchcliffe, known by his fans as The Mayor of Hinchtown.
"The whole thing happened pretty quickly," Hinchcliffe recalled. "It almost happened on a laugh."
No one is laughing now about the business possibilities of the golden ale known as The Mayor's favorite brew.
The beer is now one of Flat 12's top sellers and has become one of five in the brewery's core lineup. Not bad for a beer that just two years ago was sold only on tap at Flat 12's small east-side tasting room in May to coincide with the Indianapolis 500.
IndyCar Series fans flocked in that year, O'Connor said, to swill the suds The Mayor sips.
In 2013, Flat 12 expanded the offering over the entire IndyCar season and began rolling kegs of Hinchtown Hammer Down into bars and restaurants around the state. This April, the brewery began selling Hinchtown Hammer Down in cans and bottles.
Demand for the beer quickly spread through Flat 12's distribution channels to almost all major liquor stores and grocery stores such as Kroger, Marsh and Whole Foods.
This year, distribution spread to Tennessee and next year will expand to Ohio, Illinois, Kentucky and parts of Canada—where Hinchcliffe is well-known.
The beer is so popular, Flat 12 pulled regular production of another of its beers—Upside Down Blonde—to make way for the expanded production of Hinchtown Hammer Down.
Hinchcliffe's allure
Ken Ungar, an Indianapolis-based sports marketing consultant and former Indianapolis Motor Speedway chief of staff and IndyCar Series senior vice president, isn't surprised. He calls the 27-year-old Hinchcliffe "one of the brightest stars" in all of auto racing.
"James is one of the best personalities in motorsports today, and not just in IndyCar," said Ungar, founder of US Sports Advisors. "He's very open and welcoming, he's got a great sense of humor, and he's authentic. Not only that, he's very business-savvy when it comes to his brand. His website is excellent and he's very good with social media."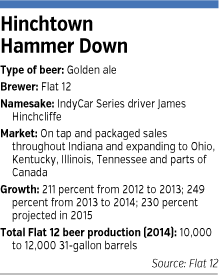 Hinchcliffe's sense of humor has become legendary in IndyCar circles. Fans love to listen to him on the radio talking to his crew during races just to hear his quips and one-liners. During the 2012 season-opening race—his first as the GoDaddy driver, he donned a dark black wig and did his best impersonation of Danica Patrick—the racer he replaced in the GoDaddy car—during driver introductions.
A native of Toronto, Hinchcliffe attended four elementary schools in six years, and along the way discovered that humor made the transitions easier.
Hinchcliffe can do more than make people laugh. He won the 2011 IndyCar Rookie of the Year award and has since won three races and twice placed eighth in the series points race.
Hinchcliffe's fans, Ungar said, are rabid.
"Even casual racing fans tend to support the sponsors and products of the drivers they follow," Ungar said. "I have no doubt that its association with Hinchcliffe will raise sales for Flat 12, especially in this market and where he's from in Canada."
Though Flat 12 officials declined to say how much Hinchtown beer they sell or what percentage of the company's sales it represents, they said sales of Hinchtown Hammer Down increased 211 percent from 2012 to 2013, and another 249 percent in 2014. In 2015, Flat 12 is projecting sales will increase another 230 percent.
In total, Flat 12 sells 10,000 to 12,000 barrels of beer annually, with each barrel containing 31 gallons. Industry experts said that likely means $3 million to $6 million in annual sales.
Gaining notice
O'Connor remains amazed by the growing popularity of Hinchtown Hammer Down.
"There are so, so many good beers out there and a really fast-growing number of craft beers," he said. "To realize sales increases like this is really difficult. I think it shows we have something pretty special."
The recent microbrewery explosion has been mind-numbing. The number of U.S. breweries grew from around 100 in 1985 to more than 2,800 this year, according to Colorado-based U.S. Brewers Association. Central Indiana alone has more than 30 breweries.
Industry experts said one big key to standing out in the crowded marketplace is packaging. Hinchtown Hammer Down's packaging—which Hinchcliffe helped design—features a caricature drawing of the driver with the tag line "The Mayor." It also features a drawing of an IndyCar.
Hinchcliffe is also active in marketing the beer, featuring it prominently on his website and Twitter account. O'Connor said Hinchcliffe "has brought a lot of new people to the craft-beer market."
Ungar said the packaging "is definitely eye-catching." But the beer, O'Connor said, is about more than cute packaging.
Easy drinking
Hinchcliffe told O'Connor what he liked in a beer and the Flat 12 brewers began testing formulas. They even flew in Canadian ingredients—including hops—to "make it authentic," Hinchcliffe said.
"We came up with something that's clean, light and easy drinking," Hinchcliffe said. "That's one of the reasons I think it's popular. It has a broad appeal. You can drink a couple of them and not feel like you've eaten a three-turkey meal."
True to Hinchcliffe's social-media-loving nature, the beer was named through a Twitter contest, which got hundreds of responses.
"We thought the name captured the racing element and the personality of the beer," Hinchcliffe said.
Flat 12's relationship is with Hinchcliffe, not his racing team, Sam Schmidt Motorsports. Neither Hinchcliffe nor O'Connor will discuss the business arrangement other than to say Hinchcliffe gets a percentage of Hinchtown Hammer Down sales.
Even though there's no official affiliation with Hinchcliffe's team, there is definitely marketing crossover. Earlier this month, when the driver announced he was leaving Andretti Autosport for SSM, the announcement was made at Flat 12's brewhouse.
Hinchcliffe also partners with Flat 12 on a number of charity endeavors. Hinchtown Hammer Down in bottles and cans, for instance, was introduced at a local fundraiser for juvenile diabetes. Hinchcliffe also worked with Flat 12 and charitable organization Team Joey to deliver Legos to locally hospitalized children.
Soccer beer next
Though O'Connor said there are no plans for a line of sports-themed beers, Flat 12 does have another one brewing.
This fall, Flat 12 launched Full 90, a pale ale themed for the new Indy Eleven soccer team and its support crew, the Brickyard Battalion, who—seeing Hinchtown Hammer Down—wanted a soccer-themed beer. Flat 12 in March also became an Indy Eleven sponsor.
The Full 90 moniker refers to going full bore for the 90 minutes of a soccer match, O'Connor explained.
"These are unique deals that came up for us," O'Connor said. "They just kind of rose up organically and naturally. That's what makes them work."•
Please enable JavaScript to view this content.