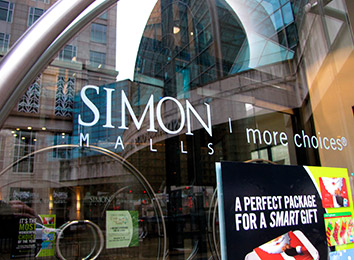 Indianapolis-based Simon Property Group Inc. on Wednesday morning said its third-quarter profit fell due to recent costs related to refinancing its debt, but that otherwise performance for the quarter was strong.
The country's largest shopping mall owner reported a 19-percent decline in profit to $252 million, or 81 cents per share, compared with $311.7 million, or $1 per share, in the same period last year.
Funds from operations, a measurement of a real estate investment trust's ability to generate cash, fell 14 percent to $689.4 million, or $1.90 per share, compared to $802.8 million, or $2.21 per share.
Included in the third-quarter results is a loss on the extinguishment of debt of $127.6 million, or 35 cents per share.
Excluding one-time charges such as the debt-related costs, Simon's third-quarter FFO increased 14.2 percent, to $2.25 per share, beating analyst estimates by 33 cents.
"I am very pleased with our quarterly results that once again beat consensus," said CEO David Simon in a prepared statement.
Quarterly revenue rose 8 percent, to nearly $1.2 percent.
Occupancy in Simon malls climbed to 96.9 percent in September, up from 95.5 percent a year ago. Total sales per square foot increased from $579 to $613. Average rents also grew, to $46.29 per square foot, up from $41.73 a year ago.
Simon raised its FFO guidance by 15 cents, to a range of $8.84 to $8.88 per share for the year ending Dec. 31. It also increased its guidance on profit for the year to a range of $4.45 to $4.49.
In early trading on Wednesday, Simon shares had climbed 24 cents to $172.42, near its 52-week high of $173.91.
 
Please enable JavaScript to view this content.