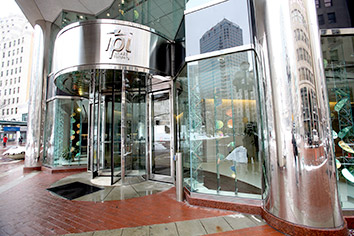 Federal regulators agree with industrial energy users from across the Midwest that electric utilities might be charging too much for transmission.
In an Oct. 16 decision affecting Indiana and 14 other states, the Federal Energy Regulatory Commission said the utilities must negotiate with six customer groups that brought a complaint last year. The customer groups, including Indiana Industrial Energy Consumers Inc., alleged that utilities use an outdated, excessive return on equity figure that translates to an estimated $327 million in annual overcharges.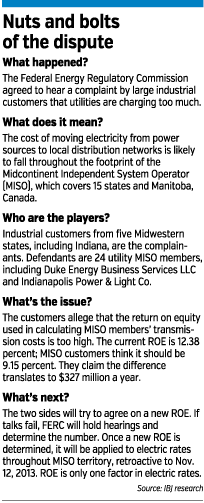 If the settlement talks fail, FERC will conduct hearings and decide the return on equity—essentially the profit rate—for transmission. Observers believe the decision will force the utilities, including Duke Energy and Indianapolis Power & Light Co., to adopt a lower rate of return.
"That translates to significant rate reductions that go down to the industrial and residential and commercial rates," said Todd Richardson, an attorney at Lewis & Kappes in Indianapolis, which represents the Indiana industrial consumers, a group including Allison Transmission, Eli Lilly and Co. and Rolls-Royce Corp., among others.
Transmission—the act of moving power from disparate sources to the local distribution network—is one component of electricity costs. Integrated utilities like Duke and IPL are involved in every step of the system, from power sources to high-voltage transmission lines to local feeder lines.
Transmission costs are bundled into overall rates, so it's impossible to predict the precise impact on customers' bills. The utilities disputed the customers' alleged $327 million in overcharges, saying it is an oversimplification.
The FERC decision affects the entire footprint of Carmel-based Midcontinent Independent System Operator, or MISO, which manages the power grid in 15 states and Manitoba, Canada.
A neutral player in the energy market, MISO is not a party to the case. There's no single representative for the 24 MISO utilities named as defendants. The list included four investor-owned utilities serving Indiana: Duke, IPL, Northern Indiana Public Service Co. (NIPSCO) and Vectren.
"Transmission costs represent a very small portion of our customers' bills. However, this cost is critical for the reliable delivery of service," IPL spokeswoman Brandi Davis-Handy said. "IPL remains hopeful for an outcome that will promote enhancements to the grid, which will allow us to maintain the reliability and affordability upon which our customers rely."
The MISO transmission owners' return on equity, established in the early 2000s, is 12.38 percent. The complainants argued it should be 9.15 percent.
Given the low interest rate environment, cuts are to be expected, Morningstar utilities analyst Charles Fishman said.
The federal commission declined to pick a number at this stage, but said there is "substantial evidence that the challenged rates may be unjust and unreasonable."
In a New England case, FERC set the return on equity at 10.57 percent.
If the MISO case has a similar result, Fishman said it probably won't cost utilities much. Transmission accounts for around 10 percent of electricity costs, and the ROE is just one component of the transmission charge. Any refund FERC orders will filter down through the overall electric rates, which are set by state regulators.
The FERC decision contained some good news for transmission owners, Fishman said. The commission denied all other aspects of the complaint, which sought limits on other components of utilities' transmission profit.
The federal regulators allow an extra profit margin, 50 basis points, or half a percent, to utilities that turn management of their transmission lines over to MISO. They also allow an extra 100 basis points for transmission-only utilities such as ITC Holdings Corp. of Michigan.
FERC declined to cap those profits, which are designed to promote investment in the power grid, Fishman said. Investments in the grid have been shown to pay for themselves in the form of greater reliability and lower energy costs, he said.
The United States needs a robust power grid if it's going to rely more on energy sources like wind and solar farms, which are far from the local distribution networks, Fishman said.
"That's what's going on," he said of the FERC decision. "It's a balancing."
Large manufacturers drove the complaint, which was filed last November. The Indiana industrial customers were joined by similar groups from Illinois, Wisconsin, Minnesota and Michigan, plus the Coalition of MISO Transmission Customers, which has members across the MISO footprint.
The case drew comments and support from consumer advocates, regulatory bodies in Midwestern states, and smaller utilities that don't control the transmission lines.•
Please enable JavaScript to view this content.