It's the most common business strategy in the world: To bring in more customers, a business offers a discount.
But here's the uncommon part: A business now running a 15-percent-off sale is a hospital.

Speer
Hendricks Regional Health is taking a revolutionary step—at least for the health care industry—by applying the retailer's playbook. Health care executives say more hospital systems are likely to follow suit in the future.
The Danville-based hospital system is promising employers they will save 15 percent on their health-benefits spending if they add a health plan for their employees that is limited to only Hendricks Regional facilities and physicians. That is what health professionals call a narrow-network plan.
Hendricks Regional began pitching this deal earlier this year to a half dozen employers that fund their own health benefits in Hendricks and Putnam counties. And starting next month, it will advertise that it offers a "trifecta" of lower prices, higher quality and higher patient satisfaction than Indianapolis' other hospital systems.
"We could save individuals and employers in this market tens of millions of dollars," said Gary Everling, Hendricks Regional's chief strategy officer. In return, Hendricks Regional hopes to bring in more patients in fast-growing Hendricks County.
"That's the bet we're making," he said.
Hospitals tooting their own horn is nothing new. But committing to lower prices is nearly unheard of, said John Luginbill, CEO of The Heavyweights, an Indianapolis-based advertising agency that does marketing for hospitals around the country.
"I've never seen anybody do it. Never seen anybody suggest it," Luginbill said. "I can't find any price advertising, other than for cosmetic surgery."
It's also not new for a hospital to offer its own health plan, and pitch it to employers. Indianapolis-based Advantage Health Solutions Inc. is a health insurance plan for employers started by the St. Vincent, Franciscan and Deaconess hospital systems. Franciscan also offers the Envision Health System—which includes two county-owned hospitals—to employers on the southern rim of the Indianapolis area.
In addition, Indiana University Health has its own health insurance arm. It is gearing up to pitch an offering that would help employers save money by managing the health of their employees better.
But none of those plans has made the kind of price commitment Hendricks Regional is making, said Kevin Sliwa, a health benefits broker for employers at Indianapolis-based MJ Insurance.
"Maybe for the first time, these organizations are having to think like actual companies that are trying to attract a customer base," he said.
Hendricks Regional is not offering a contractual guarantee of the 15-percent savings. But because its prices for procedures are 10 percent to 20 percent lower than nearby hospital systems', its leaders are confident the care it provides will come out 15 percent lower than what employers were paying before.
To make absolutely sure of that, Hendricks Regional's executives—including Everling, CEO Kevin Speer and Chief Financial Officer Izzy Rivas—sat down a year ago and adjusted prices to at least 10 percent lower than competitors in every service line.
Hendricks Regional used data from Medicare and private insurance contracts to compare its pricing with that of other local hospital systems. In most cases, its prices were already lower than its main competitors', which include Indiana University Health West Hospital, St. Vincent Health and Franciscan St. Francis Health.
According to data from the federal Medicare program for seniors, Hendricks Regional's costs for its 10 most-common inpatient admissions ranged from 13 percent to 30 percent lower than the next-cheapest competitor.
But in some areas—such as rehabilitation therapy and radiation oncology—Hendricks Regional had to reduce prices to become at least 10 percent cheaper. Speer noted that was "a unique process" for the three veteran hospital officials.
"We had to defibrillate Izzy a couple of times," Speer joked.
Sliwa, the benefits broker, noted that Hendricks Regional might have trouble hitting its 15-percent commitment because it does not offer some of the most expensive health care procedures—such as organ transplants or inpatient pediatric care.
Hendricks Regional officials said they are specifically not asking employers to replace their existing health plans with the Hendricks Regional narrow-network plan. That's partly so an employer still has a health plan that includes health systems that do offer those specialized types of care.
Hendricks Regional's target market for its narrow-network plan is small—about six to eight employers near its facilities in Danville, Avon, Bainbridge, Brownsburg and Plainfield.
It prepared a slick, 24-page brochure for employers, filled with graphs that compare its data on quality, patient satisfaction and prices against Indianapolis' major hospital systems. Hendricks Regional is trying to reassure employers that their employees will receive care that's at least as good or better than competitors', even though it's cheaper.
"We're having conversations that we've never had before with employers," Everling said.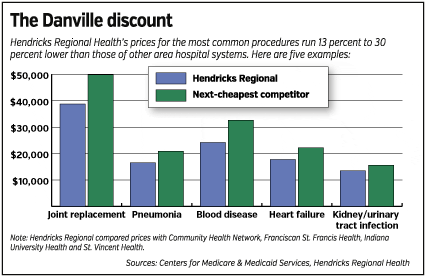 Hendricks Regional already has one customer signed up: the Hendricks County government, which is offering its nearly 400 employees the Hendricks Regional Preferred health plan, in addition to the previous health plan it offered via Cigna Corp.
Employees will save at least 33 percent on their premiums if they choose the Hendricks Regional Preferred plan with traditional co-pays and deductibles. The high-deductible version of the Hendricks Regional plan will cost county employees at least 60 percent less than the Cigna plan.
That means single coverage will be as little as $2 per month for the Hendricks Regional preferred plan. Family coverage will be available for as little as $93 a month.
But even after passing on those savings to its employees, Hendricks County government still would save $162,000 per year if all 391 of the workers on its health plan switched to the Hendricks Regional plan, according to an internal analysis.
"The numbers were really staggering," said Matt Whetstone, a Hendricks County commissioner. "I think it's a great example of how these smaller county hospitals just have a tremendous advantage on cost."•
 
Please enable JavaScript to view this content.