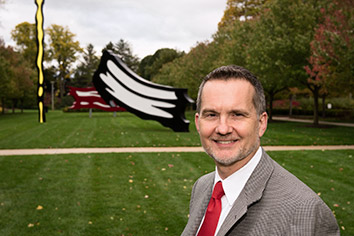 Roy Lichtenstein's bright, bold "Five Brushstrokes" sculpture—never constructed or assembled in the artist's lifetime—now towers over the entry lawn at the Indianapolis Museum of Art.
"Yes, that's a great work of art," Charles Venable said proudly of the highest—and highest-profile—work acquired during his tenure at the Indianapolis Museum of Art, "but there's a reason why it's at our front door just like there's a reason the dinosaurs are hanging out outside The Children's Museum."
"They're not equivalent," Venable quickly added to make sure his Lichtenstein/dinosaur analogy isn't taken the wrong way. "But the more art we put where people can actually see it, the more they know we're an art museum."
Finding ways for art and marketing to work together has been part of the challenge since Venable took over two years ago as the Melvin & Bren Simon director and CEO of the Indianapolis Museum of Art. Venable inherited a museum with an elevated stature in the world of art but disappointing attendance figures and a penchant for over-spending its endowment to make ends meet.
Venable, 54, took over from Maxwell Anderson, who brought the IMA through the recession with an increased national and international reputation but left some clouds on the horizon.
In 2013, Moody's Investors Service stamped the IMA with a negative outlook because of what it described as "an excess draw on the endowment" of around 8 percent—well above the Moody's-recommended 5 percent.
"It was no secret that, proportionately, as a source of its income, the endowment draw had been getting larger and larger," said Thomas Hiatt, chairman of the IMA board of governors. "And it was clear that the significantly extended museum was more expensive to operate than the designers of the building had anticipated."
Game plan
Any incoming director faced with lower-than-projected attendance, higher operating expenses and a desire to wean the institution from an unhealthy dependence on the endowment would have to do two things, according to Hiatt: Cut expenses and think creatively about new sources of income.
Reducing expenses for Venable included staff cuts—21 employees, all but one full time—representing an 11-percent reduction. (In 2009, Anderson let go 21 people, all but five of them full-time positions.) The museum's current headcount is 281.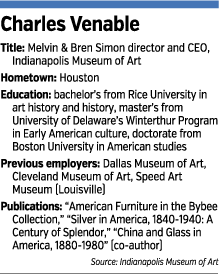 "Who wants that to have to happen?" Venable said. "But you can't run deficits. People hate to bail you out of deficits. If you are going to ask people to support you for a long time in the future, they're going to ask that their gifts are well stewarded."
Layoffs almost always make the hatchet-wielder look bad. But Venable came across even worse because of an ill-timed tweet that made him seem callously luxuriating over a meal while his staff was given pink slips (a tweet bullhorned by arts blogger Tyler Green via The Huffington Post). Talk in the Indianapolis Star of the prospects of an IMA car show ("Customers. Dollars. Please exit-through-the-gift-shop. Cha-ching," wrote the Star's Will Higgins) also didn't help the rebuilding efforts.
(It turns out such a show will actually happen, although "Dream Cars: Innovative Design, Visionary Ideas," a major exhibition featuring rare concept cars from the early 1930s to the 21st century, is intended to celebrate unique industrial design.)
"Combined with consistent public relations failures, crippling and unnecessary staff cuts, and a board seemingly unaware of the gravity of the situation," wrote arts blogger Ben Valentine, "will the IMA be back in the news receiving more accolades anytime soon? With Venable there, I doubt it."
That was before the popular Matisse show (which attracted 50,500 visitors), the acquisition of the Lichtenstein sculpture, and an annual meeting in May 2014 where the proposed balanced budget brought the endowment draw down to 5.99 percent.
Plus, management happily reported, the IMA paid off $12 million in debt over the past 18 months, some from restructuring, some from general gifts, some from cost savings due to staff cuts and other measures.
The IMA's operating budget for 2014-2015 is $28.1 million, a tick up from the previous year's $28 million. Its endowment, which dipped to $266 million during the recession, has built back to over $354 million. In its new budget, just over $20 million will come from the endowment.
Part of Venable's strategy has been to deliberately engage with former constituents who severed ties, drifted away or otherwise became less involved with the IMA. When the recession hit, donors were understanding for a year or two, he said. But as the country's financial situation improved and the IMA continued to take significantly more from the endowment, donors were skeptical of the museum's ability to get its house in order.
"It's my impression that Charles has reached out to everyone who has ever been actively or slightly interested in or might be interested in the IMA," said Ann Stack, former member of the IMA's board, current member of the IMA collections committee, and a philanthropist whose contribution to the IMA had decreased in the Anderson era.
"Max's style was intellectual, exciting and focused on creating a place for the IMA within the national and international art world," Stack said. "Charles' style is inclusive, collaborative, thoughtful and focused on connecting the IMA and its resources to the people of Indiana."
To the casual observer, the two are as different as Frasier and Niles Crane, with Anderson coming across as an arrogant intellectual and Venable as a kindly neighbor as likely to pour you some tea as he is to lecture you on antiquities.
Venable is a former director of the Speed Art Museum in Louisville and also has had stints at art museums in Dallas and Cleveland.
"They are both brilliant individuals who each made significant contributions to the IMA," Hiatt said. "I'd leave it at that."
Since arriving in Indy, Venable has also made a concerted effort to build bridges between the IMA and local arts organizations, inviting many of them to the home on the IMA grounds where he lives with his partner.
"We are a community that is very much in need of friendly cross-pollination and inspiration, and we are always in search of whatever stimuli will spur us on to our next discoveries," said Dance Kaleidoscope Artistic Director David Hochoy, who, after a 10-year absence, was invited to stage a performance at the IMA. "We are very happy that the IMA is once again interested in doing collaborative projects."
New blood
Venable also has made significant hires. The St. Louis Art Museum's Tricia Y. Paik signed on as curator of modern and contemporary art, filling in the gap left by high-profile contemporary art curators Lisa Freiman, who guided the 100 Acres Art & Nature Park, and Sarah Green, who left to launch "The Art Assignment" for PBS.
More telling has been the creation of new slots in the senior management team. Connie Dyer, former vice president of field marketing for General Growth Properties, joined in January as deputy director of marketing and external affairs. And Scott Stulen, from Minneapolis' Walker Art Center (where he famously staged an Internet Cat Video Festival that drew over 10,000 viewers) has assumed the new title of curator of audience experiences and performance.
Venable thinks the IMA can attract far more visitors. When he talks of attendance goals, his primary point of reference is The Children's Museum of Indianapolis, with its seemingly unmatchable 1.3 million visitors a year. One idea that seems counter to the attract-the-masses view is paid admission. When Anderson dropped a briefly imposed IMA admission charge, attendance doubled.
"We are charging for things already," said Venable, pointing to special exhibitions and parking. "Some people would argue that the average consumer doesn't want to be bothered in bits and pieces through the day as opposed to having one ticket for everything. The Children's Museum used to be free. Now they have a million three people a year and many more members than we do. They don't want to pay every time, so they become members."
He wouldn't, however, explicitly say that IMA admission charges are on the horizon—a move his predecessor opposes.
"Implementing free general admission was, I hope, the most important lasting legacy of my tenure," Anderson told IBJ.
An obstacle to the pay-one-price idea is logistics. The IMA's attendance figures—427,684 in 2013, up from 414,866 in 2012—don't include bikers who visit the 100 Acres Art & Nature Park via the canal, families bringing a picnic lunch, or couples stopping by for a photo shoot with the LOVE statue.
"They are not counted for a reason," Venable said. "We have no way to count them. We are a complicated campus."
In the past, the IMA has spent almost all its marketing time and effort on special exhibitions—usually ticketed shows such as "Matisse: Life in Color" and the current "Georgia O'Keeffe and the Southwestern Still Life."
"But if you put all of your money there," Venable said, "you become a one-dimensional institution. We're looking at the question of how we become a destination campus where there's a menu of exciting, changing experiences."
Even museum stalwarts might not know that hummingbirds are being banded on the roof of the Ruth Lilly Education Center—or that there even is a Ruth Lilly Education Center. And there's a lot more on the IMA's three campuses.
"Surveys show that our visitors and would-be visitors want to spend time outdoors, with nature, on our grounds," Venable said. "They may come here for the grounds but, if they spend a few hours here, sooner or later they are going to be in the building."
Venable is excited about a long list of programming ideas, many developed by Stulen, that he doesn't believe would have happened five years ago.
They include the launch of a monthly family day on the first Saturday of every month, a bike festival, a futurism celebration built around the date outlined in "Back to the Future II," a sing-along event, and an adult weekend summer camp-out.
A screening of "Fargo" will take place outside … in February, and the parking garage might host a film night. Stulen's also working on an art spelling bee.
"My boundaries are pretty wide," Stulen said.
Early returns
The latest Equinox festival attracted 1,200 visitors—well above the 400 who historically attended. Avant-garde performance show "Optical Popsicle," staged by Indianapolis-based Know No Stranger, sold out at 550 people with 200 turned away at the door. And these events are bringing young people and families less often seen at the IMA.
Of course, those are the successes. The events that don't attract a crowd have few people to report that they didn't work.
"When trying to be innovative," acknowledged Stulen, "the failure rate is high. But I feel strongly that if we aren't failing occasionally, we aren't doing it right."
Venable promises that, amid all the eyebrow-raising activity, the traditional arts will continue to be a priority—he himself curated an IMA show on contemporary glass. And he's got his eyes beyond the museum grounds as well.
"We want to be the epicenter of the visual art world in this state," Venable said. "That means we have to reach out and, over time, figure out how to take this organization outside of our verdant campus. We won't do it in six months, but 10 to 15 years is a time horizon where you can get a lot accomplished. And, like the Children's Museum, you'll see us reaching out into our own neighborhood."
There's a lot that can be done, said Venable, as long as the budget is respected.
"At the end of the day, we're not here to have a treasure of gold doubloons," he said. "We are also not here to go bankrupt."•
Please enable JavaScript to view this content.