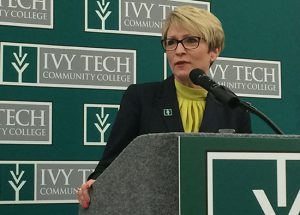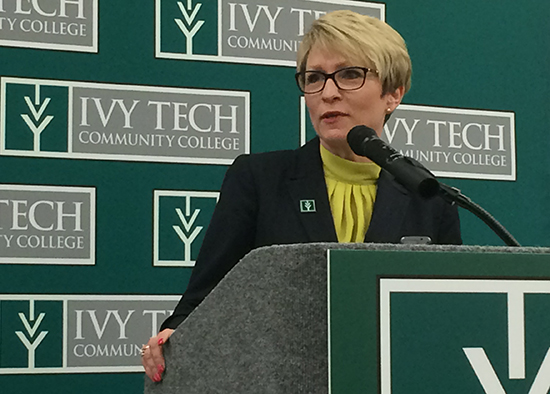 Ivy Tech Community College on Friday launched its first-ever statewide fundraising campaign with a goal to raise $285 million over the next two years.
The school said the funds raised through the "Invest IN Ivy Tech" effort will benefit its 19 campuses across Indiana. Ivy Tech President Sue Ellspermann said the "human capital" campaign is also about investing in the state and continuing support of the talent pipeline.
"This really is about helping Hoosiers invest in Ivy Tech. We are Indiana's workforce engine," Ellspermann said in an interview with Inside INdiana Business. "We are so pleased with the support that the state gives us. And yet there's a need to do more."
Ellspermann said there is a real workforce need across the state. She said she hears that message from employers and communities that are struggling to fill numerous jobs.
"Ivy Tech plays an outsized role in upskilling Indiana's workforce and increasing Hoosier prosperity," said Ellspermann, who added the campaign reflects the college's strategic plan to make a difference in Hoosier's lives.
"We know that getting a first-generation student through college is life-changing. Truly, you know, it gives them a more productive life, self-sufficiency, prosperity, so many things that are important for Hoosiers to ensure that they have good lives," Ellspermann said.
Last week, Ivy Tech issued the results of an economic report that shows the institution has a $3.9 billion cumulative annual impact to the state. In direct jobs, it supports nearly 57,000 jobs, including 7,500 that are full- or part-time faculty and staff.
The study, conducted by labor market data company Emsi, found that students invested $503 million in time and money that will generate a cumulative return of $2.2 billion in higher future earnings over their working careers.
"Ivy Tech students strengthen our communities, they stay in our communities, I don't know if many people know 93% of our students will stay right here in Indiana. So, they're filling those jobs," Ellspermann said.
The campaign is being co-chaired by Marianne Glick, chair of the Eugene & Marilyn Glick Family Foundation, and Bob Jones, retired CEO and chair of Old National Bank.
"I believe that an investment in Ivy Tech is the most impactful on the future of our citizens, our communities, and our State. I am honored to co-chair this campaign and help tell the Ivy Tech story," Glick said.
Ivy Tech says the fundraising campaign will conclude in 2023 just as the school celebrates its 60th anniversary.
"This campaign to invest in Ivy Tech will be one of the most impactful statewide philanthropic efforts in the history of the College and the Foundation. I am proud to work with those who share their passion and generosity with our students" said Becky Miller, interim president of the Ivy Tech Foundation.
Please enable JavaScript to view this content.