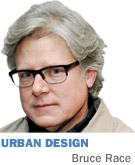 Indianapolis is a bipolar city. We have more than 10,000 empty houses, mostly in Center Township, where you might expect them. In some cases, adjacent neighborhoods have some of the highest per-square-foot sales prices in Indiana and are experiencing market pressure to add new housing.
These two very different kinds of neighborhoods have more in common than you might think, and how we deal with the preservation of their housing stock could make the difference in their economic fortunes and the city as a whole.
Our challenge here isn't all that much different from what is facing Detroit, where Ball State University urban design students visited recently. They were there to work with Lawrence Institute of Technology University on a short, intensive design process in the neighborhoods adjacent to the city's marinas.
The Detroit River area north of downtown is in a post-industrial apocalyptic state. It has a residual mixture of once-exclusive neighborhoods, boat yards and industrial brownfields. Many of the surrounding neighborhoods are deserted. They have gone through systematic demolition of blighted and abandoned housing resulting in empty blocks with an occasional holdout house. Our goal: Explore how to use Detroit's natural and historic assets along the river as a catalyst for bringing people back.
Tear-down city
Some of Center Township looks very much like Detroit. Indianapolis' community development corporations are scrambling to manage the damage of the decade's housing financial crisis. Strapped for resources, the city and its CDC partners are working on tearing down nuisance houses. So far, they've cleared more than 2,000 units.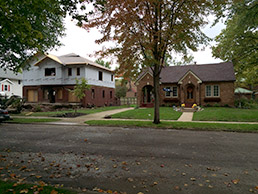 One of these twin brick bungalows in Meridian Kessler is receiving a suburban "pop-top" addition. (Photo/ Bruce Race)
Portions of the near-east side have a shotgun pattern and will be difficult to repopulate. There are exceptions. The Cottage Home neighborhood east of downtown is an example of how a neighborhood can come back as a mixed-income area, maintaining its funky industrial-edge character combined with historic preservation.
The Windsor Park neighborhood north of East 10th Street has a romantic and picturesque street-and-block pattern. It also has one of the highest percentages of vacant houses in the city. Brookside Parkway, beautiful parks, the gorgeous Beaux Arts Spades Park Branch Library and stellar housing stock are assets that can be leveraged for making a comeback. Windsor Park has irreplaceable features and beautiful houses. Tearing down houses or cladding them in cheap remodels that destroy their character is not a strategy for success.
This is a citywide problem. Vinyl siding, replacement windows, and the removal of lawn and street trees (which contribute to the urban forest) erode our inner-city neighborhoods' most defining and marketable features.
Infill city
There is a renewed interest by young families and boomers in neighborhoods that have watering holes and cuisine within walking distance. These stable and popular neighborhoods are experiencing a surge of aggressive renovation and infill projects to meet market demand. Unfortunately, many of these projects are suburban in character and, by tearing down smaller affordable houses, reduce the neighborhood's economic and design diversity.
I put these bad-actor infill projects into four categories:
• Shrink-wrapped houses that have their architectural window systems removed and replaced with metal windows and then vinyl-sided beyond recognition;
• Pop-top houses where a small single-story home is gutted and a second story is added to maximize the size of the house;
• Scrape-off infill houses where a small cottage on a double lot is demolished to make way for whatever the developer can politic onto the combined lot; and finally,
• Monster houses of such suburban and cheesy appearance that they project a "there goes the neighborhood" feeling.
These types of houses leverage the value of the historic and traditional character of neighborhoods while degrading them. They take without giving.
Policies, process and the future
Neighborhoods that are organized and politically adept are having some limited success in preventing the worst projects in cases where a variance is required. Meanwhile, there are pickup trucks full of bush-league house-flippers scanning every Indianapolis neighborhood and better-financed custom homebuilders that are hiring attorneys instead of architects.
Indianapolis historic districts and conservation districts have design guidelines, trained city staff and the Indianapolis Historic Preservation Commission to protect them. Other neighborhoods with shrinking populations or those that are under market pressure to grow are losing the very attributes that can attract people in the future and protect the neighborhoods' value.
We are lucky Indianapolis has not shrunk as much as Detroit has. We have a terrific traditional park system, largely intact housing stock, and people who care about their neighborhoods. However, we need to think more strategically. For the cost of all these tear-downs, we can pay for trained staff and a development-review process that protects our neighborhoods from wanton demolition and low-ball renovations.
The region will add more than 500,000 people by 2040. Indianapolis neighborhoods have the existing capacity to absorb most of those. However, we are competing with other central Indiana communities. Our competitiveness will largely be connected to the quality and vitality of our neighborhoods.
The neighborhoods and the people that protect and love them are our greatest asset. Let's give them the administrative tools to invest in quality.•
__________
Bruce Race, FAIA, FAICP, PhD, is an award-winning architect and urban planner, owner of RaceStudio, and recipient of the Indiana Sagamore Planning Award. He lives in a historic Indianapolis neighborhood and teaches urban design at Ball State University's Downtown Indianapolis Center. His column appears monthly. He can be reached at br@racestudio.com.
Please enable JavaScript to view this content.