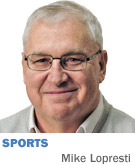 They are men pushing 90 now, the last living reminders of a different basketball age, when the state high school finals were briefly played in a strange new place on 38th Street. Seven decades later, this is the State Fairgrounds Coliseum they remember:
There were boards covering the ice, and uncertain bounces on the court. The crowd sat far away, since the floor was plunked down more or less in the middle of a vast open space.
Seven decades later, they have their memories of one of the most exciting days of their young lives, in a building some of them have never seen since.
Basketball is returning to the redone, renewed and revived Coliseum. IUPUI's first exhibition game is Nov. 5, with its regular season to follow. Note the modern court design, with the city skyline. Note the new seats, except for the original wooden rows in section 106, kept there for the charm. Note the plaque on the wall on the south side with 74 names, in memory of those who died at the Halloween night explosion during an ice show in 1963, 51 years ago.
There is an anticipation of the future in the coliseum, but also a nod to the past. The ABA Indiana Pacers would eventually call the coliseum home—Bobby Leonard once said that in his first look at the place, he found "a couple of lockers and one shower head."
But the three years of the state finals were the coliseum's infancy. So before the jump shots start anew, why not listen to those who were there at the start?
Listen to Johnny Wilson, for instance, the Anderson star who played both the 1944 state finals in the coliseum as a sophomore and also the 1946 Indiana-Kentucky All-Star Game as Mr. Basketball.
"When we got to Indianapolis that morning and went by the coliseum, they were still putting the floor down over the ice from a hockey game the night before. That was the first game I ever played with ice under the floor, which made it really cold. You didn't perspire like you normally would. At one end, the sun came in the window, which made a difference in your shooting."
Wilson had hurt his back in the semistate when he was undercut, and was not himself that day in the finals. He scored six points and Anderson lost to Kokomo 30-26. Two years later, he was back as Mr. Basketball.
"I was the first African-American to play Kentucky, so it was a special place for me. I didn't realize until two weeks after the game that they had given the Star of Stars to someone from Kentucky who had scored 17 points and got beat (Sonny Allen, who actually had 20). I scored 27 and won, and he got the Star of Stars."
Or listen to Charlie Stanski, who was a member of 1943 champion Fort Wayne Central.
"We played in the coliseum because the military was using Butler Fieldhouse (as a barracks during World War II). I had a good day. I scored nine points in the championship game. Back then, nine points was a lot. We set a record for scoring in the championship game and, believe it or not, it was only 45-40. Rick Mount's dad (Pete) was the star of the Lebanon team we beat in the final.
"That was one of the biggest days of my life. The other was when they put me in the Hall of Fame."
He has never been back to the coliseum since that day.
Or listen to Ivan Wilhelm, a reserve for Huntington in 1945.
"You're asking a guy who went from an average gym to a huge arena with a lot of space. The depth perception was different. The spectators were farther away from us than we were used to, so it wasn't nearly as intense. The floor was put down in sections so the ball didn't always bounce right back to you."
Wilhelm's late basket had beaten Kokomo in the semistate, and he had shot it over Mr. Basketball Tom Schwartz. That was the best moment for a kid who picked up the nickname "Kaiser" to go along with what was a famous last name at the time. But the state finals were special, too. It is the only game he has ever seen in the coliseum.
Or listen to Johnny Wilson's Anderson teammate, Carl Erskine, who made his name as a pitcher for the Brooklyn and Los Angeles Dodgers.
"They had ice hockey the night before, so we couldn't practice. We walked on the floor and it was set out in the middle of this huge coliseum. You kind of lost your perspective when you were out there, but it was the same for everybody.
"We were No. 1 in the state, but Johnny could hardly move. It was just a bizarre day for us. We only scored five points in the first half. It was one of those nightmares. Nothing went right for us.
"I already had my assignment for that night. [Evansville] Bosse had Broc Jerrell, who was a fantastic player. He could do things then not even permitted by most coaches. He could dribble behind his back. They played the first game and our coach sat down beside me and he said, 'You watch this kid Jerrell because you're going to guard him tonight.' But we never got to play Bosse, so Broc Jerrell didn't embarrass me."
To this day, 70 years later, Erskine can recite the name of every player in Kokomo's starting lineup. He also mentioned, "I've had two experiences in coliseums." He was the starting and winning pitcher for the Dodgers' first game in Los Angeles, played before nearly 80,000 people in the Memorial Coliseum.
Now the coliseum here has been given a second wind (or third or fourth or fifth), and IUPUI is hoping it can boost its program, even playing five miles from campus.
"I think this is going to be a hit," said new coach Jason Gardner, who grew up 15 minutes away. "Anytime anything is new, everybody wants to see it, everybody wants to be a part of it. I think everybody will love that there's not a bad seat in the house and everybody in the state knows where the coliseum is."
Gardner did as a teen, because he was a State Fair regular. "I always had to get a lemon shakeup, always had to get me a turkey leg."
Now he wants a winning team, and curious fans.
One will be Johnny Wilson, who played his last game in the coliseum in the 1970s, as part of a radio-station team before a Pacers game.
"I'm definitely going down and see IUPUI play some games this year," he said. "Just to get back and see the atmosphere and the feeling in the coliseum."
It was a long time ago. Feels to them like yesterday.•
__________
Lopresti is a lifelong resident of Richmond and a graduate of Ball State University. He was a columnist for USA Today and Gannett newspapers for 31 years; he covered 34 Final Fours, 30 Super Bowls, 32 World Series and 16 Olympics. His column appears weekly. He can be reached at mlopresti@ibj.com.
Please enable JavaScript to view this content.