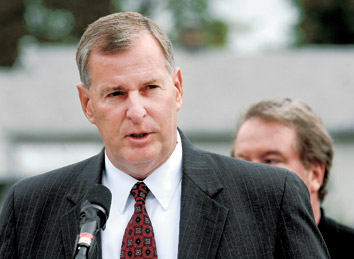 In an emotional speech with his wife, Winnie, at his side, Mayor Greg Ballard confirmed Thursday that he won't seek a third term.
"As you know, I don't follow the same pattern as professional politicians," he said. Ballard said he made the decision "despite knowing we could win."
"As a Marine and as a mayor, I've dedicated most of my life to service. There are other things Winnie and I want to do," he said.
Ballard promised that he won't fade into the background as a lame duck. "We aren't done yet, and we have no intention of taking our foot off the pedal," he said. "We will continue to do big things.
"There's a saying in the Marine Corps," he added. "'A Marine officer never gets short.' It means you keep working."
Ballard avoided reporters after the speech, as he personally greeted city staff members and supporters, but he told IBJ he wants to accomplish many things in his final year, especially carrying out a recently announced preschool program and the construction of a new criminal justice complex.
Ballard's critics have noted that he delegated much authority to his deputies, but that leadership style might have also played a role in attracting a talented staff. Ballard led off his speech by saying he was most proud of that talent and the things his team accomplished.
City staff and political supporters gathered in the west wing of City Market, which was renovated as part of his signature Rebuild Indy program, funded through the sale of the city's water and sewer utility to Citizens Energy Group.
Recapping his two terms, Ballard said the biggest accomplishment most Indianapolis residents don't know about came in 2008, when the city became the first to successfully renegotiate with the U.S. Environmental Protection Agency an agreement to keep sewage overflows out of local waterways. Ballard said the negotiation, undertaken by former Public Works director David Sherman, made the city's water "cleaner, faster."
The deal saved nearly $1 billion on sewage system fixes and sped up the timeline of the project, now being conducted by Citizens.
Ballard did not talk about what he plans to do after leaving office.
Ballard was elected in 2007, riding a wave of outrage over rising property taxes, toppling two-term mayor Bart Peterson in one of the biggest surprises in Indianapolis political history.
If Ballard, 59, had sought his third term, he faced the prospect of a bruising election battle. Two prominent Democrats, former U.S. Attorney Joe Hogsett and state Rep. Ed DeLaney, have jumped into the race.|
Hogsett, the presumed front-runner, praised Ballard in a statement Wednesday evening.
"I have always admired this mayor's commitment to public service and his personal integrity," he said. "It is my sincere hope that Mayor Ballard will continue to lend his voice to important community discussions throughout the next year."
Ballard's tenure was marked by an explosion in downtown development, especially apartment projects, and construction of bike paths across the city. He funded massive infrastructure improvements by selling the city's water utility to Citizens Energy Group. And he closed deals for the redevelopment of the former home of Market Square Arena, after years of false starts under Peterson.
"While many cities have struggled over the last seven to eight years, Indianapolis has prospered, and that's no coincidence," said Deron Kintner, a former deputy mayor under Ballard.
Another former deputy mayor, Michael Huber, noted that the job of mayor is a "tough, thankless, 24/7 assignment."
"He's a pragmatic leader who led Indianapolis during tough economic times, while still building the city's infrastructure, overseeing hundreds of millions of dollars of urban redevelopment, and making Indy a more sustainable and global city," said Huber, who now leads the Indy Chamber. "I wish him the best, whatever he decides to do next."
Ballard is rumored to be interested in a position at Cathedral High School, his alma mater.
The announcement will set up jockeying among Republicans who may be interested in running to replace Ballard. That list could include Michael McQuillen, the City-County Council's minority leader, and Troy Riggs, the city's director of public safety.
Please enable JavaScript to view this content.