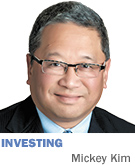 While the Dow Jones industrial average and Standard & Poor's 500 index reached record highs on the last day of October, most active stock managers have struggled in 2014.
One of the primary difficulties has been the wide divergence in performance between the largest-capitalization and smaller-capitalization stocks. A stock's market capitalization, or market value, is simply its price multiplied by the number of shares outstanding. The Russell 3000 Index is a capitalization-weighted index composed of the 3,000 largest-capitalization U.S. stocks (representing about 98 percent of the investible U.S. equity market).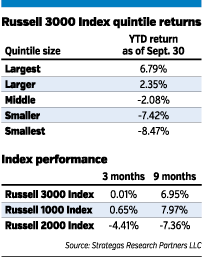 The Russell 3000 Index can be divided into the Russell 1000 index (largest 1,000 market values) and Russell 2000 index (smallest 2,000). Because the Russell 3000 is capitalization-weighted, the performance of the stocks in the Russell 1000 has a significantly greater impact on the performance of the Russell 3000 than the performance of the stocks in the Russell 2000. In fact, the stocks in the Russell 1000 (one-third) compose 92 percent of the weight of the Russell 3000, while the stocks in the Russell 2000 (two-thirds) compose only 8 percent.
The performance disparity based on market value can be clearly seen in the two tables below. For the periods ending Sept. 30, the Russell 2000 Index underperformed the Russell 1000 Index by 5.06 percentage points in the third quarter and by 15.33 percentage points year to date.
Wall Street research firm Strategas Research Partners LLC examined year-to-date returns as of Sept. 30 for the Russell 3000 by market-value quintile. As you can see, performance dropped off dramatically after the largest quintile (i.e. largest 600 stocks) and turned negative by the middle quintile. Thus, active managers that have significant representation in their portfolios outside the largest 1000 stocks sailed into stiff performance headwinds in the first nine months of 2014.
We believe investors are nervous about the strength of the U.S. economy and on pins and needles regarding the impact of the inevitable tightening of Fed monetary policy. Further, this has caused investors to flee from smaller stocks to the perceived safety of larger ones.
We think these fears are misplaced. The Leading Economic Index points to a strengthening economy, which will enable the Fed to slowly withdraw some of the emergency measures implemented at the depth of the financial crisis more than five years ago.•
__________
Kim is the chief operating officer and chief compliance officer for Kirr Marbach & Co. LLC, an investment adviser based in Columbus, Ind. He can be reached at (812) 376-9444 or [email protected]
Please enable JavaScript to view this content.