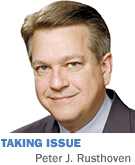 Leave it to the Senate's lone Socialist, Vermont's Bernie Sanders, to offer the most supercilious analysis of Nov. 4's decisive Republican sweep. Americans, says Sanders, just voted for something "very different from what they want and need."
'Atta boy, Bernie. Gotta love it when leftists react to a drubbing by reverting to "vanguard of the proletariat" mode.
Sanders' misreading the election is entertaining. The president's doing so is not. Some wonder if Obama will now quit going it alone and instead work with Republicans, who will control the Senate as well as the House.
This author doesn't. My heart wishes otherwise. My head tells me nothing's changed at the White House end of Pennsylvania Avenue. The president's post-election press conference left little doubt.
GOP ads focused on Obamacare more than any other topic. Democrats, including four just-defeated senators—joining a dozen others who previously lost or left and have been replaced by Republicans—ran from it like the plague. The act is deeply unpopular, and will get more so as premium hikes and job-killing features delayed till after the election take effect.
Asked on Nov. 5 how he would respond to proposed legislative changes, Obama was unfazed: "What I will remind them is that, despite all the contention, we now know that the law works." OK, then. Glad that's settled.
And how about this silver lining to the GOP Senate control and the largest House majority since before FDR? Obama says he's always been clear that "where they think there's areas of cooperation, I'd like to see us get some things done." But now there's a chance things actually will, "because, you know, they have larger majorities, for example, in the House, and they may be able to get some things through their caucuses that they couldn't before."
Got it? The problem before was the GOP didn't have enough votes on their side to stave off their crazies and permit the bipartisanship Obama always wanted. Glad we've fixed that.
What of the president's threat to change immigration law by executive fiat? Soon-to-be Senate majority leader Mitch McConnell, who has avoided triumphalism, warns that Obama's acting "unilaterally on immigration would be a big mistake," and "poison the well for the opportunity to address a very important domestic issue."
That's an understatement. The president is undeterred. He'll reach out; but if Republicans don't go along, then "before the end of the year"—which is before the new Congress is sworn in—"we're going to take whatever lawful actions that I can take."
And, he adds, this will actually be helpful. "My executive actions not only do not prevent them from passing a law that supersedes those actions, but should be a spur for them to actually try to get something done."
Hearing this, a prominent commentator observed that Obama just "won't sell the compromise. There's something in this guy that just plays to his constituency and acts like there is no other room out there." The president's threats are "like waving a red flag in front of the bull," and will cause "a collision at the end of this year like you have never seen."
That's not George Will, Bill O'Reilly or anyone else from Fox News. It's MSNBC's Chris Matthews, a highly partisan Democrat who once said listening to Obama sent "a tingle" up his leg. Guess the tingling's gone, along with the hope and change.•
__________
Rusthoven, an Indianapolis attorney and graduate of Harvard College and Harvard Law School, was associate counsel to President Reagan. Send comments on this column to ibjedit@ibj.com.
Please enable JavaScript to view this content.