Downtown restaurant owner Travis Sealls knew utility costs would be high when he decided to open Punch Burger in a 19th century building downtown.

A lofty tin ceiling adds ambiance to the burger bar at 137 E. Ohio St., but it also contributes to an electricity bill that tops out at about $1,800 a month. Sealls did what he could to bring efficiency to his space in the historic Crown Liquor building, installing insulation above the ceiling and energy-saving fixtures. Otherwise, he accepts the price of doing business in the right location.

"I highly doubt I would not sign a lease based on the efficiency or inefficiency of a space," Sealls said.

Sealls
Retail business owners are a captive customer base. \All small businesses pay higher rates than big industrial electricity users, which can move—or at least threaten to—if energy becomes too expensive.

While the state's 25 largest manufacturers band together and lobby to control Indiana's rising

rates, no equivalent group represents the vast majority of business owners. Duke Energy's territory, which covers most Indianapolis suburbs, includes some 87,000 commercial ratepayers, and another 47,000 are served by Indianapolis Power & Light Co. in Marion County.

Commercial ratepayers in Indiana paid an average of 9.9 cents per kilowatt-hour in August, according to the U.S. Energy Information Administration, while the average price for industrial ratepayers was 7 cents per kilowatt-hour.

To be sure, the big industrial users get the equivalent of a volume discount. Take Duke Energy's sale in the fourth quarter last year to a group of four industrial users: 1.7 million megawatts, more power than the utility sold to all 63,788 customers on the most common commercial rate, according to a report filed with the Federal Energy Regulatory Commission.

The industrial group paid an average 5.56 cents per kilowatt-hour, while the average price for the common business was 10.76 cents per kilowatt-hour, according to the quarterly report.

Electric utilities invest billions in power-plant capacity—costs that are passed along to all customers—in order to serve those large users, said Kerwin Olson, executive director of the watchdog group Citizens Action Coalition.

The commercial class is "a market sector that is left out to dry," Olson said. "They desperately need a voice in the process."

Wanamaker Feed & Seed owner Jim Trimble finally penned a letter of protest to state utility regulators this year when he heard that IPL asked for a rate increase to cover $16 million in costs associated with extending service to a new all-electric car-sharing service, Blue Indy. The service was proposed by the city of Indianapolis and Blue Indy, a subsidiary of the French conglomerate Bollore Group.

"A foreign company's going to come in and invest money, but they guarantee 100 percent of their investment back," Trimble said. "Wow, give me a deal like that."

Trimble pays close attention to his electricity bills, which are about $565 a month, mainly for lighting. The only source of air-conditioning is a small window unit in the office of the feed store, he said.

At the business, Trimble pays 0.118 cents per kilowatt-hour, but at home he pays 0.088 cents per kilowatt-hour.

"I don't get that at all," he said.

In regulated electricity markets like Indiana, business customers tend to subsidize residential rates, said Phil O'Connor, a Chicago-based consultant and former Illinois Public Service Commission member who favors deregulation.

"The commercial customers are not nearly as flexible," O'Connor said. "Therefore, they tend to be the ones that have the subsidy placed on them."

All Indiana electricity customers have seen their rates rise quickly since the early 2000s, and the trend, driven by utilities' spending on mandated pollution controls, is forecast to continue upward over the next decade.

The 9.9 cents per kilowatt-hour that businesses paid in August, the latest month for which information is available, was 53 percent higher than a decade ago. The industrial rate of 7 cents per kilowatt hour was up 60 percent.

The rising rates prompted Indiana Industrial Energy Consumers Inc. to lobby for deregulation in Gov. Mike Pence's energy plan, a policy statement due out this fall. Whether deregulation, in which customers choose their electricity provider, would benefit small business remains up for debate.

O'Connor thinks it would benefit most businesses because it would eliminate subsidies between customer groups.

Indiana's investor-owned utilities have argued that deregulation would hurt small users. If the heavyweights take their business elsewhere, that could leave the cost of massive capital improvements like Duke Energy Indiana's $3.5 billion Edwardsport plant to be shouldered by a smaller customer base, driving up prices.

Efficiency incentives

While most business owners can figure out how much they should pay in rent, it's difficult to compare electricity costs among business types and locations.

As a franchisee of Pita Pit, Travis Sealls quickly realized he was paying more than his peers for energy in the lunch spot at Washington and Pennsylvania streets. Most Pita Pit restaurants are in strip centers, but Sealls' location is on the ground floor of an office building with high ceilings that drive up cooling costs.

The Indianapolis location became a Certified Green Restaurant in 2010, and Sealls said the energy savings that resulted from the six-month process brought his electricity bills in line with typical Pita Pit locations. He applied the same measures, such as installing heavy plastic curtains on the walk-in freezer and cooler, when he opened Punch Burger.

Environmental advocates think small business represents a huge market for retrofits, but Indiana's done little to encourage it.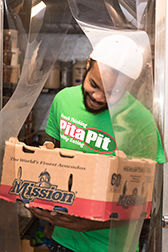 Pita Pit employee Daimien Weems carries food out of a cooler at Pita Pit. Pita Pit owner Travis Sealls is doing what he can to cut electricity use at the downtown restaurant, but acknowledges that smaller businesses have minor leverage with utilities. (IBJ Photo/Eric Learned)
This year, the state passed a law ending state-mandated energy savings. The passage of Senate Enrolled Act 340, which Pence allowed to become law without his signature, also means this will be the last year for Energizing Indiana, an umbrella program supported by ratepayers that provided home energy audits and rebates for businesses.

Individual utility companies, including IPL and Duke, have proposed their own energy-efficiency programs.

The Indiana Industrial Energy Consumers and utilities opposed the energy savings mandate, enacted under former Gov. Mitch Daniels, because the cost of hitting the target was about to rise significantly. Although big industrial users paid to support Energizing Indiana, they are large and sophisticated enough to run their own energy-efficiency programs.

Citizens Action Coalition and Hoosier Environmental Council said the industrial users' support was critical to the program. Most of the energy savings, 51 percent, that Energizing Indiana accomplished came through commercial and industrial customers, said Jesse Kharbanda, executive director of the Hoosier Environmental Council.

For every dollar invested, the program returned $5.49 in savings for that group, according to a study by the Indiana Utility Regulatory Commission, which didn't differentiate between small business and large industrial users.

Rebates for investing in new equipment or fixtures is the main incentive offered to businesses, but Kharbanda thinks another tool, aimed at commercial building owners, would prompt bigger changes.

For the past four years, Hoosier Environmental Council has lobbied for property-assessed clean energy, also known as PACE, which allows loans for retrofit projects to be attached to a property, rather than to its owner. The repayment becomes a line item on the property tax bill.

Kharbanda said PACE would help business owners overcome the hurdle of not knowing whether they'll occupy a building long enough to realize the savings.•