They are among the loyal and long-suffering that any sports enterprise such as the Indiana Pacers must have. Especially now, when tidings are bad. They are the eternal fans, with season tickets since the days when you could dial a phone.

This is a love story. For the couple in section 229, married for 62 years, who can close their eyes and remember all the games with sons now gone. For the two guys in section 226, with a four-decade friendship tied together by Pacers basketball. And the family in section 13, who brought their son to Market Square Arena as an infant on their laps, and now sit next to him in Bankers Life Fieldhouse as a man, one generation of season-ticket holders begetting another.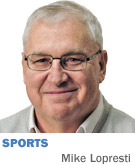 It is people such as they, with unyielding devotion to a team and a game, who are the lifeblood of a franchise. With heaven knows what's in store for the Pacers this season, we should meet a few of them.

Say hello to Paul and Marlene Cleary of Indianapolis, husband and wife, who have spent more than 60 of their 80-plus years together. Been coming to Pacers games since the ABA days. Here they were on a Monday night in Bankers Life, he in his blue Pacers jacket, she in her gold Pacers shirt.

"We try to come to all of them. I'm getting up there. It gets harder because I get up at 4 in the morning. I still work," said Paul, owner of the largest vacuum store in the nation.

This evening has already been momentous.

"They put us on the scoreboard," Marlene said. "It must be our day."

They produced six sons. Two of them, Joe and Paul in particular, were big fans. Joe would bring disabled people to the games when he could. Both sons are gone now, taken by cancer. Do they understand something like that down below in the Pacers' huddle, when they gaze up at the paying customers? Can they realize what the memories mean?

"I think a lot of it was going with Joe, and the handicapped people. He enjoyed it so much," Marlene said.

"One time, he bought a jersey for two of them, and I guess it took four or five days for them to get it off of them," Paul said.

So now, Marlene and Paul donate four wheelchair-section seats each game to New Hope for disabled fans, in honor of their sons. They also have eight season tickets because, as Paul said, "We still have a lot of family."

They donated those tickets for one game to a man fighting cancer, to raise funds for treatment.

"We didn't think; we told them they had their choice of games," Marlene said. "They took Cleveland."

Yes, the Clearys even donated LeBron.

The Pacers' bad start and long casualty list have not deterred them.

"They all go through cycles. I look for them to end up being a fairly decent team," Paul said. "A fan base is one that comes win or lose."

Meet Don Stumpp and Tony Miller. In 1972, they were Ball State University students who had never met. One night, Don's mother—who worked in the front office—called her son and said she had Pacers tickets.

Don: "So I walked into the study hall and said, 'Who wants to go to the Pacers game? I'll provide the ticket if you pay for the gas.'"

Tony: "I jumped up. We've been coming together ever since."

Forty-two years later, they are both CPAs who have attended each other's weddings, watched each other's families grow, and shared thousands of games, not all of them pretty. They endured the Pacers' nearly leaving town, and the days the crowds were so sparse, curtains hid the upper sections. They used to sit downstairs at Market Square, but moved upstairs when the prices increased. Besides, by then, other things were crowding the budget.

"I got married, got kids, got a mortgage," Don said.

"Put two kids through school," Tony said.

But there has always been room for the Pacers.

"This is our time together. If it's a bad game, we talk about other things," Tony said.

"If I had taken the money I spent on Pacers tickets when we were 20 to 29, and we had invested it, we'd probably still be sitting downstairs," Don said. "Back then, we were probably making 12 grand a year and spending $900 on Pacers tickets. It was probably stupid."

Not that either would change a day of it. Not even this season.

"They could go 20-62, and I'll be in my seats next year," Don said. "Who knows what's going to happen? You just go with it. That's part of being a fan."

Tony said the post-Peyton struggles with the Colts did not torment him, since they are not as close to his heart.

"But this really bothers me," he said. Still, he is here. "I've told my wife a hundred times—I'm not a bowler. I'm not a golfer."

No, they are Pacers fans. And friends. They would not be the latter without the former.

Meet Jerry and Carol Collins, and son Michael. Season-ticket holders for 27 years. Or put another way …

"When we started coming here, he sat on my lap," Jerry said, nodding toward Michael. "Now, he's 26 and a season-ticket holder. He has a 23-year-old younger brother [Danny]. Same thing.

"I think the key is to pass it on. That's what has to happen for a franchise to be successful. Mom and Dad have to pass it down to their kids."

For Carol, it is simple. "We got to do things as a family all those times. As they've gotten older, they have a lot of memories."

Such as the time 4-year-old Michael was acting up at a game, so Jerry took him out to the concourse. Who was out there, but Purdue Coach Gene Keady? They struck up a conversation, and Keady asked little Michael if he liked basketball. Told yes, Keady leaned down, drew close to the little boy and said the words that were his Boilermaker mantra for so many years: "Play defense."

Or the game on Michael's birthday, when he and Carol were talking and didn't notice the slot machine game on the scoreboard. It stopped at section 13, row 9, seat 1. Michael's seat. He'd won a trip to Cancun.

Such was a Pacers childhood.

"We grew up disliking Patrick Ewing and the Knicks," Michael said. And this on the infamous brawl at Auburn Hills with the Detroit Pistons: "Nov. 19, 2004, was like the darkest day of my life. I remember exactly where I was watching the fight go down, knowing what it would mean."

It would mean hard times. Just like the times to come, perhaps. But they are hopeful, the faithful up there in the stands. They keep coming back, the old and the young, the family and the friends, optimistically dreaming of happy endings. Because, to them, the Pacers are a love story.•

__________

Lopresti is a lifelong resident of Richmond and a graduate of Ball State University. He was a columnist for USA Today and Gannett newspapers for 31 years; he covered 34 Final Fours, 30 Super Bowls, 32 World Series and 16 Olympics. His column appears weekly. He can be reached at mlopresti@ibj.com.