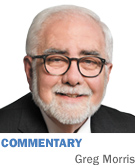 The Indiana Chamber, founded in 1922, celebrated the 25th anniversary of its annual awards dinner recently. Great attendance for the event meant I was able to dine with about 1,500 of my closest business friends.

Indiana Chamber CEO Kevin Brinegar and the chamber board chairman—Subaru of Indiana CEO Tom Easterday—did the heavy lifting in the emcee department and Gov. Mike Pence gave a welcome.

I should mention that Brinegar was looking especially festive in his glittery silver tux jacket. I mention it only because many of the speakers that evening pointed it out. After all, it was the silver anniversary of the awards dinner, so Kevin was making an appropriate statement with his snappy attire.

I've been attending this awards dinner for many years and, in addition to seeing many deserving people honored, have enjoyed the quality keynote speakers the chamber always seems to line up. But I'll have to say that this year will be a standout in the memory books, as a restrained Dennis Miller entertained the crowd two days after the midterm election.

I say restrained because it was obvious he was trying to stay edgy without going over the acceptable line of decency for the business crowd in attendance. I would have preferred the in-your-face, unbridled, HBO-special Dennis Miller, but I understand why he undoubtedly was coached to take it down a notch or two for this event.

Ivy Tech Community College President Tom Snyder made the introduction, and the audience reaction was polite applause. When Miller made his way to the microphone—after a brief pause to arrange his notes, water bottle and reading glasses—he glanced over at Snyder and said, "Thanks, Tommy, for whipping the crowd into a frenzy for me," or something very close to that.

That pretty much set the sarcastic tone for his 45-minute, somewhat-toned-down rant, where he hit a lot of hot topics. Toned down or not, his performance was highly entertaining.

As entertaining as Miller was, the real point of the evening was to salute the chamber's award winners, all of whom had a compelling story line.

The Business Leader of the Year was Lake City Bank's Executive Chairman Mike Kubacki. Under Kubacki's leadership, Lake City increased its assets from $800 million to $3.2 billion in just 15 years. Lake City is based in Warsaw with regional centers in Indianapolis, Fort Wayne and South Bend. Kubacki and his entire team have helped make Lake City Bank a true Indiana success story.

One of my favorite people, Susan Brooks, the U.S. congresswoman from Indiana's 5th District, was named Government Leader of the Year. I can't think of anyone more deserving of this honor. An IBJ "Women of Influence" honoree, Brooks was just re-elected to her second term in Congress.

She jumped right into the frying pan in D.C. two years ago and hasn't looked back. Her varied public and private-sector experience has served her well in Congress. Brooks currently serves on the Education and the Workforce Committee, Committee on Homeland Security, Committee on Ethics and many other subcommittees. Susan Brooks has had great success in her life. But I believe we're just starting to see her most successful chapter unfold.

And finally, a great Indiana city received the chamber's Community of the Year award—Bloomington. It was inspiring to see a very proud Mayor Mark Kruzan and a large contingent of folks make the trip up to Indy to receive the award.

Of course, most people know Bloomington as the home of Indiana University, but there's a lot more to love about the city. Business thrives in its life sciences sector with companies like Cook Medical and others. A successful high-tech business sector is emerging, and Bloomington continues to boast attractive quality-of-life offerings.

The awards dinner was well worth the price of admission. By the way, if your business isn't an Indiana Chamber member, you should consider making the investment. No organization advocates more tirelessly for business than the Indiana Chamber of Commerce. So please give them your financial support; you'll reap benefits far in excess of that small investment.

Congratulations to Kevin Brinegar and the entire staff for a job well done. I look forward to seeing even greater things from these dedicated business advocates.•

__________

Morris is publisher of IBJ. His column appears every other week. To comment on this column, send e-mail to gmorris@ibj.com.