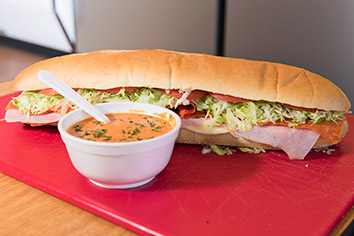 This time of year, any weekend could be the last for a coat-free trek down the cobblestone streets of Zionsville. So recently, before the cold set in, I took a stroll and hit a trio of stops.
First, Sub 16 (640 S. Main St., 344-0994), a locally owned sandwich shop occupying a spot in a strip center whose parking lot is dominated by patrons heading to the Zionsville edition of Bub's Burgers (enough has been written about the addictive pleasures of Bub's).
Sub 16 offers counter service and a small dining area. The patient-with-newbies crew seemed jovially determined to give first-timers a positive experience in hopes of building local loyalty. Here's hoping that attitude, combined with cleanliness and quality food, wins converts.
Freshly sliced mozzarella proved a terrific touch for The Philly Cheese Steak ($6.20/$11.20), an upgraded version of the kind found at Subway and other fast eateries where the meat isn't prepared to order on a grill. I only wish time had been taken to melt the mozz properly in order to integrate it fully with the meat—a Philly Cheese Steak should not be a layer sub. Things being what they are, though, the quality of the ingredients shone clearly and the sandwich was readily devoured.
Spicy Italian ($4.80/$5.80/$10.80) was even better, with a seemingly simple layering of ham, cappacola, salami, pepperoni and provolone. All the flavors complemented one another and blended into every delicious bite. The Mediterranean ($4.50/$5.20/$9.80) is essentially a hummus sandwich, but that's not a complaint. With hummus not shy about its garlic content, feta, cucumber and roasted red peppers, it gives vegetarian sandwiches a good name even among us carnivores.
The limited menu also features two to four daily soups from a list of 12. On our visit, they included a creamy Corn Chowder ($2.95/$3.95) armed with chunks of potato. A cup was appetizing but enough.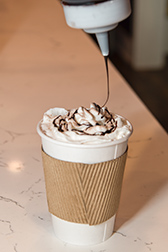 Next stop: The Scoop (305 S. Main St., Zionsville, 344-0944), a charming, less-than-a-year-old shop serving small-batch Valpo Velvet ice cream from Valparaiso. In addition to the array of ice cream flavors, you can upgrade to a Strawberry Statement (ice cream on sponge cake drizzled with strawberry topping and capped with whole strawberries and whipped cream, $6.50) or Peanut Butter Publication (ice cream bathed in peanut sauce and topped with hot fudge, whipped cream, chunks of peanut butter cups, and peanuts, also $6.50). If that gives you a chill, go for one of the Gourmet Hot Chocolates ($4).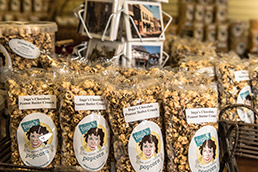 I couldn't (OK, didn't want to) resist continuing up the street to Inga's Popcorn (140 S. Main St., 344-2000), an extension of the Bloomington-birthed company. New flavors include Inga's Snow Storm (caramel with dark and white chocolate) and Inga's Birthday Cake (candied and sprinkled organic white popcorn with chocolate cake icing) ($6-8 per quart bag). But I'll stick with Snickerdoodle, with its sweet cinnamon-caramel mix. Just know that a bag is unlikely to make it home still full.•
Please enable JavaScript to view this content.