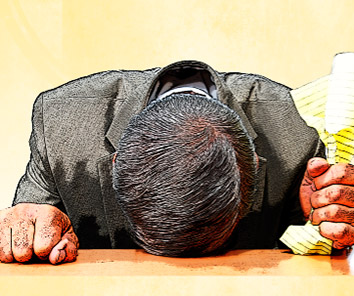 Gary Swart, a San Francisco-based partner with venture capital firm Polaris Partners, said a friend of his once poured $18 million into a tech startup. The startup failed, Swart said, but that didn't deter his friend from financing another endeavor by that same entrepreneur.
"I said, 'Are you at all worried?' and he said, 'No. I have $18 million in his education.'"
That describes the sentiment toward failure in some startup hubs across the country, and the attitude is slowly spreading, even to central Indiana. While Midwest venture capitalists are still relatively conservative compared to those on the coasts, failure is increasingly carrying more of an edge and less of a stigma, observers said.
 

Wechsler
For the most part, venture capital firms know that the majority of the companies they vet and finance will fail, but they hope a few will make it big enough to cover for all the duds—and then some.
From that investment perspective, experts said, there can be great value in entrepreneurs who have already been stung by the pain of failure.
"Here in Silicon Valley, we have a special word for failure," said Steve Blank, a Stanford University professor who's been involved in eight Silicon Valley startups. "You know what it's called? Experience."
Let's talk about failure
Traditionally, conversations about business success have outshined discussions about failure. But lately, failure is starting to get a little love.
Numerous blogs are devoted to entrepreneurial ventures that didn't end well, and events like FailCon are popping up across the country. At the local level, an event called Fail Fest, scheduled for Nov. 19, is one example.
"I think our failure culture in the area has somewhat followed our more conservative business culture, which means it hasn't been as acceptable to fail in the Midwest as, let's say, Silicon Valley," said John Wechsler of Launch Fishers, which organized the event. 
"The more you can compress that cycle time from failure to rebooting, I think the more likely you are to create successes with that experience."
Wechsler said he and Jacob Schpok, who heads Indiana's Office of Small Business and Entrepreneurship, bounced around the idea of Fail Fest earlier this year. Eventually, Wechsler and Launch Fishers partner Tony Monteleone moved on it, he said. 
They've lined up 19 speakers for the full-day event, mostly entrepreneurs with local ties.
Open dialogue about failure can be healthy for a city's startup culture because it legitimizes failure as a part of the process, said Shikhar Ghosh, who leads the entrepreneurial management unit at the Harvard Business School. 
Ghosh said only 10 out of every 200 startups get to the venture capital stage, and only three of those 10 return at least 100 percent of the venture capital they received.
So failure is common, but he suggested more failure can be indicative of more success.
"The tolerance for failure goes up when you're willing to shine a light on it," he said about Fail Fest and related events. "And the tolerance for failure is, to me, one of those things that allows Silicon Valley to be as powerful a generator of new businesses and new jobs as it is."
War stories

Cloran
A few local entrepreneurs said failure played a role in later success. Kris Parmelee started a healthy-food restaurant in 2010, dumping $100,000 of her own into it, on top of a Small Business Administration loan to buy the Broad Ripple building.
The restaurant had some loyal customers, but not enough for profitability. It closed in 2013, and she blamed poor marketing and a lofty business plan.

"In the process of getting the SBA loan, I created financials that looked like SBA needed them to, without really thinking through how I would meet those numbers," said Parmelee, who now consults small businesses through Parmelee Consulting Group Inc. "I don't think I would ever put myself in that position again."
Shawn Schwegman, a former Overstock.com executive, invented a voice-activated-assistant device shaped like a pyramid in the mid-2000s. It didn't have a name but was designed to make to-do lists, read emails and more. After about nine months and $150,000, he pulled the plug. (Amazon recently launched a similar device called Echo.)

Parmelee
"I didn't have my head in it 100 percent of the time," he said. Schwegman now runs a local tech startup called Gusto.
For some entrepreneurs, their company's brush with death was enough to yield lessons. Michael Cloran, a founding partner at Indianapolis-based DeveloperTown, started an automated systems company called Interactions in 2002. He raised $32 million in private equity and grew the company, but it came "very close to not existing and having $32 million go poof!"
Cloran said that experience and a similar one taught him that he's just not the guy for running firms after they reach the 100-employee mark.
"I left, a new CEO came in, and they're on fire now," Cloran said. "They've now raised over $100 million."
Risk appetite matters

Blank
Blank, the Stanford professor, said investors in the Midwest have a tendency to operate like bankers. 
He said that might not bode well for entrepreneurs, who in turn might flock to places where the money flows liberally. He said venture capital, by its nature, is risk capital, and startups, by their nature, are a series of experiments.
"To have an entrepreneurial cluster in Indiana, you just can't have entrepreneurs. You need equally crazy investors," Blank said. "An entrepreneurial cluster without entrepreneurial investors is like one hand clapping."•
 
Please enable JavaScript to view this content.