ZergNet.com, an Indianapolis-based Internet company that can claim billionaire Dallas Mavericks owner Mark Cuban as its seed funder, has added more financial backers.
ZergNet recently announced that it raised $3.2 million in venture capital from a group led by New York-based investment firms Greycroft Partners, Bertelsmann Digital Media Investments and Lerer Hippeau Ventures. Cuban also participated in the funding round for the 3-year-old startup, which has yet to generate revenue, but has more monthly U.S. visitors than nytimes.com, TMZ.com or target.com.
"We've got the best team in publishing on board," said CEO Reggie Renner about his new backers, which have connections to brands including The Huffington Post and Random House.
 

Renner
"We went after the big boys in New York City and got them on board and we're very happy," the 34-year-old Carmel native said.
ZergNet is a content aggregation company that helps direct hundreds of millions of page visits per month to online publishers including Aol.com, MensJournal.com and Glamour.com. These websites are just a few of ZergNet's approximately 1,600 clients, all of whom agree to host content from other ZergNet partners in exchange for having their content displayed on partner sites.
The idea is to facilitate audience growth for all partners by spreading links to places besides search engines and social media sites. ZergNet plays mediator for free.
"Essentially, it's a way for them to reach new visitors," Renner said. "This achieves a couple different purposes, including making money. As you know, traffic is revenue for publishers."
ZergNet has an algorithm that tracks popular Web stories, and its editors handpick articles from this pool and attach click-worthy headlines. These stories are then posted in widgets that appear as bottom-page links, often near the word "recommended."
One of ZergNet's top rules: no risqué content. This ensures that the links don't diminish the brands of content partners, Renner said, and maintains the quality of the "premium traffic" it handles.
Renner said ZergNet eventually plans to generate revenue from native ads, sponsored content that matches the form and functionality of a site's editorial content.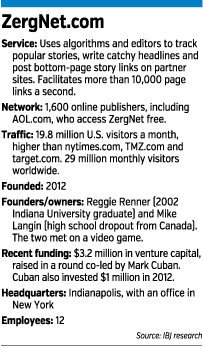 "We can just sell a few million of our organic clicks and be quite profitable," Renner said, "but our primary goal remains growing the overall network through partnerships and building more features to increase our organic traffic."
Renner said ZergNet.com itself is becoming a go-to source for the hottest stories across various platforms. While the company has invested in client services, it hasn't devoted much to its own home page, which has recently drawn 29 million people a month, according to industry tracking firm Quantcast.
Renner said the new capital will be used to enhance its website's user interface, as well as double its current staff of 12 employees. Renner has no int
ention of moving his Indiana headquarters, primarily because of the low cost of doing business here, he said, but he will be building out his team in New York.
"I'm not incredibly plugged into the tech scene," he said, "but there are a lot of universities around here. And I know a lot of professors and all that stuff, so we can recruit people here."
Renner co-founded the site in early 2012 with Mike Langin after the two started a tech blog and wanted to find a way to increase traffic. After watching an episode of ABC's "Shark Tank," Renner emailed Cuban and asked for an investment in ZergNet.
Cuban's investment started with about $30,000 that February, Renner said, and grew to $1 million by October 2012.
"I opened the email saying I'm a fellow Hoosier," Renner said. "And Mark said that always captures his interest—that when people are from Indiana, he gives them a closer look."•
__________
Greg Andrews' Behind the News column will return next week.
Please enable JavaScript to view this content.