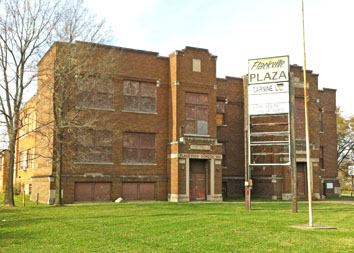 TWG Development LLC wants to convert two more former school buildings into senior housing developments and is seeking federal tax credits to help finance the projects.
The local affordable housing developer is among several firms vying for the tax credits handed out by the Indiana Housing and Community Development Authority every February.
Applications for the latest round of credits were due Nov. 3. Fifty-two projects from across Indiana, including 12 in the Indianapolis area, are competing for the credits.
Not all will receive funding. The process is very competitive. Last year, the state agency received 44 applications but only awarded credits for 14 projects.
TWG's proposal to renovate the old Lawrence Central High School, 8301 E. 46th St., was among the winners announced in February. The $8.8 million project involves 60 senior-housing units.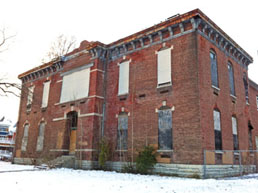 The 124-year-old Oliver P. Morton School at 2101 N. College Ave. has been targeted for a rehab and conversion to senior housing. (IBJ Photo/Scott Olson)
The company hopes to add two more historic school buildings, at 2101 N. College Ave. and 2930 Lafayette Road, to its portfolio of affordable housing projects with applications it submitted earlier this month.
"Both are historically relevant, beautiful old buildings and we hope to be able to bring them back to their former glory," said Jonathan Ehlke, TWG's development analyst.
TWG agreed to buy the two buildings in September contingent upon receiving the tax credits in February.
The College Avenue property, School 29, dates to 1890. It was named for Civil War-era Gov. Oliver P. Morton and built in the Italianate style of architecture. A second section of the building facing College was built in the Romanesque revival style in 1893 by Vonnegut Bohn and Mueller, whose work included city landmarks such as the Athenaeum and downtown L.S. Ayres building.
The school was converted to apartments several years ago but is vacant and in severe need of repair.
TWG is proposing 48 senior apartments at a cost of nearly $8 million and is seeking $736,114 in tax credits to help fund the project.
On Lafayette Road, it plans to build 65 units as part of a $10 million project and is requesting $970,000 in tax credits. TWG received approval Nov. 11 from a city zoning board for a variance to construct a 32,000-square-foot addition to a run-down, two-story, 41,000-square-foot building.
It was built in 1912 with expansions in 1926 and 1952. It operated as a school until the 1970s and last housed a bingo hall and antique mall.
The building is the last remaining school from the former town of Flackville. Named for Joe Flack, who owned a brick-making company in the area, Flackville was annexed by the city following World War II.  
Mark Dollase, Indiana Landmarks' vice president of preservation services, favors what TWG is proposing for the buildings.
"Schools are one of the most-often-reused historic buildings because they are pretty readily adaptable for several uses, and housing is one that's frequently looked at," he said.
Federal legislators created the low-income housing tax credit in 1986 to spur private investment in affordable housing.
The state housing authority administers the federal program that awards tax credits to developers to renovate, acquire or construct affordable rental units. A dollar-for-dollar credit provides an incentive for private developers and investors to provide low-income housing. By reducing a developer's federal tax liability, or by selling tax credits to investors, the program can help cut the cost of development.
Other developers seeking tax credits this round include Insight Development Corp., the development arm of the Indianapolis Housing Agency, Deylen Realty, and Flaherty & Collins Properties.
 
Please enable JavaScript to view this content.