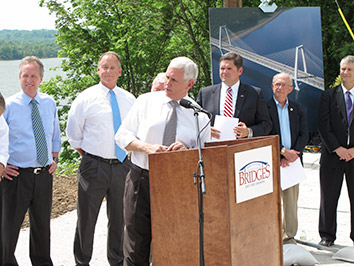 A standard-bearer of public-private partnerships since former Gov. Mitch Daniels' toll road lease, Indiana might be turning away from at least one form of the P3s.
Indiana Department of Transportation Commissioner Karl Browning doesn't think the state should commit to any more so-called availability payments, which financed Indiana's share of the Ohio River Bridges project and section five of Interstate 69.
"It's a lot like borrowing," Browning said in a recent conference call with the Indiana Chamber of Commerce. "I would be more than cautious about the notion of doing public-private partnerships of the nature of some of them that we've done."
Browning's remarks might come as a surprise, considering the way Daniels, his former boss, embraced P3s. Appointed to his second stint as INDOT chief by Gov. Mike Pence, Browning is concerned about debt payments consuming too much of a limited budget, which is needed to tackle a mountain of road and bridge work.
The term "availability payment" is P3 industry lingo for annual payments that come from available budgeted revenue sources. A developer can use a government's long-term commitment of annual payments to finance a project.
Availability payments are gaining popularity as governments look to finance projects that can't be tied to a dedicated funding stream, such as tolls. The city of Indianapolis plans to use availability payments to finance a criminal justice complex that could cost as much as $600 million.
While Indiana isn't carrying the debt from the Ohio River Bridges project or I-69 on its books, the P3 deals still mean INDOT has to set aside money for 35 years.
Debt burden grows
The share of revenue INDOT spends on debt obligations is set to grow. Currently, about 10 percent of its $1.6 billion in state and federal revenue goes to debt service. That will rise to 17 percent in 2018, according to INDOT projections through 2030.
"In my view, that's a manageable number," Browning told the chamber. "If we let it get higher, we're going to be mortgaging our grandchildren."
A critic of Daniels' toll-road lease and the I-69 project, Rep. Matt Pierce, D-Bloomington, said he's pleased to hear a member of the Republican administration talk about P3s in frank terms.
"Where have you been all these months?" he asked.
Browning isn't eschewing P3s in general. He said he would support a deal for new construction if it can be sustained by a known revenue source.
"Tolling comes to mind," he said.
Tolls were not an option for Section five of I-69, in which State Road 37 from Bloomington to Martinsville will be upgraded to freeway standards. So in 2013, the Legislature approved language in the budget bill allowing the Indiana Finance Authority to pursue an availability-payment scheme.
Once the road is operational, Indiana will pay $21.8 million a year for 35 years.

Browning
Indiana's first availability-payment P3 was the East End Crossing, a toll bridge under construction over the Ohio River at Utica. Availability payments are $33 million a year from 2016 through 2050.
Toll revenue will offset the availability payments, but Indiana does not expect it to cover the bridge's $763 million cost.
With Browning resisting more of those deals, it's unclear how Indiana will pay for the final leg of I-69 from Martinsville to Indianapolis, which is a priority for Gov. Mike Pence.
"It is not feasible to toll only the remaining I-69 Section 6, and INDOT has no plans to pursue this tolling approval with the Legislature," Jim Stark, deputy commissioner for innovative project delivery, said in an emailed statement.
"Right now, no funding has been identified for final design or construction of I-69 Section 6."
Nevertheless, INDOT is pursuing a Tier 2 environmental study, which includes examining different road paths and developing a preliminary cost estimate. The study is expected to take two to three years, Stark said.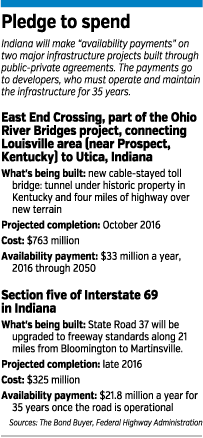 Future revenue
The lease of the Indiana Toll Road generated $2.6 billion for Daniels' 10-year transportation plan, Major Moves.
Now, Browning hopes to rally taxpayer support for a lasting solution to the transportation funding gap caused by declining gas-tax revenue, aging infrastructure and escalating construction costs.
The average Hoosier spends less than $20 a month on the state highway system through BMV fees, sales tax, and state and federal gas taxes, according to a presentation Browning made to the Joint Transportation Committee this summer.
Meanwhile, roads and bridges built 50 years ago are approaching the end of their useful lives. INDOT spends an average $273 million a year on bridge preservation, but 12.5 percent of bridges will be in poor condition by 2024, Browning told the chamber audience.
Likewise, the state is spending $400 million a year on roads, but 11.5 percent of highways will be in poor condition by 2024, he said.
Browning does not think the federal government will come up with the answer.
"If we're going to be the crossroads of America," he said, "our existing highways have to be in pretty dang good shape. We have to persuade 6 million people that it's worth it to them, and not rely on the federal government."
Pierce said the billions Daniels generated with the toll-road lease masked the transportation funding problem.
"Most of the legislators haven't focused in on the issue of funding and how that impacts their own districts," he said.
Indiana Chamber transportation lobbyist Cam Carter predicted the Legislature won't consider any tax increases or new revenue sources until INDOT reveals a consultant's study, due out in August.
There is no P3 deal that will make up for the fact that the federal gas tax hasn't risen since 1993, cars are becoming more fuel-efficient, and Americans are driving less.
"What you have to understand with public-private partnerships in the transportation realm—they're a financing mechanism," Carter said. "They're not a funding mechanism."•
 
Please enable JavaScript to view this content.