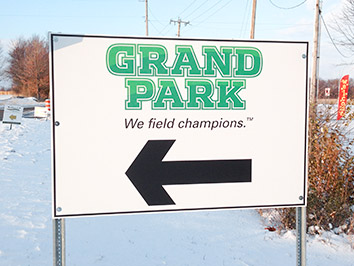 Indianapolis Motor Speedway is The Racing Capital of the World—and it has the federal trademark to prove it.
Such legal protection is all but required in the corporate world, where businesses must guard against unauthorized use of the brands they've invested time and resources to build. Now, the public sector increasingly is following suit as communities work to establish identities of their own.
Take Westfield, which this summer won U.S. trademarks for both the city-owned Grand Park sports facility and its "We field champions" tag line.
Or Zionsville, which last year trademarked the town logo: "a grove of trees appearing on a large, stylized 'Z' that has the appearance of a path" above the word Zionsville, as it is described on the registration certificate.
"Awareness [of trademark laws] has reached the level that literally everyone is doing it," said Constance Lindman, a partner in Chicago law firm SmithAmundsen's local office and chairwoman of its intellectual property practice group. "Even garage bands want to trademark their names. … This is a continuing part of that trend."
For the most part, municipalities like Zionsville are trying to avoid confusion in the marketplace by keeping others from using a government agency's logo or slogan without approval.
But some—including Westfield—also hope to turn their trademarks into an ancillary revenue stream, licensing merchandise. Whether Grand Park gear will sell as well as the city of New York's popular NYPD apparel remains to be seen, but someone else would benefit if Westfield didn't own the mark.
"Our team thought it was important to protect the brand," said Grand Park Marketing Manager Michelle Krcmery. "This is much more than a park—it's an economic development initiative."
The stakes are indeed high for Grand Park given the city's $45 million-plus investment in the 400-acre haven for youth sports, heralded by Mayor Andy Cook and other proponents as a way to draw private investment to the community.

Lindman
If the strategy works, its trademarks empower Westfield to fend off interlopers looking to cash in on Grand Park's success.
And with a federal filing fee of just $275 to $325, securing the legal protection won't exactly break the bank—even after attorney's fees.
"It's really no different for us than for any other entity," said Marc Lotter, a spokesman for the city of Indianapolis, which has federal trademarks for its parks and recreation department's Indy Parks and Monon Rail-Trail logos. "We spend a significant amount of time and money promoting our brands, and we want to make sure they're not used inappropriately."
The advent of social media and other communications technology has allowed government agencies to spread their messages more widely, he said, but that also means they have to take additional steps "to protect the rights we have."
Which isn't to say trademark owners have to maintain constant vigilance. If nothing else, registering a trademark puts unauthorized users on notice that someone could be watching, said Lindman, the Indianapolis intellectual property attorney.
"It tells the world that this is your mark," she said. "It has an effect even if you never take enforcement action."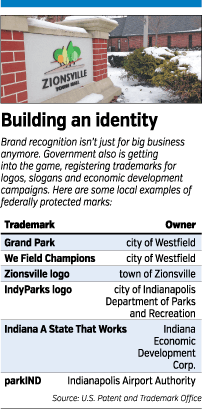 The courts are the ultimate arbiter in trademark disputes, she said, but most infringement cases are resolved with little more than a sternly worded cease-and-desist letter. While it's possible to establish a trademark simply through years of usage, disputes are less likely with a federal or state registration in place.
Tourism agencies in large cities were among the first public entities to visit trademark offices. The Las Vegas Convention and Visitors Authority has more than 50 active marks, for example, including the classic "What Happens in Vegas Stays in Vegas."
But communities of all sizes have been getting into the game as they look to distinguish themselves from their neighbors.
Among Visit Indy's protected marks: "So easy to do so much" and "Raising the game."
Not-for-profit civic booster Noblesville Main Street Inc. came up with the term "hipstoric" to describe the Hamilton County seat's century-old-yet-still-thriving downtown a couple of years ago, and the city's economic development staff uses it liberally—with the organization's blessing.
Noblesville Main Street applied for state trademark protection in July and hopes to start the federal process sometime next year, said Executive Director Chris Owens. Among the "proof of ownership" the group submitted: photos of the T-shirts, coffee-cup sleeves and other products emblazoned with the hipstoric label.
"It has value to us: We own it," Owens said. "I don't know if we'll ever look at licensing, but we can control how it's used."
That's all Westfield leaders want from the Grand Park trademarks—at least for the time being, said Krcmery, the marketing manager. The facility has been open less than a year, so the brand itself is still a work in progress.
But if organizers succeed in creating the type of experience that sends visitors running to the gift shop, Westfield will be ready.
"Who knows what will happen down the road?" Krcmery said. "We need to make sure that asset is protected on behalf of taxpayers."•
Please enable JavaScript to view this content.