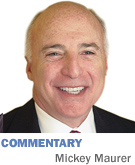 The farther backward you can look,
the farther forward you can see.
—Winston Churchill
One hundred years ago, Indiana citizens were preparing for their centennial birthday party—100 years of statehood. Looking back to that celebration of 1916, it is remarkable that the plans, concerns, fears and prejudices of the day were so similar to our own.
Ninety-seven percent of Indiana citizens were white. Nonetheless, religious conservatives found verses in their bibles to support miscegenation laws that inflicted criminal penalties on the wee part of the remaining 3 percent who dared to sanctify their love across racial lines. About 50 years later, in the face of a pending Supreme Court decision, Indiana was one of the last states to roll back that hate law.
In our age, miscegenation is a non-issue, but a similar bigotry from a similar source prosecuted an unholy crusade to prevent legal unification of same-sex couples. The religious right needs to look in the mirror—different issue/same reflection.
One hundred years ago, we hunted the passenger pigeon to extinction. Conservationists mobilized to pass the Migratory Bird Act of 1916 and to create the National Park Service. That same year Indiana established the state park system, an outgrowth of our centennial celebration.
Environmental conservation is no less a concern today. The Hoosier response is the Indianapolis Prize, which is given every other year to an individual who has made extraordinary contributions to conservation efforts. The goal of this spectacular celebration is to inspire the general public to start caring about conservation and to place environmental heroes on the pedestal that we usually reserve for sports and entertainment stars.
In 1916, the war in Europe had been raging for two years. Mothers were concerned about the loss of their sons, and with good reason. The United States was drawn into the carnage and lost 53,402 young men. At the turn of this century, President Bush, who lacked the seasoning to assess the ramifications of his jolly foray, led the United States into a war in Iraq costing 4,500 soldiers. He also ran up a bill that could grow to more than $6 trillion over the next four decades, accomplishing nothing but to unleash savage sectarianism that must be dealt with today.
Today's mothers still fear for their sons—and daughters—with good reason. Consider the heartbreak of Hoosier Paula Kassig, whose son lost his head to the ISIS terrorist menace.
Back then, 95 percent of Indiana citizens were American born. Hoosiers preferred to leave the Europeans to themselves, and most supported restricted immigration policies. Today our nation's immigration laws need retooling. In Indiana, debate concerns illegal immigration, particularly by children from drug-torn Central America. Although Indiana has accepted and placed some of these children, Gov. Pence has expressed his desire to have them returned to their countries of origin, where many believe they will face death or conscription into the brutal gang wars.
Typhus had killed millions by the time its cause was discovered in 1916. Three million more would die before the disease was tamed. On the cusp of Indiana's 200th birthday, our nation is tense and nervous about a new pandemic—Ebola. Indiana native Ron Klain was named by President Obama as Ebola Czar. Blessed with extraordinary intelligence and polished organizational skills, he is an enlightened choice. Even so, Indiana Congresswoman Susan Brooks towed the GOP line to take an underhanded political swipe at him. Has Brooks fallen in lock step with party regulars?
Can we mend our state and the world over the next century? Let's hope that when our great-grandchildren celebrate the Indiana tricentennial in 2116, they will not experience bigotry, war and other maladies that have plagued Hoosiers for the last 200 years.•
Thank you Dale Ogden, chief curator of history and culture at Indiana State Museum and Historic Sites, Dorothy A. Nicholson, archivist, manuscript and visual collections at Indiana Historical Society Library and James H. Madison, author of Hoosiers, A New History of Indiana (Indiana Historical Society Press, 2014).
__________
Maurer is a shareholder in IBJ Corp., which owns Indianapolis Business Journal.  His column appears every other week. To comment on this column, send e-mail to mmaurer@ibj.com.
Please enable JavaScript to view this content.