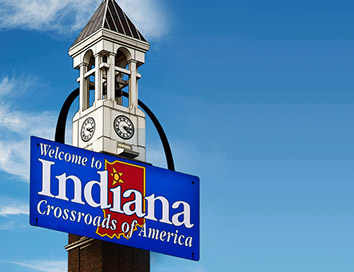 The way things are going, more of the next crop of freshmen on Purdue University's West Lafayette campus will come from outside Indiana than from within.
Purdue filled up more than 48 percent of this year's freshman class with students from other states and countries—a 40-percent increase in out-of-state students over the past seven years.
That means the number of Indiana students among Purdue's freshman class has fallen from more than 4,500 in 2007 to just 3,300 this fall.
Purdue is hardly alone. Indiana University's Bloomington campus enrolled 43.5 percent of its students from out of state this fall—a record high.
State-funded universities around the country are recruiting out-of-state students more aggressively than ever to combat a decline in high school graduates that has hit most states, including Indiana.
But Purdue remains ahead of most. Even the University of Michigan at Ann Arbor—which has had a national strategy for decades—draws only 45 percent of incoming freshmen from outside Michigan.
The trend at Purdue is likely to get scrutiny from Indiana legislators when Purdue, IU and other universities make their budget
presentations this month and next, and during the budget-writing session of the Legislature that kicks off in January.
"I'm concerned," said Sen. Luke Kenley, R-Noblesville, who chairs the Senate Appropriations Committee. "Both of those universities, since their inception, were started for the benefit of Indiana [residents] and Indiana students. So we need to be true to those missions."
Legislators focused more on the issue before the recession that hit Indiana in 2007 and has depressed state revenue and Hoosier household budgets ever since. But during the recession, with state funding being cut by former Gov. Mitch Daniels—now Purdue's president—legislators gave the universities more latitude to make ends meet.
Out-of-state students are a lucrative way to do that. At Purdue, out-of-state and international students pay nearly $29,000 in tuition and fees per year, compared to nearly $10,000 for Indiana residents.
"You're basically auctioning off spaces for people with more money," said Patrick Callan, president of the National Center for Public Policy and Higher Education, told the Hechinger Report news organization earlier this year. "In-state students have less of a shot at public universities. This sends the wrong message."
Even with Purdue's funding from the state, which averages $7,500 per Indiana student at its West Lafayette campus, the out-of-state students are far more lucrative.
If Purdue had maintained its 34-percent rate of freshmen from out of state, it would have received $14 million less this year in tuition and fees, even after considering state support.
As Daniels tried to freeze tuition and reduce the cost of food and books, he has said extra revenue from more students is a key strategy for Purdue's future. Out-of-state students help Purdue's finances, help Hoosier families' finances by keeping in-state tuition lower, and even help the entire state, he said.
"There is a very large benefit that Purdue attracts people from around the country and around the world," Daniels said. "Students bring literally hundreds of millions of dollars to the state of Indiana's economy" and, he added, even more if they remain here for a career after graduation.
"This is a brain-gain opportunity," Daniels said.
But Daniels was adamant that Hoosiers will remain the majority of undergraduate students in West Lafayette. He also noted that, among Purdue's four-campus system, 73 percent of undergraduate students hail from Indiana.
"As we grow the student body, the intent is that we would grow by more Hoosiers. That's our objective," Daniels said.
Looking to transfers
Purdue saw a 28-percent increase in applications for 2014 enrollment compared with the previous year, with foreign and out-of-state students accounting for all the increase during a year in-state enrollment declined slightly.
Purdue officials say the increase came because 2014 was the first year Purdue began accepting the common college application, which makes it easier for non-Indiana students to apply.
This year, three of four freshmen Purdue admitted—but who might not have attended—were from outside Indiana. In 2007, out-of-state students accounted for three of five students admitted.
It isn't as if Purdue is adding headcount to accommodate greater out-of-state enrollment. Purdue enrolled 6,373 incoming freshmen this fall—90 more than the previous year, although the university's leaders had hoped to grow the incoming class even more.
Pam Horne, associate vice provost for enrollment management, said the university is trying to ramp up enrollment by about 800 students a year—from a mix of out-of-state freshmen and in-state transfer students. Doing so would roughly return Purdue's annual freshman enrollment to levels at the start of the Great Recession.
Purdue's beginning freshman class shrank 11 percent from 2008 to 2013. And Purdue saw even bigger declines in students transferring in.
"We're looking to increase our transfer students by several hundred over the next few years," Horne said, noting that about 70 percent of transfer students come from Indiana. "We just didn't put as much effort into services for transfer students."
Lofty reputation
The recent increase in out-of-state students started accelerating under Daniels' predecessor, France Cordova, who is now director of the National Science Foundation. Cordova arrived as Purdue's president in 2007 and immediately began to grow the number of out-of-state students.
Nearly all the enrollment growth has actually come from international students, who believe Purdue's engineering, computer science and other technical programs enjoy a stellar reputation.
"Kids in China talk about Stanford, MIT and Purdue as the best private engineering schools in America. And we don't usually correct them" that Purdue is state-funded, Purdue chemistry professor Pete Kissinger said.
Growing the numbers of international students is primarily about increasing diversity among the student body, Horne said.
She said Purdue is not intentionally trying to push its out-of-state enrollment above 50 percent. But she said several factors are moving things in that direction.
One factor is that it is far easier for Purdue to find qualified applicants from out of state, Horne said.
"It's important that Indiana students that are a good fit for Purdue, that we maintain capacity for them. But students do need to be prepared for what is a very challenging education," Horne said. "We want them to be competitive with the student from L.A., the student from Hong Kong, the student from Shanghai."
Raiding students
A bigger factor recently is competition from universities in other states.
The number of high school graduates in the Midwest has dropped the past five years and is projected to decline another 5.7 percent from 2014 to 2028, according to the Western Interstate Commission for Higher Education.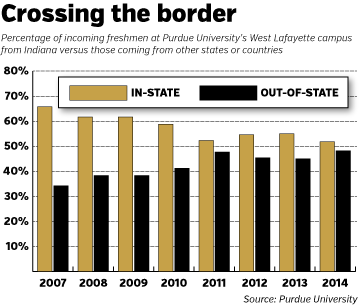 To compensate for the shrinking pool, more and more universities are trying to fish in other ponds.
The University of Illinois has increased the number of out-of-state freshmen at its flagship Champaign-Urbana campus from 12 percent in 2007 to 28 percent this year.
Ohio State University is recruiting more internationally for its flagship campus in Columbus. Out-of-state students accounted for 30 percent of incoming freshmen, up from just 2 percent in 2007.
Even universities much farther away are trying to lure Hoosier students out of state.
Indiana resident Bridget Bruggeman started college at UCLA this fall, even though it's costing her family about three times more than it would for her to attend IU or Purdue.
"It definitely would have been less expensive to go to IU, but I don't think I would have been as happy," Bruggeman told the Los Angeles Times in August. "Being from the Midwest, there is definitely an idea of California as a place where you can dream as big as you want to. That's something I was very drawn to."
With more Midwestern universities competing for Hoosiers, Horne, Purdue's head of enrollment, said the university has had to compete more vigorously out of state to hit enrollment targets.
But political pressure is starting to hit in multiple states. The state government in Iowa got so concerned about swelling numbers of out-of-state students that it instituted a funding formula in June that encourages the state's three major public universities to enroll more Iowans.
Kenley, the Indiana state senator, did not offer a specific percentage of in-state students he thinks IU and Purdue should have. Instead, he said he'd like to have "at least half," although he said identifying exactly the right percentage would require discussions between lawmakers and university leaders.
"The Legislature does have an interest in what those ratios are," Kenley said. "That's probably something that we will try to discuss and emphasize with them."•
Please enable JavaScript to view this content.