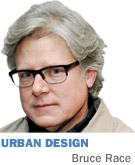 Keystone Avenue is a 20-mile-long "avenue" connecting some of the most physically, ethnically and economically diverse communities in the region, including Carmel, Indy's near-east side and Beech Grove. Keystone no longer fits the true definition of avenue, but parts of it could if we don't squander a new opportunity to reimagine and reshape it.
Transit planners are about to embark on a study of the Keystone corridor, one of five slated for bus rapid-transit routes as part of the Indy Connect public transit plan. The results of that study could transform Keystone if we play our cards right, but first some history.
I have been researching where the name "Keystone" came from. It could have been named by a property owner in the 1920s who came from Pennsylvania, where the Keystone Railway was an important feature. Photos of Keystone Avenue taken in the 1920s show it as a narrow road crossed by railroad tracks and bisecting a semi-rural, bungalow community.
Keystone's history mirrors the development phases of Indianapolis and its hinterlands. Rural Street on the near-east side passes through historic streetcar neighborhoods with compact residential blocks with sidewalks. The extension of Rural to the north as Keystone Avenue allowed for the gradual expansion of Indianapolis into unincorporated county areas, where auto-oriented tracts and strip centers began springing up after World War II.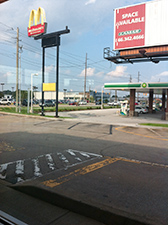 The corner of 96th and Keystone, above, and the old St. Francis Hospital in Beech Grove, below, are at opposite ends of the Keystone corridor. The old hospital isn't directly on Keystone but could be transformed by access to Keystone's Bus Rapid Transit Orange Line. (Photo courtesy of Charles Russell)
Unigov, which in 1968 merged the governance of Indianapolis with most of Marion County, accelerated the development of rural areas and resulted in more comprehensive development standards for the next generation of housing and commercial projects in the city. Keystone bisects all those areas, including the fast-growing edges of the metro area.
Keystone has evolved into an important, busy thoroughfare. In Hamilton County, it is a grade-separated highway. In the formerly unincorporated and rural parts of Marion County, Keystone gradually narrows into a four-lane thoroughfare with a median. Closer to the city's core, it becomes a four-lane street with post-war strip and box-store frontage. Eventually, it connects to Rural Street as a two-lane urban street. The road opens back up as four-lane Keystone Avenue as it heads south toward Beech Grove.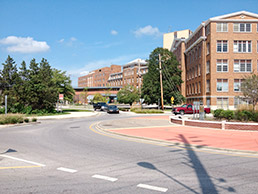 (Photo courtesy of Daniel Greenfield)
Keystone Avenue's bus rapid-transit (BRT) Orange Line will be the only route that connects to all the other lines: Red (Meridian Street), Purple (38th Street), Green (Nickelplate RR corridor), and Blue (Washington Street). The Keystone Orange Line will take a lot of people to downtown attractions and jobs via the other BRT lines. Indianapolis neighborhoods will have good access to jobs in Carmel and Beech Grove.
So Keystone will continue to play an important role here, but you might not recognize it in the future. Imagine Keystone in 2050. How will this diverse avenue of communities evolve? I recommend transforming it by keeping in mind three urban design principles.
1. Think long term
A vision for Keystone has to take the long view. If you live in Carmel and think your community is almost complete, consider that the BRT combined with Carmel's success in an expanding regional market can create opportunities you cannot see yet.
If you live in the older neighborhoods of Indianapolis, better connections to employment and downtown can be a catalyst for infill development and renovation. If you live in Beech Grove, your Main Street District can become the postcard for a livable, mixed-use and vibrant downtown connected to other "village centers" in the region.
Start planning in phases that link existing assets and the region's long-term-opportunity sites.
2. Plan at a neighborhood scale
In the next 35 years, the Keystone Orange Line will link and spur a new generation of investment. As with our historic streetcar communities, new development will happen near BRT stations, providing opportunities to realize neighborhoods' aspirations.
A neighborhood of 10,000 people surrounding a BRT station will need at least one full-service grocery store, three elementary schools, and 50 acres of programmed park space. If you live somewhere that needs some added purchasing power to round out your neighborhood assets, treat your future station area as an extension of your neighborhood.
3. Put the "avenue" back into Keystone
The formal definition of an avenue is a broad street lined with trees. However, much of Keystone is not a picturesque, tree-lined avenue edged by parks. It is built only for moving cars. As a result, it has narrow sidewalks and narrow lanes, and is void of landscaping.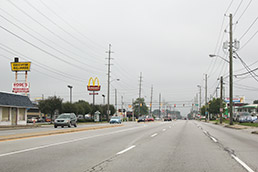 This stretch of Keystone near 49th Street is typical of the unrealized potential of the corridor in its current state. (Photo courtesy of Kaitlyn Forbes)
It has to evolve into a walkable transit corridor to be successful. Imagine a phased improvement program of streetscape and parks extending from BRT stations. The same streetscape system can reduce local flooding and improve water quality in the five sub-watersheds Keystone Avenue crosses.
Transit planners have not started their formal planning process for the Orange Line. The routes and station locations are preliminary. Now is a good time to think about how this traditionally important regional thoroughfare will evolve to support your community's economic and urban design objectives.
Think long term and at a neighborhood scale. Find ways to put the "avenue" back into Keystone.•
__________
Bruce Race, FAIA, FAICP, PhD is an award-winning architect and urban planner, owner of RaceStudio, and recipient of the Indiana Sagamore Planning Award. He lives in a historic Indianapolis neighborhood and teaches urban design at Ball State University's Downtown Indianapolis Center. His column appears monthly. He can be reached at br@racestudio.com.
 
Please enable JavaScript to view this content.