In his 36 years, Ryan Vaughn has graduated from one of the state's most influential colleges, worked at the city's largest law firm, led the City-County Council, and served as Mayor Greg Ballard's chief of staff.

Now, having taken over as CEO of the high-profile Indiana Sports Corp. on Nov. 1, he's already talking about staying in the job longer than he promised during the job interviews.

And he's wasting no time shaking things up. Vaughn quickly made clear that one of the not-for-profit's first considerations when going after or creating any sporting event will be opportunities for area businesses beyond the usual benefits to hotels and restaurants.

Toward that end, Vaughn announced that the Sports Corp. would start a beer-tasting event called Taps for Touchdowns during the Big Ten Football Championship at Lucas Oil Stadium on Dec. 6. Dozens of Indiana brewers will pitch their drinks at the former Pan Am ice rinks on the eve of the game and—who knows?—just possibly land distribution contracts in other states.

"It's more focused on an understood mission of the organization," Vaughn said. "You can really ramp up the value of that activity if you're very intentional about how you coordinate it."

Vaughn said the ISC job is consistent with his desire to have an impact on Indianapolis, where he moved with his family from Muncie at age 3.

He laid the groundwork at Wabash College, which has produced such local movers and shakers as Hulman & Co. CEO Mark Miles and Lilly Endowment President Clay Robbins, then joined law firm Barnes & Thornburg before entering politics as a city-county councilor.

He rose to president of the council and in May 2012 moved to Mayor Greg Ballard's office as chief of staff.

Shortly after announcing his resignation from that spot this September and downplaying speculation that he would run for mayor, Vaughn got a call from then-ISC President Allison Melangton. She told Vaughn she was leaving to take a job with the Indianapolis Motor Speedway and IndyCar Series and wanted to gauge his interest in the position.

"The ISC board was looking for someone with national-level sports expertise but who was grounded in the community and understood how we do business here," Melangton said.

Melangton didn't have a problem endorsing Vaughn, whose sports involvement dates to playing tennis and swimming at Ben Davis High School and swimming at Wabash. Vaughn served alongside Melangton on the local host and bid committees for the 2012 and 2018 Super Bowl bid and the 2015 Men's NCAA Final Four Host Committee.

"Ryan has great vision and is a great leader," Melangton said. "He's a very strategic thinker and that's very important as the head of the Indiana Sports Corp."

Apolitical?

During the interview process, Vaughn told ISC Chairman Scott Dorsey he'd commit to the job for at least three years. But after less than a month on the job, Vaughn said he likes it more than he imagined and now intends to stay at least through the 2021 NCAA Men's Final Four the city landed last month.

"I'm 100 percent focused on this opportunity," Vaughn said. "The reason I ran for office was because I wanted an opportunity to feel like what I do matters. This position fulfills that for me."

Vaughn's political roots run deep. In addition to his stint as a councilor and chief of staff, in 2009 he lost a bid for the Indiana Senate District 30 seat to fellow Republican Scott Schneider.

Despite his GOP ties, Vaughn insists his position with the ISC will not politicize the organization.

Noting that prior ISC President Susan Williams was a Democratic city-county councilor, Vaughn said, "You come here because you care about the city, and it doesn't matter who's politically in charge and who's not. The reason why Indianapolis has been an overachiever relative to its competitors is because the city has been able to put politics aside and focus on the strategy that makes sense for our city."

Because members were bent on finding a new leader with deep local roots, the ISC board never considered a national search for Melangton's replacement.

After composing a short list of candidates and interviewing a handful, Dorsey said Vaughn quickly surfaced as the No. 1 choice.

"[The ISC] touches so many organizations throughout the city and state, we look at it as a community platform serving the area through sports," Dorsey said. "So it was important to find someone who understood the city and state's needs. We wanted a vibrant young leader with great vision, who is incredibly collaborative and loves sports. Ryan ticked all the boxes."

Strategic outlook

Vaughn's short-term to-do list is jam packed. In addition to the Big Ten Football Championship, the Sports Corp. is helping to host the Men's Final Four in April and the U.S. national gymnastics championships in August.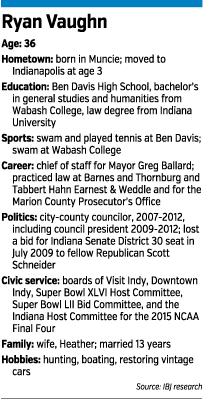 On Jan. 12, Vaughn and ISC Senior Vice President Susan Baughman are going to Dallas to watch the first college football national championship game to determine if the Sports Corp. will bid to host the event at Lucas Oil Stadium.

Landing that event would be no small coup for Vaughn and his staff; it is projected to have an economic impact well over $100 million. Glendale, Arizona, hosts the game in 2016 and Tampa in 2017. But 2018 and beyond is up for grabs.

Vaughn's hectic near-term schedule doesn't mean he isn't making time to compose a long-term strategy for the Sports Corp.

In addition to creating a sports business incubator, he also wants to pursue more youth-oriented events and initiatives. One is The Exchange, a new online resource to connect youth sports organizations with the venues, equipment and coaching they need to flourish.

Vaughn also wants to continue to diversify the sporting events that come to Indiana, and is especially keen to bring more soccer matches and tournaments. Vaughn supports continued discussion of a downtown soccer stadium, pointing out that Indy Eleven, the city's new soccer franchise, led the North American Soccer League in attendance in its inaugural season.

Vaughn also is interested in competing for big-time track and field events, though luxury suites built for the Indy Eleven obstruct part of the view of the track. Vaughn didn't discount bringing track and field events to other venues.

Sports initiative 2.0

One of Vaughn's top priorities is pulling together ISC's staff and board to plan long-term initiatives, to ask, "What does the 2.0 version of sports look like in our city and how can we make that impact sustainable?" he said.

Vaughn has big shoes to fill. Melangton, a longtime ISC veteran, made her mark as CEO of the city's 2012 Super Bowl Host Committee. The event was widely lauded as one of the best Super Bowls ever, featuring a first-ever Super Bowl Village, massively popular zip line, and a setup that allowed the NFL to reach record attendance for its NFL Experience.

"They do tell you in the professional world, 'Don't make the mistake of ever following a legend.' It did occur to me that I was potentially making that mistake," Vaughn said with a laugh.

Melangton left the organization "in terrific shape," Dorsey said, adding that Vaughn is the right person to take the organization "to the next level."

"Ryan's bringing a lot of fresh thinking to the organization," he said.

For his part, Vaughn isn't measuring himself against Melangton.

"Allison is just a remarkable person. But I'm not trying to be Allison," he said. "I'm just trying to be me and focusing on the strengths I bring to the table, and do this in a way that makes sense for me."•