A nearly 100,000-square-foot Kroger grocery store is set to anchor a major development in an area on the southeast side that's been void of much commercial activity.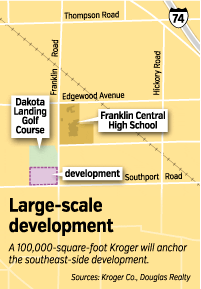 Indianapolis developer Douglas Realty Advisors is purchasing 53 acres of farmland at the northwest corner of Southport and Franklin roads, just south of the Dakota Landing Golf Course, to build the project.
The development also calls for 25,000 square feet of small-shop space and a senior or assisted-living complex. When finished, it could have an assessed value of $25 million, said Doug McAuley, principal of Douglas Realty.
"We scouted out the area and felt as though that area of Franklin Township was really growing and really in need of these types of commercial services," he said.
Douglas Realty's plans for the project are moving through the city approval process.
The Metropolitan Development Commission on Nov. 5 granted Cincinnati-based Kroger Co.'s request to rezone 28.2 acres for the supermarket. MDC is slated Dec. 3 to consider whether to rezone 19.2 acres for the senior-living complex and 5.9 acres for retail outlots.

Elliott
If all goes as planned, construction on the Kroger supermarket could start in 2016, said John Elliott, spokesman for the company's central division.
The store would represent the first significant retail development in the area, as well as Kroger's first new "net" store, not counting replacements, since 2010.
"This is pretty much virgin territory, as far as other retail goes," said Frank Swiss, principal broker at Swissco Real Estate.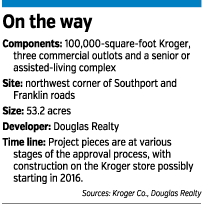 Swiss developed a project at South Arlington Avenue and East Thompson Road that included a Dollar General store and 7,200 square feet of small-shop space.
Kroger's decision to build a new store comes at a time the company already is investing heavily in the south side of the city. It's spending a total of $40 million to build two of its new Marketplace groceries at 5350 E. Thompson Road and at 8745 S. Emerson Ave.
Construction on the two Marketplace stores is under way, with completion projected by the end of next year. Both total 123,000 square feet and are replacing supermarkets across the street that are half the size.
But just because Kroger is spending millions on the new stores doesn't necessarily mean the overall south-side market is growing, Elliott said.
"The economy is growing, but it's more the result of market-share growth," he said.
Elliott declined to divulge how much of the grocery market Kroger commands in the Indianapolis area. But based on the most recent numbers available, market leadership is a duel between Walmart and Kroger.
According to 2011 numbers from Chicago-based Stagnito Media, publisher of Progressive Grocer, Walmart has a 31.8-percent share in the Indianapolis area, followed by Kroger at 28.5 percent, Marsh at 12.9 percent, Meijer at 10.5 percent, and Target at 2.3 percent.
The closest grocery to where Kroger plans to build at Southport and Franklin is another Kroger—the one the company is replacing on Thompson Road with a Marketplace. In addition, Meijer and Target both have stores at Southport and Emerson.
"It says that Kroger really wants to control this market," Swiss said. "It looks like they'll have dominant control of the southeast side."
The growing specialty grocer segment also is discovering the south side. Phoenix-based Fresh Thyme Farmers Market opened in the summer in space formerly occupied by The RoomPlace on U.S. 31 north of Greenwood Park Mall. And North Carolina-based Earth Fare, which has stores in Carmel and Noblesville, moved into the former Office Max location nearly across the street from Fresh Thyme.
Meanwhile, Kroger's store at Southport and Franklin would be the company's first new grocery since the Nora location opened in early 2010 on the city's north side.
The company's decision to partner with Douglas Realty on the southeast-side development rekindles an existing relationship.
In 2009, Kroger opened a grocery at East 71st Street and Binford Boulevard as part of a larger development led by Douglas Realty. They also partnered on a store in Greensburg.
Overall, Douglas Realty has built several projects for grocers. It developed the 42,000-square-foot Walmart Neighborhood Market that opened in September at 5550 Fall Creek Parkway near East 56th Street, and another Neighborhood Market at 5555 Michigan Road that welcomed shoppers in August.
As part of its southeast-side Kroger development, Douglas Realty first had proposed to build apartments, but now is pitching the senior-living project after receiving stiff resistance from neighbors who opposed more residential development, McAuley said.
Aaron Freeman, a city-county councilor who represents the district in which the development would be built, supports the project without the housing component.
"We built too many homes and not enough business," he said. "This would be a great addition and a great way to supplement our tax base."
Douglas Realty has yet to have any discussions with a senior-living operator, McAuley said.•
Please enable JavaScript to view this content.