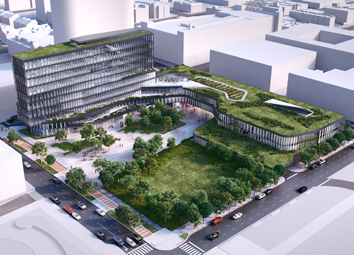 Officials with engine maker Cummins Inc. debuted on Wednesday its design for the global distribution business headquarters that it plans to build in the heart of Indianapolis' downtown.
The building, which will include a 10-story office tower with 15,000 square feet of retail on the first floor and significant public greenspace, will be built on four acres where Market Square Arena previously stood. The property is bounded by Market, Alabama, Washington and New Jersey streets. Cummins agreed to buy the property from the city for $4.3 million.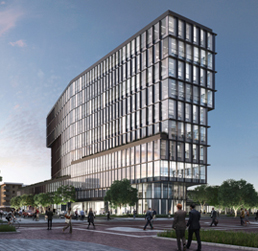 A 10-story, 164,000-square-foot office tower will cap the $30 million development. (Image courtesy Cummins Inc.)
Columbus-based Cummins expects to break ground on the $30 million project in April and open it in late 2016. The firm presented its plans late Wednesday morning to the Metropolitan Development Commission, which could vote on them as early as Dec.17.

(Click here to see a larger image of the full development.)
"We are excited to be in downtown Indianapolis, bringing with us the architectural legacy that Cummins has established in Columbus and around the world," said Cummins CEO Tom Linebarger in a prepared release. "I am confident this space will create a dynamic place to work for our employees and customers, while contributing to the city's landscape."
Cummins first announced its plan in March, after IBJ revealed that it was mulling a major office project downtown.
The 10-story tower is expected to hold about 400 Cummins employees. The company's plans for the site also include a conference center and a parking garage. The west side of the property would feature extensive greenspace along the Cultural Trail.
"The only thing to say is, 'Wow.' This is an incredible development," said Adam Collins, deputy mayor for economic development, at the MDC meeting.
The city has agreed to invest $3.3 million in tax-increment financing funds for the project and abate 70 percent of the development's property taxes for 10 years.
Cummins' distribution business is one of the company's four busines units. The firm's headquarters will remain in Columbus, where Cummins was founded 95 years ago. It currently employs about 48,000 people worldwide.
The diesel engine manufacturer has a long history of embracing inspiring architecture, commissioning famous architects to design its facilities as well as local municipal buildings, schools and churches.
In September, Cummins announced that it had selected New York-based Deborah Berke Partners to design the project.
Architect Deborah Berke said the 10-story building will include flexible office space with abundant views and lots of natural light. "The floors are designed to provide a modern, flexible working arrangement that caters to employees' diverse preferences and work styles," Berke said.
This story will be updated.
Please enable JavaScript to view this content.