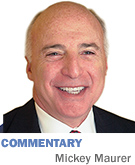 More than once I have suggested to employees, partners and colleagues that we not do business in certain countries. One of those countries is California.
I did do business in California, once upon a time. We made "Diving In," a coming-of-age movie centered on a high school diving team. It might have been the only locally owned film shot entirely in Indianapolis that enjoyed a national theatrical release. It also played on HBO and Showtime. The movie garnered three stars from a local reviewer. On the other hand, an Orlando critic said, " 'Diving In' goes straight to the bottom."
I enjoyed making the movie. The creative process was exhilarating. But working with distributors was a frustrating and disgusting experience. They reminded me of the boy caught with his hand in the cookie jar who said, "I didn't take the cookies and I'll never do it again." I abhor litigation. We sued the b____.
One friend, describing his dealings with movie distributors, said "they were immoral and litigious. … You meet in the conference room and sign a contract, then each party proceeds to a separate room, calls his attorney and instructs him to file suit."
There are some pleasant memories of the movie experiment, though. In legendary Hollywood style, "Diving In" launched a career. We cast 6-foot-7-inch, 250-pound Abraham Rubin Hercules Benrubi, our plumber's grandson, as the high school bully.
His performance caught the eye of a Hollywood agent, who convinced the Fox network to cast him as the high school bully in its sitcom "Parker Lewis Can't Lose." Benrubi is best known for his three seasons on the NBC hit "ER," where he played goateed desk clerk Jerry Markobic. He is still in Hollywood.
I do not really mean to bring an indictment against California for one unfortunate affair. But I would like to contrast my experience on the West Coast with the realities of doing business in Indiana.
A number of years ago, Harvard University released a survey of 1,000 Hoosiers as part of a larger national project through the Center on Philanthropy at Indiana University and The Indiana Grantmakers Alliance. Among other measurements, the survey attempted to answer the question of whether Hoosiers felt they could trust one another.
Trust is important in facilitating not only social interaction but business as well. The survey found that Indiana scored higher than the nation: More than 72 percent of Hoosiers indicated medium or high levels of general social trust, versus 65.6 percent of Americans overall. It's a shame that California's results were not available.
In a career spanning decades I have found that, yes, we trust one another in Indiana. As a lawyer for 20 years practicing in all business related fields, it was my job to make sure that contracts protected my clients. But in the final analysis, I had little concern. For my own account, I closed deals with a handshake more often than not. I was rarely disappointed.
The organization of The National Bank of Indianapolis was built upon trust. In order to open our doors and be fully competitive, we needed to raise $14 million of capital. We devised a plan to raise the necessary equity and secure customers at the same time. Instead of a public offering more typical in these situations, we sold our stock privately.
Most state laws at the time limited private offerings to sophisticated investors—those with high earnings or high net worth, the very people we wanted to populate our customer base. In the course of each presentation, we exacted a promise from the investor to become a customer of the bank.
More than 300 investors/customers accepted our proposal, and only five did not keep their promises. That shouldn't surprise anyone. It didn't surprise me.
Can we trust Californians? Of course. Trust everyone—but tie up your camel. In Indiana, you can let the camel roam free.•
__________
Maurer is a shareholder in IBJ Corp., which owns Indianapolis Business Journal. His column appears every other week. To comment on this column, send e-mail to mmaurer@ibj.com.
Please enable JavaScript to view this content.